Top 5 iPhone Data Eraser Software You Don't Know
One of the concerns for most iPhone users is the security of their privacy. To protect your data from leakage, you may need the iOS Data Eraser Software to completely and permanently delete all data on your iDevice and release more space on your device. When you happen to sell a phone to a friend, you may want to delete the current information and give out the phone at its default state. However, have you ever wondered if it's possible for the deleted information to be recovered? So it is also important to wipe data when you are selling your phone or recycling it as you don't want anyone else to misuse your information. In this article, we are going to introduce Top 5 iPhone Data Erase Software for you to erase iPhone data permanently.
Top 1. Syncios iOS Eraser
Syncios iOS Eraser is one of the iPhone data eraser desktop based software dedicated to protect your data privacy by completely deleting the data. This iPhone data erasing program gives you the freedom to delete all your files regardless of whether they are private or not, with no chances of recovering the files ever again. It can erase all kinds of data whether it is call history, videos, attachments, photos, messages and other private information.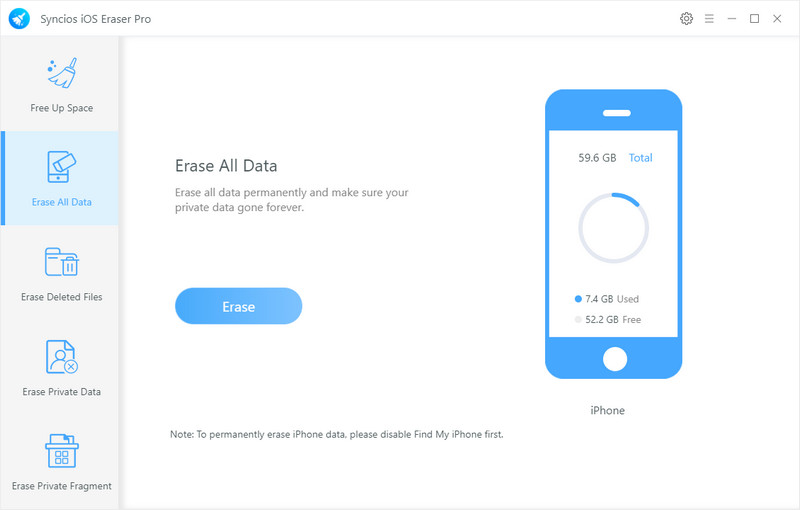 Key Features of Syncios iOS Eraser:
How to Permanently Erase iPhone Data with Syncios iOS Eraser
Syncios iOS Eraser gives you the freedom to delete all your files regardless of whether they are private or not, with no chances of recovering the files ever again. To cut a long story short, this is how you can erase your full data from your iPhone in a matter of minutes.
Step 1 : Download Syncios iOS Eraser to your computer from Syncios official site. Run the downloaded file and click "Install", then connect your iDevice – iPhone, iPad and iPod touch.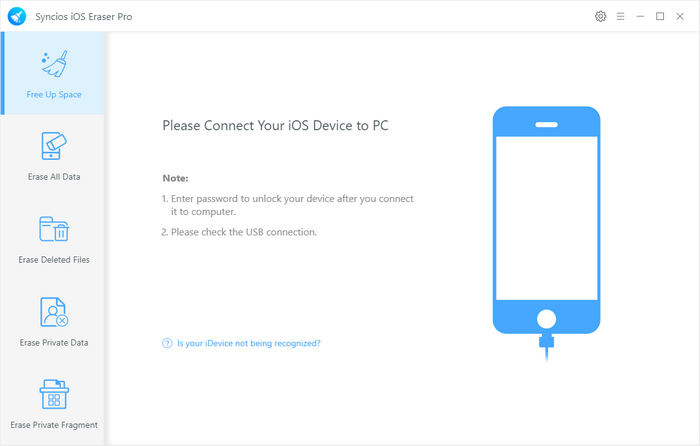 Step 2 : Read the 3 tips before erasing data, and you can select a security level. The default recommended level is Medium, and there are other two options: Low Level and High Level. Simply select your preferable one.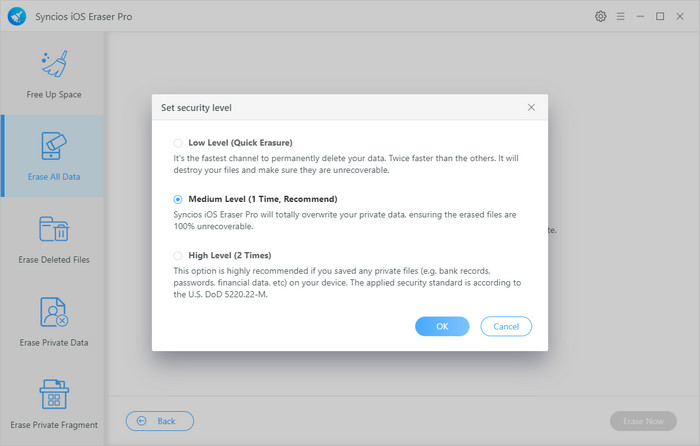 Step 3 : Syncios iOS Eraser will ask you to confirm the deletion process. Type "erase" in the spaces provided and click on the "Erase now" to initiate the data deletion process.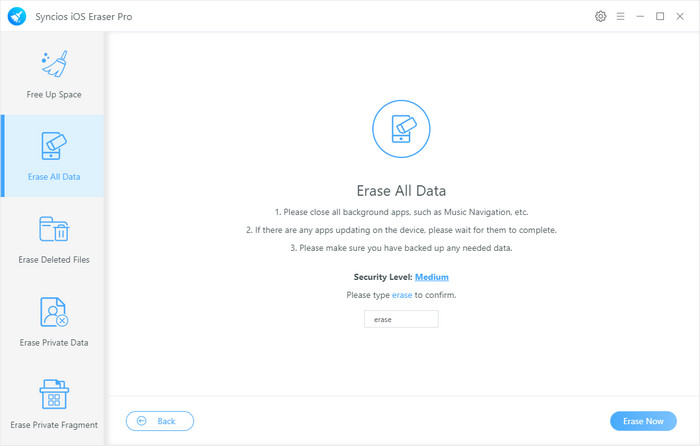 Your iPhone/iPad will be deleted in a few minutes. All you have to do at this point is to sit back and wait as Syncios iOS Eraser simultaneously to delete the data. You can monitor the deletion progress. Just download this iOS Data Eraser tool and wipe your iPhone/iPad data safely with 100% success.
---
Top 2. PhoneClean
Try the iPhone data erase software PhoneClean which allows its users to enjoy quicker, cleaner and better devices in many different ways. It has many unique features such as the ultimate speedup feature, in-depth privacy protection, the hands-free cleaning feature and many other innovative technological tools that make it a unique eraser.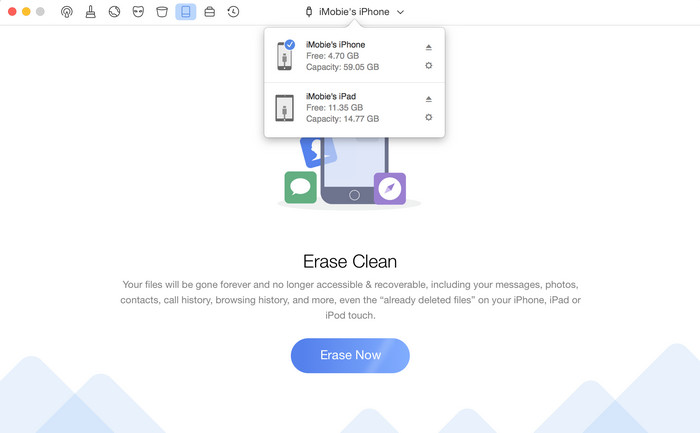 Key Features of PhoneClean:
Pros
You can delete your personal data on various iDevices with a single account and a single click of a button.
The security of your deleted and remaining files is guaranteed.
The Zero interruption feature ensures that your iDevice doesn't lag when the deletion process is in progress.
Cons
You can't choose between different file deletion procedures.
Navigating can be challenging.
---
Top 3. Coolmuster iOS Cleaner
Coolmuster iOS Cleaner efficiently deleted different file formats from your iPhone. Like other iPhone data erasing softwares, this program makes the deleted data impossible to recover. You can delete contacts, text messages, account information, media files, and passwords from your iPhone. It is essential to backup your data prior to deleting it permanently with this software.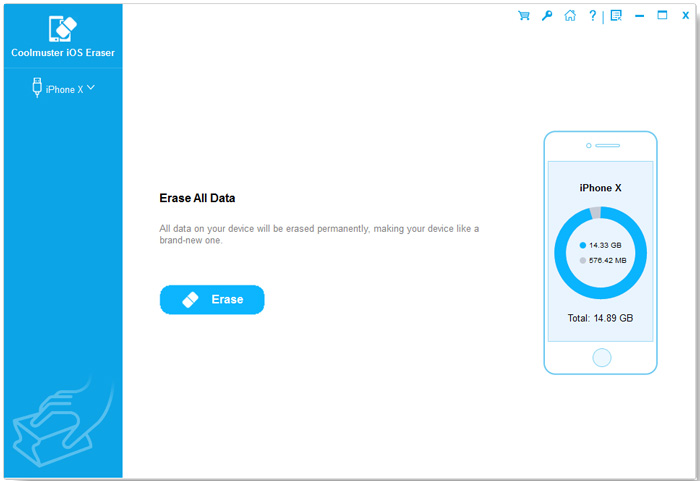 Key Features of Coolmuster iOS Cleaner:
Pros
This software has an advanced data erasing process.
The interface is very user-friendly and simple.
It supports both Mac and Windows platforms.
Cons
It can not bulk remove apps.
It not supports compressing & deleting photos.
---
Top 4. Apowersoft iPhone Data Cleaner
The Apowersoft iPhone Data Cleaner is another great iPhone Data Erase Software that functions by permanently deleting your iPhone and getting rid of junk and less worthy files.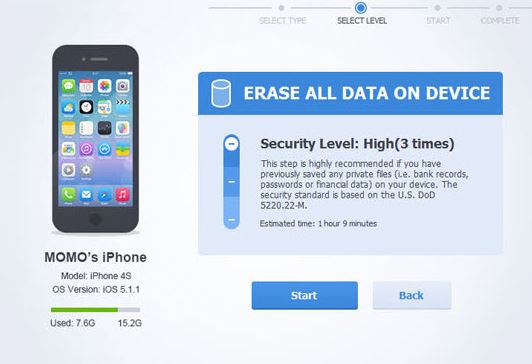 Key Features of Apowersoft iPhone Data Cleaner:
Pros
You can choose from a total of seven (7) file deletion and file erasing modes.
This program guarantees you 100% of complete data erasing.
Once the selected files have been deleted, the remaining files will not be affected.
Cons
Some users may find it's hard to operate this software.
---
Top 5. dr.fone - Erase
dr.fone - Erase (iOS) is a data eraser that fully compatible with different iOS versions. dr.fone guarantees you a complete data deletion which only means that nobody can retrieve the deleted data even with the most sophisticated data recovery program.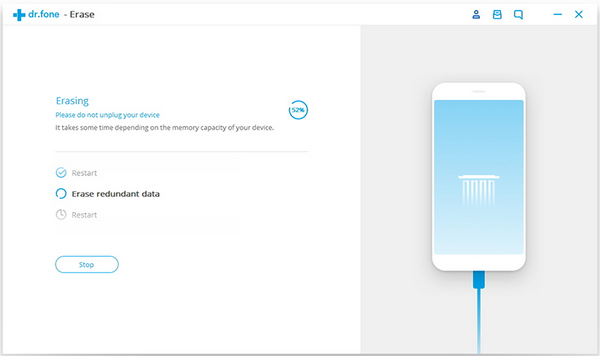 Key Features of dr.fone - Erase:
Pros
The security of your deleted and remaining files is guaranteed.
It comes with an intuitive and easy to use interface which makes it favorable for various users.
Cons
Expensive
---
Conclusion: From the Top 5 iPhone data eraser apps denoted above, you can quickly note the difference between them regarding their functionality and features. All the apps allow you to delete data with no possibility of recovery. Syncios iOS Eraser supports all versions of the iOS operating system and all generations of iPhones. Therefore, if you are in need of a software that erases iPhone data flawlessly, Syncios iOS Eraser software is the real deal.