How to Backup and Restore iPhone SE 2020 WhatsApp Data
As we all know, WhatsApp is one of the most popular social application around the world, with about 1.5 billions users and it's also one of the easiest few apps that don't need a separate user Id to add someone. In other words, it gains users with its focus only on messaging instead of anything else. Someone believe that it has concise interface, smoothly experience and built-in emoji and gifs achieve this platform.
Are you also a WhatsApp user? Have you ever lost or accidentally deleted important WhatsApp messages on iPhone? Days ago, the new iPhone SE was eventually released, which is similar with iPhone 8. Here will cover effective ways to backup and restore WhatsApp data on iPhone SE 2020.
Method 1. Backup and Restore iPhone SE 2020 WhatsApp Data Selectively
When it comes to backup and restore iPhone data, iTunes and iCloud might comes uppermost to most of the iOS devices users. However, when we backup data through iTunes, we can't normally browse detailed contents in computer, and when we're going to restore the backup file back to iPhone, all existing data will be overwritten by new data, that is really a headache. As for iCloud, the kind of cloud service is convenient, but the risk of data breach is still potential.
In that way, Free Syncios Manager, the safest and the most effective iOS-Android dual-platform management software, should be your top choice. It enables us to flexibly transfer WhatsApp data, photos, music, videos, contacts, apps, EBooks and so on from iPhone to computer and vice versa. More importantly, handy and useful toolkits are available for you, like ringtone maker, allows us to customize and then save ringtones to PC or phones.
Step 1Download and Install Syncios Manager

Syncios Manager

Manage photos, videos, music, contacts, apps and etc. between computer and phone devices.


Free to download and then edit online videos from most-used websites, like YouTube, Facebook and etc.


Make Unique Ringtone for iPhone & Android devices.


One-click backup and restore toolkit supports types of phone data.


Fully compatible with the latest Android OS and iOS system.
Step 2Connect iPhone SE 2020 to the computer
Launch Syncios Manager, then connect your iPhone SE 2020. Unlock your iPhone screen and click on "Trust This Computer" option when you plug it to computer. Also, to be detected by Syncios smoothly, you're supposed to install iTunes on your computer. And if iTunes has already existed but is the old version, just update it.
Any other occasions, read this overall tutorial to fix >>
Step 3Go to Information Module
As you can see, your iPhone data will be classified into five categories: Media, Photos, Ebooks, Apps and Information. And Information tab contains several types of data, like contacts, notes, messages, WhatsApp, voice mails and etc. Therefore, tap on 'Information' > 'WhatsApp'.
Step 4Choose Desired Items to Backup
Wait a moment for loading data, you can browse detailed contents of every WhatsApp message from the right-hand box. To transfer all available messages to computer, check the box besides 'Content' option and then click on 'Backup' > 'OK' option. To export parts of these data, pick the items selectively and then click on 'Backup' > 'Browse' >'Backup' option to start backing up iPhone SE 2020 WhatsApp messages. Certainly, you're allowed to customize the save path to find it easier when you need to restore them.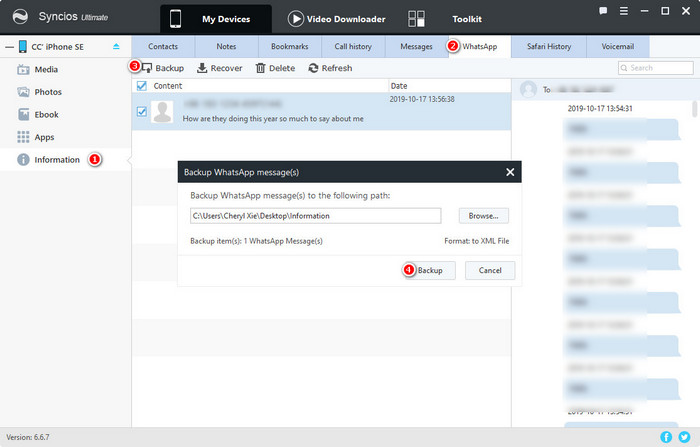 Step 5Recover WhatsApp Data from Local Backup File
If you want to restore WhatsApp data back to iPhone SE 2020 or other iPhones, go to 'Information' > 'WhatsApp' > 'Restore' > 'Target folder' > 'OK' option to transfer WhatsApp messages from computer.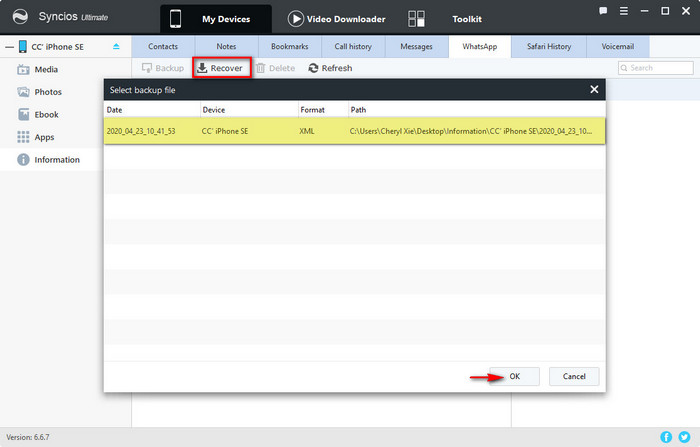 Method 2. One-Click Backup and Restore iPhone SE 2020 WhatsApp Data
In comparison with Syncios Manager, Syncios Data Transfer is a faster solution for backing up phone data to computer as well as sharing phone contents between unlimited devices. It supports to backup all WhatsApp messages on iPhone to computer in one click. What're more, when you wish to restore WhatsApp messages, it enables several sources to meet your requirement, from local backup files, iTunes or iCloud backup files.
Step 1Download and install Syncios Data Transfer

Syncios Data Transfer

Backup all phone contents to computer in 1 Click, including WhatsApp data, contacts, SMS, call logs, photos, videos, music and apps.


4 Restore modes: to restore data from iPhone/Android/iTunes/iCloud backup to iOS/Android devices.


Transfer multiple data from phone to phone in 1 Click.


Transfer songs or playlists from iTunes Library to an Android phone, iPhone, iPad and iPod touch.


Fully compatible with the latest Android OS 10 and iOS 13 system.
Step 2Go to Backup module
Launch the program and connect your iPhone SE 2020 to the computer via usb cable. Go to 'Backup' module. 'Backup to' option shows you the default save path. The free space of the path is also clear. If there's not enough storage space or you would like to choose another path by yourselves, you can click on 'Browse' icon to choose. Then click on 'Next' option to continue. Uncheck 'Select All' option at first, then check 'WhatsApp' > 'Next' button to load WhatsApp data. After loading completely, click on 'Next' > 'OK' to start transferring.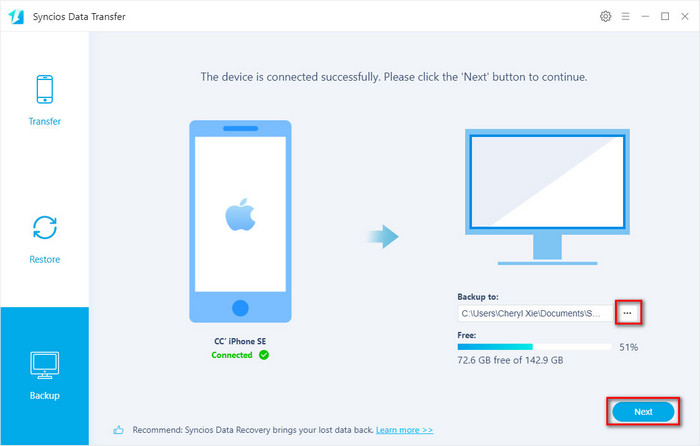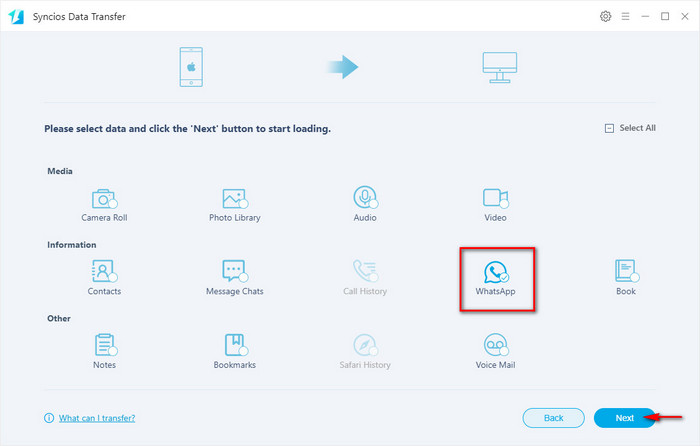 Step 3Go to Restore module
From Syncios Backup — Once you click this option, all backup you've ever made with Syncios program will be scanned and listed.
From iTunes Backup — If you've ever backed up your phone via iTunes, you can click on this button to load your deisred iTunes backup file and types of data that you want to iPhone SE 2020. You should click on 'Next' button to the following steps
From iCloud Backup — If you prefer iCloud backup, restore iCloud backup is also available. But you should sign in your iCloud account first. Once login successfully, Syncios program will load your data automatically. Select one file, next, click on 'Download' button.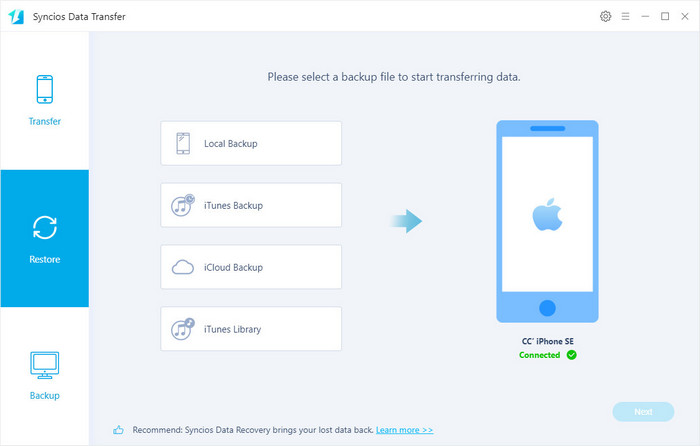 NOTE: Please note that if you have a large quantity of data to restore, it will be a little time-consuming. Please don't disconnect your device and wait patiently until complete.
You can also learn from a video tutorial:
Method 3. Retrieve Deleted WhatsApp Data to iPhone SE 2020 or PC
What to do if you delete important WhatsApp chats accidentally or lose certain chat after iOS upgrade, but never backup before? Syncios Data Recovery can help you perfectly recover multiple data, like WhatsApp messages, WhatsApp attachment, photos, videos, contacts, messages and so on. An important point to notice is that every minute you waste, it will be harder to recover your lost or deleted data since they might have been overwritten. Therefore, stop using your iPhone and begin to recover data now!
Step 1Download and install Syncios Data Recovery
Step 2Go to Recover from iOS Device
Open Syncios Data Recovery, connect your iPhone SE 2020 to the computer. Tap on 'Recover from iOS device' tab, and then press on 'Start' button to analyze your whole phone.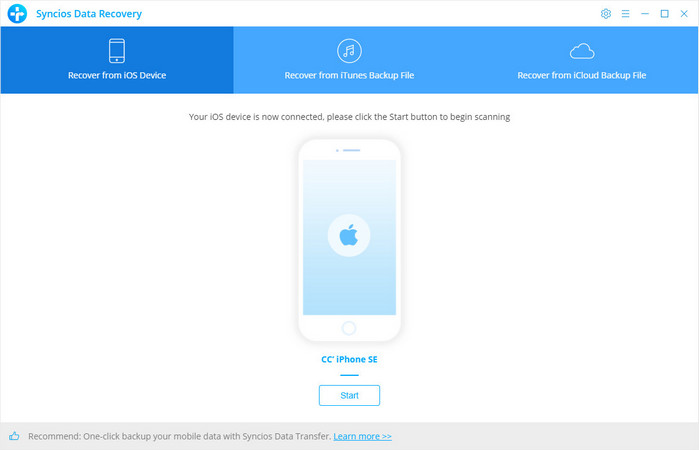 Step 3Choose WhatsApp Data to Load
From this page, you can see types of data that Syncios can support. As Select All is a default choice, you need to uncheck 'Select All' option at first and check 'WhatsApp' and 'WhatsApp Attachments' option under Messages & Call Log. Click on 'Next' button to analyze your WhatsApp data.(both existing and deleted)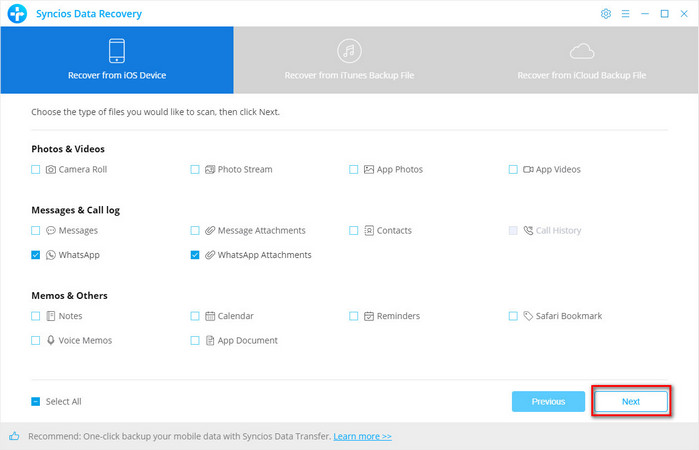 Step 4Recover Desired WhatsApp Data to Computer or iPhone
If you only wish to recover deleted WhatsApp messages/attachments, click the button besides 'Show all' to show the drop-down menu. Press 'Show only deleted files' option and scroll down to view the contents, then check what you want to backup to your computer or recover to your iPhone. Press 'Recover to computer'/'Recover to iPhone' option to extract these data.
Once finish transferring, you will pop-up message informing that 'Your files have been successfully recovered.' In that way, you can choose 'Check the recovered data' option to check what you've recovered just now, or you can go back to the last page to continue browse or recover other types of data.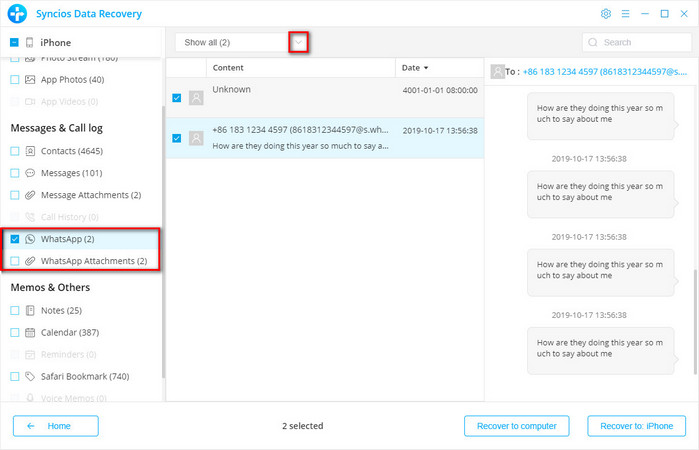 NOTE: Above example is to scan your iPhone device, and when Syncios scan your iPhone and the wanted data can't be found, you can try to its 'Recover from iTunes Backup File' or 'Recover from iCloud Backup File' mode, if you've ever backed up WhatsApp data via iTunes or iCloud.
Conclusion
In short, use Syncios Manager to backup and restore iPhone WhatsApp data selectively, and if you want a quick way to backup all WhatsApp data on iPhone to computer, Syncios Data Transfer can help you, what's more, you can then restore data from local/iTunes/iCloud backup files with this tool. Any deleted or lost WhatsApp chats that you want to retrieve, don't hesitate to download Syncios Data Recovery to scan and then recover them back to iPhone or to PC.