Save 1080P Netflix Videos to iPhone 12(Pro) for Offline Viewing Forever
Netflix offers you online streaming library of films and television series. It becomes more and more popular with over 193 million paid subscriptions around the world. If you want to binge watch on Netflix, you need to make a subscription firstly. Then you can enjoy videos on Netflix. But you may only want a free trial. Of course you could not watch all favorite films or television series in a short period. How do you get all desired videos downloaded forever after a free trial or when the subscription is expired? And if you are an iOS user, you need buy this app from App store firstly. You are in the right place. We are gonna to guide you on how to keep 1080P videos from Netflix after a free trial on iPhone 12 or iPhone 12 Pro.

You need to follow us for the following reasons:
🍟 Download Netflix videos without downloading Netflix app.
🍟 Freely choose to download HD(1080p / 720p) Netflix videos.
🍟 Keep multi-language subtitles and audio tracks.
🍟 Convert Netflix videos to MP4 formats.
🍟 Transfer Netflix to any iOS and Android devices or PC easily.
🍟 Enjoy offline Netflix videos forever.
If you are getting interested now, just follow steps one by one below to freely enjoy videos from Netflix now. 👇
Part 1: Download Netflix Videos to Computer
For a new member of Netflix, you can enjoy a free trial for 2nd month. So just sign up then download all videos with Netflix Downloader. If you are already a paid member of Netflix, you do not need to renew the subscription after saving all desired films and television shows during the valid period with Netflix Downloader. And for iPhone 12 users, if you go to download Netflix from App Store, you will find you need to pay even for its installation. So in this part you will know how to download Netflix videos without the installation of Netflix. And you can enjoy offline Netflix videos after a free trial on iPhone 12.
Step 1: Get Netflix Downloader Installed
To begin with, get this Netflix Downloader downloaded on your computer. Start the program after the installation. A pop-up window appears, do not close it. You need to log in with your Netflix account.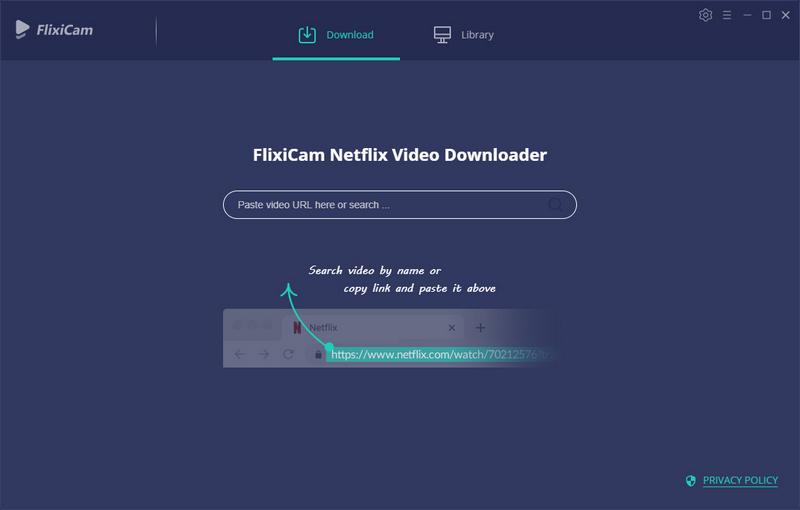 Step 2: Set Output Format
Before you download Netflix videos, you need to go to Settings on the upper right. Then customize the output quality, audio type, audio language, subtitle language, output folder and compatibility.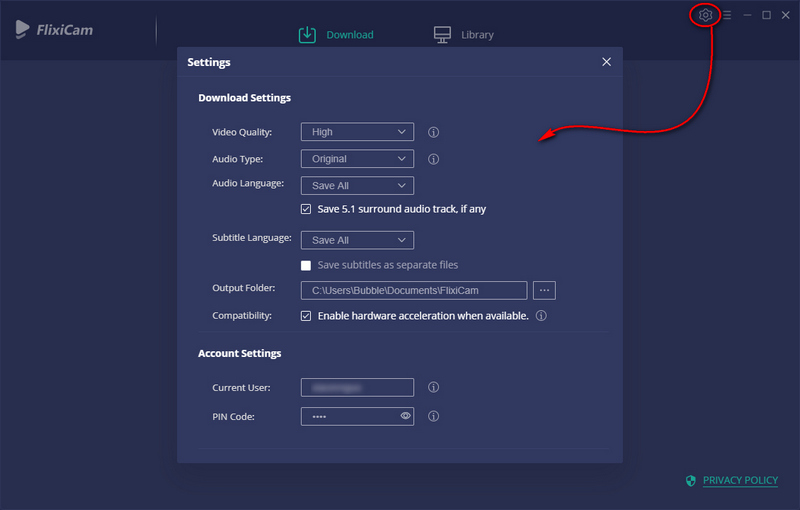 Step 3: Find Videos you Need
Two options are provided. You can get the URLs of videos from Netflix official website, then paste into Netflix Downloader. Or on the primary interface of Netflix, directly searching Netflix videos by keywords. Then go through and find videos you need.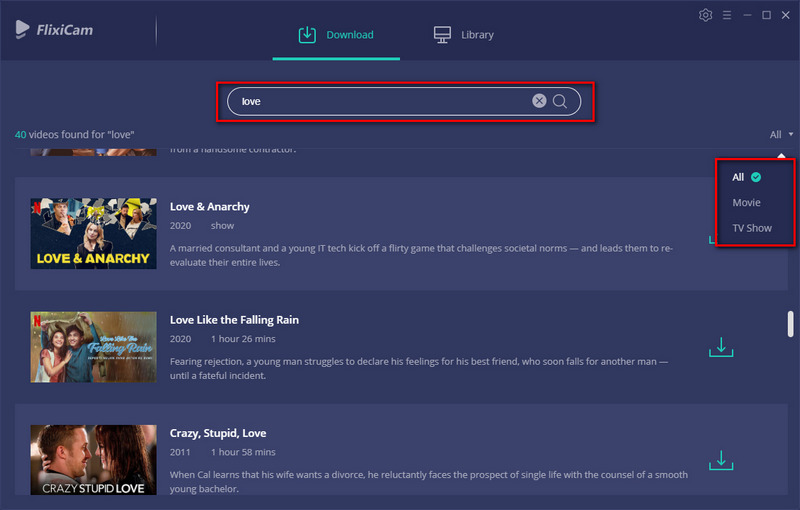 Step 4: Start Downloading Netflix Videos
Behind a video, you can find a "downloading icon", just click it to start downloading the selected video. And "another icon" next to the "downloading icon" allows you to choose its downloading size. Also you can choose which season to download for the TV series. After that, keep a well internet connection and leave it alone.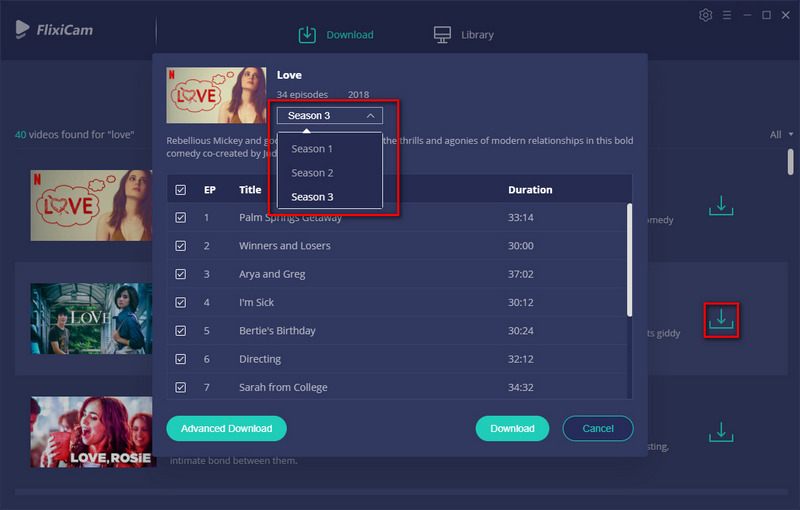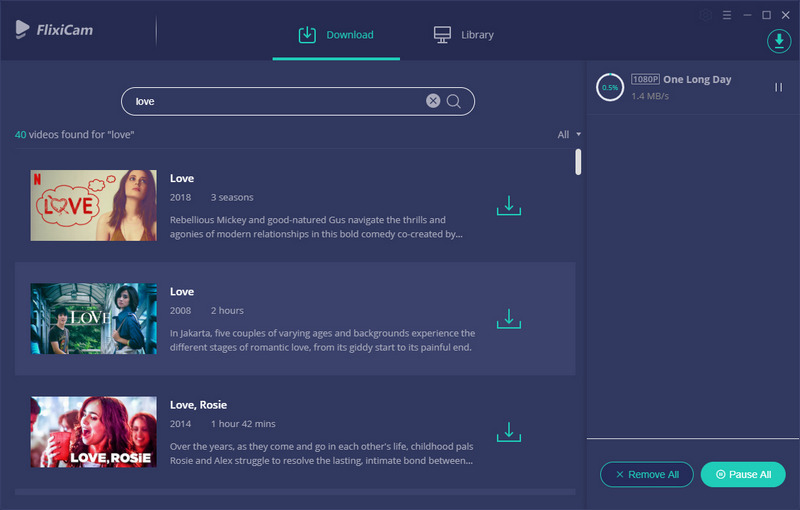 Step 5: Check Downloaded Videos
When the video downloading is completed, just go to Library column. You can find all downloaded history here. Behind the video, tap "file folder icon" to open the local folder on computer. Now, you can get the next part to import all downloaded Netflix videos to Syncios Mobile Manager.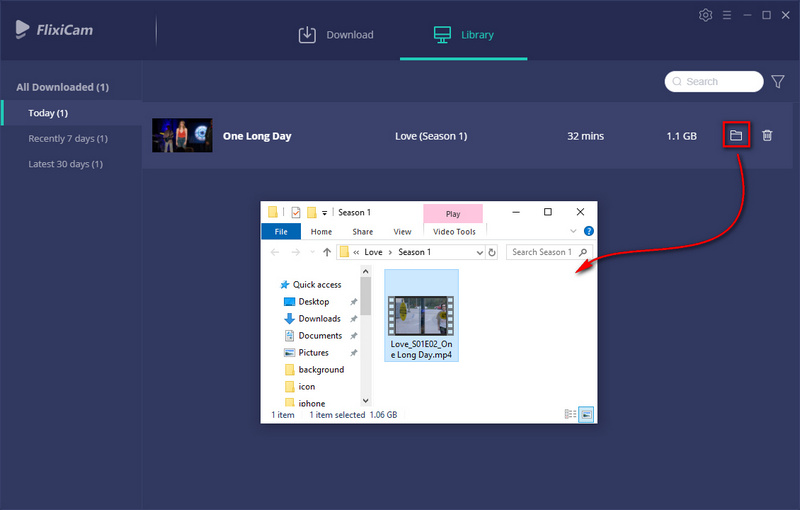 ---
Part 2: Import Downloaded Netflix Videos to iPhone 12
You have learned how to free downloaded videos from Netflix to computer, what should we do to import them to iPhone 12? It's known that we could not import files to an iOS device directly. And by email or messenger tool, you know there are size limitations. Thus for users who need to move files from computer to iPhone 12 without any limitations, the help from Syncios iOS & Android Mobile Manager is more effective. You can have a quick overview of this mobile manager then start all steps.
⭐ 1. Selectively manage, backup, restore contacts, message, call log, apps, notes, WhatsApp, ebooks and more.
⭐ 2. Export and import music, photos, videos, files between computer and mobile phone.
⭐ 3. Download Videos from 100+ Video Sharing Sites to Device.
⭐ 4. Handy Toolkit: Audio & Video Converter, Ringtone Maker, etc.
⭐ 5. Fully compatible with the latest iOS and Android.
Step 1:Connect iPhone 12 to Computer
Just get a free version of Syncios Mobile Manager on your computer, start this program after installation. Get a USB cable to connect your iPhone 12 with computer and don't forget to authorize this computer, otherwise no data could be accessible.
Step 2:Load Videos on iPhone 12
A content bar on the left of the main interface will display. Navigate to Media tab, then Syncios will load all songs and videos from iPhone 12. But by default you need see all songs. You need to go to upper right, then tap the video icon. All videos will be loaded. You can also export videos from iPhone 12 to computer. But now we need to import videos. Just move to the next step.
Step 3:Import Netflix Videos from Computer to iPhone 12
Under Video on the right side, you can see Videos, Home Video, Music Videos, TV Shows. You can choose a folder you are likely to store videos. Then find the Import button and click on it. You will get a pop-up window which allows you to choose videos from computer. Click "Ctrl" key to select videos one by one. Or click the first video and hold press "Shift" key, then choose the last video. Then Click OK to import.
Or you can choose to Add > Add Folder to import all videos from a video folder on computer.
Or you can choose all videos then drag and drop them into Syncios Mobile Manager. Wait for a while and pay attention to iPhone 12. Neither disconnect it with computer nor ignore any prompts. Afterwards, all selected videos are imported to iPhone 12.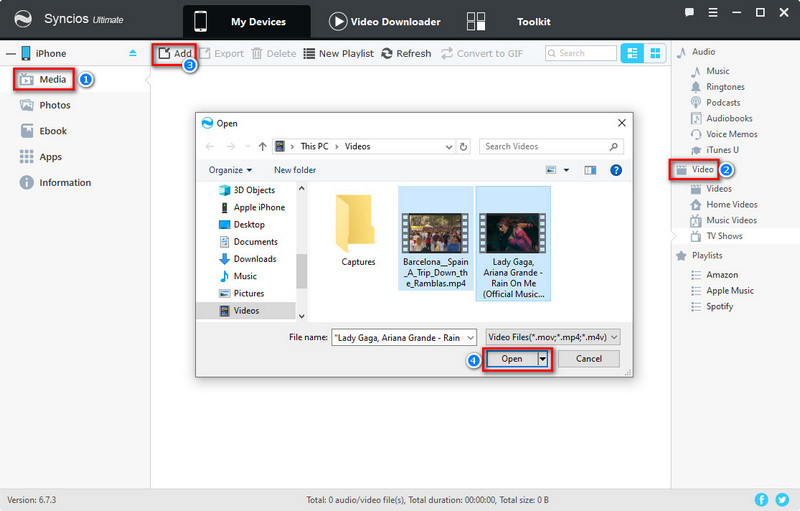 ---
Video Tutorial: How to Download Netflix Movies and TV Shows with FlixiCam
---
Conclusion
When switching to a new mobile device, you always want to move some files or download some videos to kill time. In this article, you have learned how to enjoy offline Netflix videos on iPhone 12 with Netflix Downloader and manage other contents with Syncios Mobile Manager. Try every step to enjoy your favorite series or films right now! If this guide helps, please share it with your friends.
Download Syncios Mobile Manager:
Download Flixicam Netflix Donwloader: