What to do if Syncios fails to detect Notes on your iOS device
Syncios programs supports backing up/transferring/restoring Notes on iOS devices like iPhone, iPad and iPod. However, what to do if Syncios programs failed to detect Notes on your iOS devices? No worry, here is the solution. Simply follow the steps below.
Step 1: Check the path where your Notes saved on
Open Notes app on your iPhone/iPad/iPod, under Folders option, if you enabled iCloud Notes option, all Notes would be saved on iCloud > Notes folder by default. And if you enabled On my iPhone account, there will be two parts on your Notes, ICLOUD and ON MY IPHONE.
Besides, iPhone/iPad/iPod allows you sync more Notes on device by adding more account, like Outlook, Google, Yahoo, Exchange or other Email accounts. If you added some of these, they will also be displayed on Notes app, like below.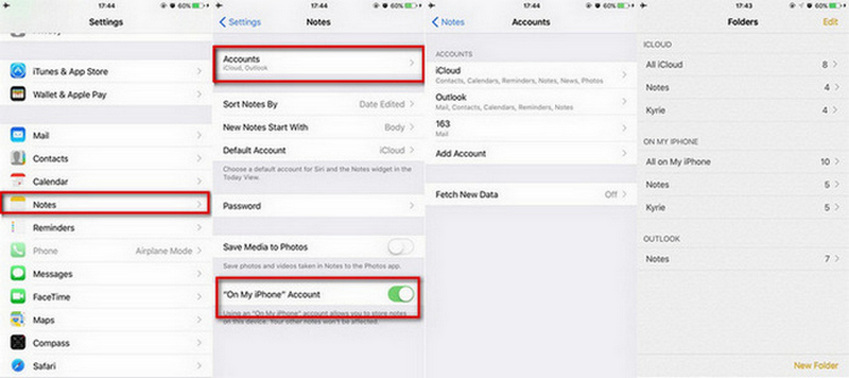 Please kindly note that the Notes synced with iCloud and other accounts will not be detected by Syncios program, only the very Notes under On my iPhone menu can be detected.
Moreover, if you have created other folders on the app to manager your Notes better, also, the Notes on your created folder will not be detected by Syncios. But don't worry, a little change to make Syncios detect them. Keep on reading.
Step 2: How to make Syncios detect these Notes?
To make Syncios detects all your Notes, please move your Notes which saved on other accounts or other folders to On my iPhone > Notes folder temporarily. Open a folder, simply tap Edit on the right top of the screen, select your desired Notes or Move All to On my iPhone > Notes. Then Syncios would detect the Notes. After that, you can move back the Notes to original folder.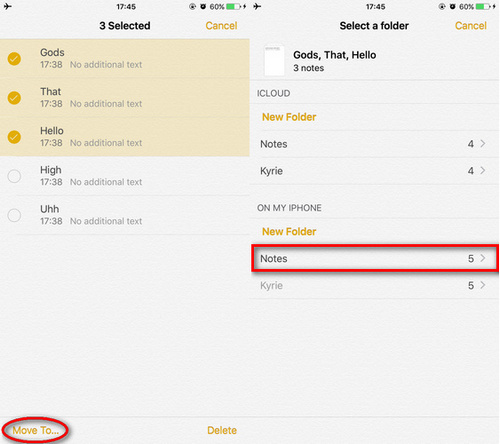 ---