How to Export/Import/De-Duplicate Music on Samsung Galaxy Note 20/20 Ultra
As expected, the official Samsung Galaxy Note 20 announcement has finally come. The Samsung Galaxy Note series are always have more defined corners than S series. Which one do you like better? The Galaxy Note 20 is the same size as the S20+, which has a 6.7-inch display, while the Galaxy Note 20 Ultra is similar to the S20 Ultra, with a 6.9-inch display. Also, Note 20 Ultra is paired with 120Hz display refresh rate, but disappointingly, Note 20 is stuck back on 60Hz.
When we change to a new Samsung, music must be a necessary part of phone data. So do you want to know the simplest way to manage (export, import and de-duplicate) music on a Samsung Galaxy Note 20 or 20 Ultra? To save your precious time, we have gathered the methods and wrote as an article for you.

Part 1. Export Music from Samsung Galaxy Note 20/20 Ultra to Computer
People are now no longer to particularly prepare a processional music player for listening to music with high quality or buy a perfect video player for a visual feast. That's because nowadays, smartphones are more than simple communication tools, they're more like a Multifunctional devices for daily communication and entertainment. So it's easy to find out that almost all of us have a large collection of good music or playlist by different artists. To avoid losing the music when suffer from system crash unfortunately or any other bad occasions, to save them on a hard drive, to burn the songs into a disc, no matter what, you should be not hesitate to export them from your Samsung Note 20 to computer.
So if need to export music from Samsung (or other Android phone) to computer, multiple choices and achieve the goal, but Syncios MobiTrans Free is the secure, quick, and easy one among them, which should be recommended to you. Using the program, you can transfer your music from Android phones as well as iPhone, to a computer with just a few clicks with ease. It's an amazing tool to manage types of data on your mobile phones, including music, videos, contacts, messages, and etc., and you can got it for free now! To move music from Samsung to computer, read the details steps below:
Step 1Install Syncios MobiTrans Free
When finished downloading the software, open it on your computer. Connect your Samsung Galaxy Note 20 to the computer via USB cable. Don't forget to enable debugging mode on your phone. If you don't know how, or you encounter any other problems of detecting, find here.
Step 2Go to Music Section
When the Samsung being detected successfully, tap on 'Music' tab. Wait for loading, then select songs according to your actual need. Would like to transfer all songs, check the box besides Name to select all items, or check the music you want singly. Next, click on 'Export' button to launch a pop-up window, choose the save path in this window, click on 'Select Folder' option to launch the transfer process.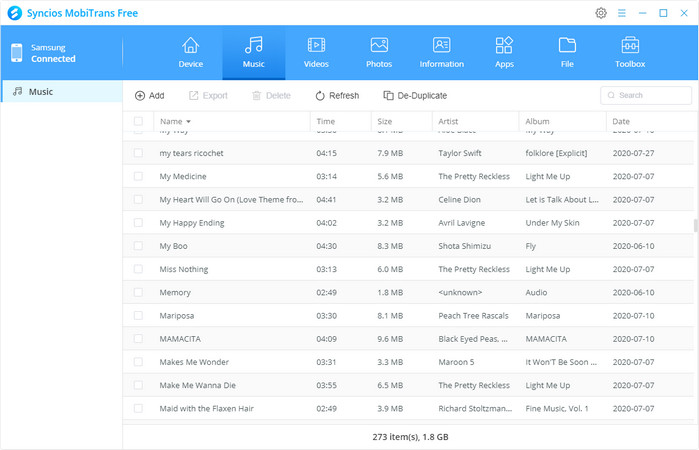 ---
Part 2. De-Duplicate Music on Samsung Galaxy Note 20/20 Ultra
You know how to export or import music to or from Samsung Galaxy Note 20 now. But sometimes, repeated songs show up in our phone music playlist, singly delete them is really time-consuming. Can we stop from being hassled by find out two duplicated songs one by one? Open the Syncios MobiTrans Free and follow the steps given below:
Step 1Open Syncios MobiTrans Free, still click the Music module. Scroll down the list to browse your music. You might find that some of the songs appear twice or even three time. To completely find out and merge the repeated songs, tap on 'De-Duplicate' button.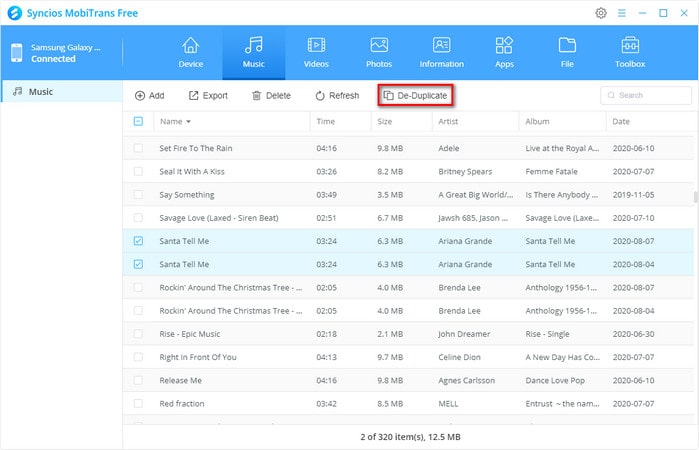 Step 2In the Delete Duplicates page, you're supposed to select one or more columns (Names, Artists, Album) that may contains the duplicates as search criteria. And you can view the detailed contents in the list. Then, click on 'Delete Duplicate' button to begin.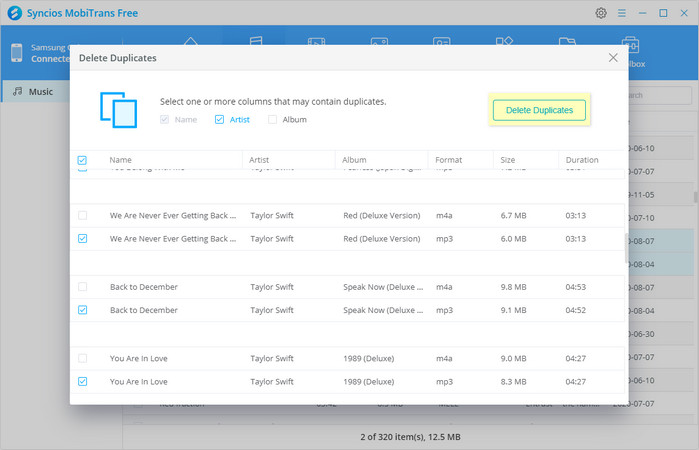 Once finished the de-duplicate process, you will see a prompt informing you this:

You can also learn from a video tutorial:
Conclusion
As above, you've known about the best all-in-one software Syncios MobiTrans Free to help you export, import and de-duplicate music on a Samsung, or any other Android or iOS devices. Certainly, if you would like to transfer music from streaming services to Samsung, you need to use powerful converter to convert them in advance, and TuneCable provides us with a perfect answer.