Ultimate Solution — Sync Data from iPhone 6/6S/SE/7 to iPhone SE 2020
The new iPhone SE finally hits store shelves in 2020. People are divided on this new iPhone SE, some of them feel disappointed for it's so identical to iPhone 8, even with the same battery and phone screen, while also someone believes that as the cheapest iPhone beyond the memory of men, it owns a good A13 Bionic chip.
However, it might be a good idea for who prefer small phone screen and the Home key. And when we switch old iPhone 6/6S/SE/7 to iPhone SE 2020, the most important thing is to move as much of the data from your old iPhone over to your new device as you can. And here we guide you 3 effective ways to sync old iPhone data to iPhone SE 2020.

Method 1. Migrate Data from Old iPhone to iPhone SE 2020 via Quick Start
As I know, now most of the users are using iPhone with iOS 11 or above, in that way, you can try to use Automatic Setup to migrate data from old iPhone to the new iPhone SE 2020. Following is how to accomplish:
Step 1Set up New iPhone SE 2020
Power on your new iPhone SE, put the old iPhone aside. Wait a moment, then the Quick Start screen will show up and there will be available choices for you. Make sure the Apple ID in the screen is what you wish to sync. Next, tap on 'Continue' to the next steps. You're supposed to open Bluetooth during the process.
Step 2Use Current iPhone to Scan the Image
Hold your old device over the new device to scan the image that appears on your new iPhone SE. If it fails, you can change to choose manual verification following the guide. Then, according to the instruction, enter the passcode to the new device.
Step 3Select a Backup to Migrate
Set up Face/Touch ID on your new iPhone or iPad, and then enter the Apple ID password. Now, your new device will offer options to restore apps, data and settings from the latest iCloud backup, or the option to restore after updating the current device's backup. Simply choose one backup file you want to transfer.
Method 2. Sync Old iPhone Data to iPhone SE 2020 in One-Click
Syncios Data Transfer is the safest and most effective cross-platform data transfer tool, which make it possible to transfer multiple phone files, like contacts, messages, photos, videos, music, apps, WhatsApp data and more, from Android to iPhone and vice versa, between two iOS devices or Android devices, just in one click without any hassle. It has user-friendly interface so you can easy-to-handle even you don't have any technical background. Rely on high reputation, Syncios Data Transfer has more than 1,000,000 loyal users all around the world. Let's follow the steps below to transfer data from old iPhone to iPhone SE 2020.
Step 1Download and Install Syncios Data Transfer

Syncios Data Transfer

Backup all phone contents to computer in 1 Click, including photos, contacts, SMS, videos, music and etc.


Transfer data from iPhone to Android, Android to iPhone, Android to Android, iPhone to iPhone in 1 Click.


4 Restore Modes: to restore data from iPhone/Android/iTunes/iCloud backup to iOS or Android devices.


Transfer songs or playlists from iTunes Library to an Android phone, iPhone, iPad and iPod touch.


Fully compatible with the latest Android OS and iOS system.
Step 2Go to Transfer Module
Transfer module supports direct phone to phone transfer of types of data, such as media files, personal information and etc. Go to Transfer module.
Step 3Connect iPhone to the Computer
Run Syncios Data Transfer on your computer and connect your iPhones. Thing you should do is to unlock your iPhone screen and click "Trust This Computer" when you plug it to computer. What's more, to connect smoothly, install iTunes on your computer, and if iTunes has already existed but is the old version, please update it. If your iPhone still can't be detected, read this overall tutorial the fix the problem >>
Step 4Check the Position of iPhone Names
As soon as being detected, two iPhone icons will appear on the interface, you should confirm the position is correct or not according to the devices' names. The target phone SE 2020 should be put on the right side. If the position is incorrect, tap on the 'Flip' icon to reserve. Then, click on 'Next' button.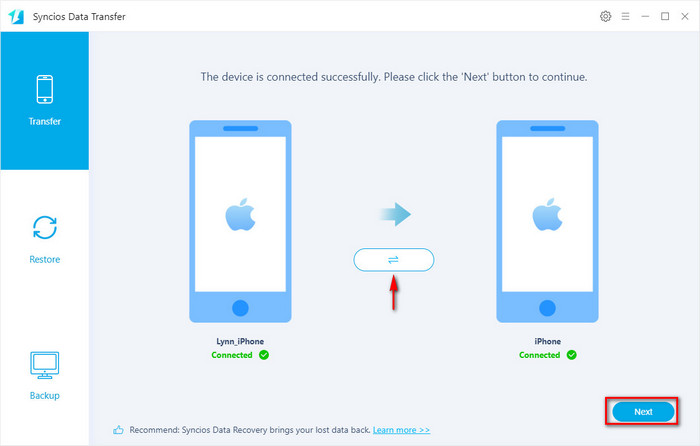 Step 5Check What you Want to Transfer
'Select All' is a default choice, that's to say, you're allowed to directly click on 'Next' > Next' > 'OK' to start the whole process. And also you can uncheck this option and then selectively check desired sorts of data to transfer.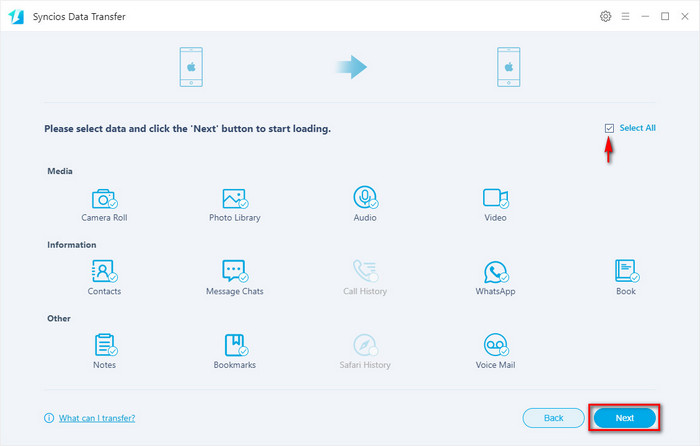 NOTE: Until complete, don't disconnect your phones or lock your phones. And please setup some necessary permissions according to screen tips. You can change all settings back later as you like.
Method 3. Restore Old iPhone Data to iPhone SE 2020 from iTunes/iCloud Backup Files
What to do if old iPhone has been sold? Can I restore iPhone data even if my phone screen has broken, and I'm unable to do any operation any more? The answer is yes. Syncios Data Transfer can also help you transfer data to new iPhone/Android from local backup/iTunes backup/iCloud backup. And here is detailed guide: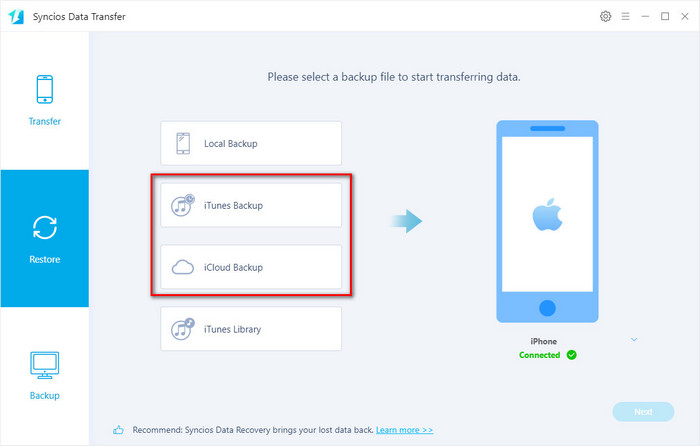 Step 1Restore iTunes Backup Files to iPhone SE 2020
First of all, go to 'Restore' module, and click on 'iTunes Backup'. As you can see, all available iTunes backup files will be automatically loaded in th pop-up window. Choose one desired backup file. Now, click on 'Next' button to continue. Check the types of data that you want to transfer. Tap on 'Next' > 'OK' to begin the process of transfer.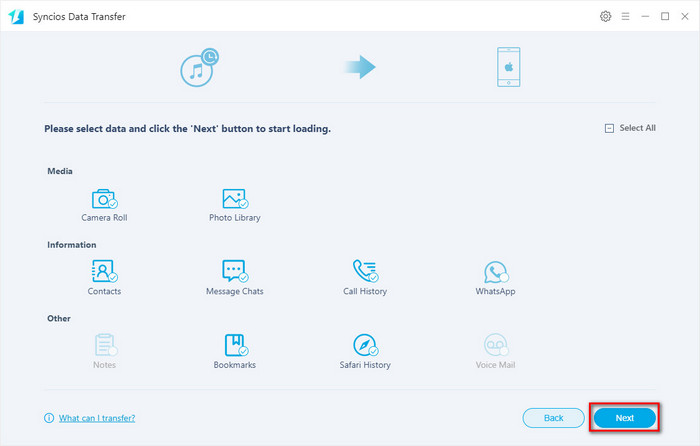 Step 2Restore iCloud Backup Files to iPhone SE 2020
Click on 'Back' > 'iCloud Backup' option. You will be asked to sign in your iCloud account. Once login successfully, Syncios Data Transfer will automatically detect and then load your data.
All iCloud backup files will be listed in the page. Pick one backup file that contains what you need to restore and then press on 'Download' button. Data in the backup file will be divided into three types: Media, Information and Others. Simply choose what you want, click 'Next' button to start transferring.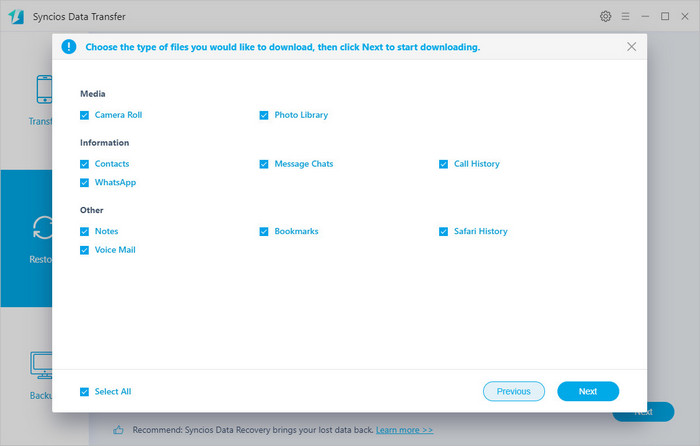 What to Do if Can't login iCloud?
1. Scrupulously check your Apple ID and password is correct or not.
2. Update your iOS to its latest version. If you have done, then a reboot can fix the problem.
3. Your Apple ID was locked when you used it on other sites or programs. You can reset new password to unlock it and please rest assured that Syncios programs would never do any harm to your personal data.
Conclusion
As above, you've learned how to sync old iPhone data to iPhone SE 2020, you can use Automatic Setup to move data, or choose Syncios Data Transfer to transfer old iPhone data from device, iTunes backup or iCloud backup to the new iPhone SE 2020.