Translate Syncios Products for US -- We Need You!
Translate Syncios to Your Language, win the License Code for any Syncios Product you Need!
Syncios provides ultimate transfer solution between iPod/iPhone/iPad & PC for iOS device users. So far, Syncios is available in several different language versions such as English, Japanese, German, French, Italian, Spanish, Traditional Chinese and Simplified Chinese. To better serve the customers all over the world, we are planning to localize Syncios into more minor languages. If you are native and love the Syncios programs, please come to join this program. There are still great demands on the language versions below:
Afrikaans, Albanian, Amharic, Asturian, Arabic, Azerbaijani, Bengali, Bosnian, Brazilian Portuguese, Catalan, Croatian, Czech, Danish, Dutch, Estonian, Filipino, Finnish, Galician, Greek, Hebrew, Hindi, Hungarian, Indonesian, Irish Gaelic, Kazakh, Korean, Lithuanian, Macedonian, Malay, Maltese, Marathi, Norwegian, Persian, Polish, Portuguese, Punjabi, Romanian, Russian, Sabah, Serbian, Serbian Latin, Slovak, Slovenian, Swedish, Thai, Turkish, Ukrainian, Urdu, Vietnamese, Zulu.

If your language is in the list above, please join our effort on perfecting our Syncios products by translating them into your native language. In fact, software translation is quite easy. We also appreciate any further translation which is not up-to-date.
---
Editor Recommended
We recommend using the Notepad++ Editor. It's simple and easy to use. You can simply click to download.

---
Translate Now !
Step 1Contact Us via E-mail.
Send an email with subject "Help Translate Syncios Program for Free License" to [email protected] including the program you want to help translate (Syncios Mobile Manager, Syncios Data Transfer or Syncios Data Recovery) and the language you chose. Our team will reply with the latest language files.
The language configuration of Syncios is stored in the language XML/ini/Strings files. All files are needed to be translated from English to your language. You can simple choose any product of Syncios to translate. Including:
Syncios Data Recovery for Windows/Mac
Syncios Data Transfer for Windows/Mac
Syncios Manager for Windows/Mac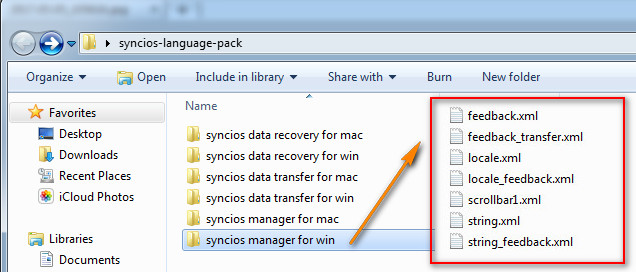 Step 2Translate the language files
Download and open the language folder, you should translate all files one by one. You can open the XML/Strings/ini files with Notepad++.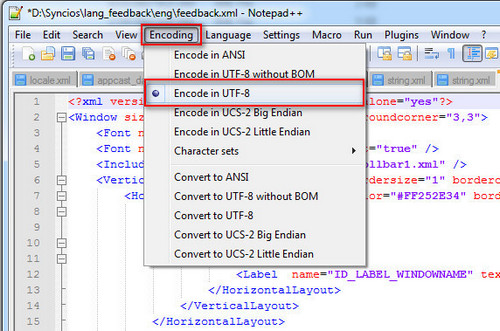 Note: Please select "Encoding" - "Encode in UTF-8" from the menu as above picture.
Translation Tips & Requirements
1. For most .xml files, please translate the words text="xxx" and tooltip="xxx".
For example:
<control name="ID_BUTTON_CLOSE_WINDOW" tooltip="Close"/>
<control name="ID_LABEL_REVOVER_FORM_DEVICE_NODEVICE" text="Please connect your iOS device to PC" />
2. For string.xml, you only need to translate the words string="xxx". And please leave section name and data id unchanged.
For example:
<data id="Copy Application %s" string="Copy Application %s"/>
<data id="Upgrade" string="Upgrade"/>


3. For most .ini files, please translate the words after=xxx.
For example:
106=Disconnected
112=You are using Win XP, please download and install phone driver manually, view the details now?

4. For most .strings files of Syncios Mac Products, please translate the words after as following: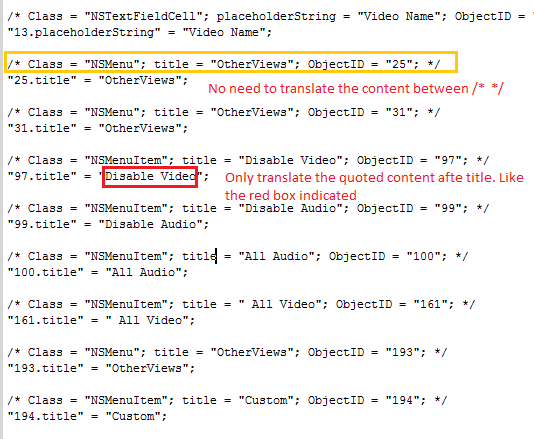 5. The .rtf files of Syncios Mac Products also need to be translated.


When translating, you can restart the Syncios program and switch the language option to check if your translation works.
Step 3Send us translated files and get rewarded
When translation is completed, you can email us the documents to our support email address: [email protected] . We will update our program with the new language and release the new version as soon as possible.
We will acknowledge all volunteers who make contributes to the translation of the webpages and the language files for Syncios to make the Syncios Products be known to more users all over the world. We thank your great contribution sincerely. What's more, you can also get a license code for any of Syncios Products as reward. You can get the license code to get Syncios purchased version without popups and adds.
Translate for us and you can get it free. We need you!
If you have any question about the translation project, please don't hesitate to let us know.