How to Make Ringtones on iPhone 11
Have you ever feel boring or even annoyed about your iPhone ringtone for hearing too much? Do you want to set your favorite song as your ringtone to make yourself delighted when every time your mobile phone begin to ring? As we all know, the safety of iOS system is one of its biggest advantages. However, sometimes it becomes a shortcoming. For the reason that we will encounter difficulties when we are to new or delete something in our iPhone. For example, make custom ringtone on your iPhone. Actually, you don't need to worry. This article is going to tell you how to make ringtone on your new iPhone 11.
Part 1. Make Custom Ringtones on iPhone 11
A complete song is always too long to set as a ringtone. Therefore, we need to do the cutting of the song to select the part that we like. However, a professional tool can help you do that easier. Syncios Mobile Manager is your top choice. It is a handy, effective but free tool for you to make custom ringtones as many as you want. And it supports both Android phones and iPhone. Now let's see it together!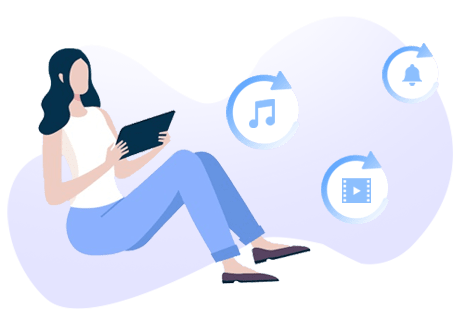 Tool Required: Syncios Mobile Manager
Useful tools: One-Click Backup/Restore, HEIC Converter, Photo Compression, Ringtone Maker, Audio & Video Conversion.
Selectively Backup and Restore Contacts, Message, Call log, Music, Video, Photo and more.
Flexibly import/export/de-duplicate music tracks on iOS and Android devices.
Step 1: Firstly, download and install Syncios Mobile Manager to your computer. You can see a Syncios Toolkit on your desktop. Double click on it and tap Mobile Manager. On the homepage of Syncios Mobile Manager, you can see modules containing Music, Videos, Photos, Information (contacts, messages, call logs), Apps, Ebooks, File and Toolbox. You can find the Ringtone Maker on Toolbox page.
Step 2: Click Ringtone Maker under Conversion tool. On the pop-up, you can choose to turn a song into custom ringtone. If the target song is on your computer, choose Select from computer option, or if the desired song is on your iPhone, then tap on Select from device. After selection, click Open/Select option to load the music track.
Step 3: Here you can edit the ringtone as you like. Normally, the duration of ringtone not exceed 20 seconds is recommended. Just play the music and you're able to set the start and end by yourself. Certainly, you can add the effects, such as check the Loop Playback option, setup fade in and out time. When finished, connect your iPhone 11 to computer via USB cable and then click Import to device to transfer the edited ringtone into iPhone 11.
Part 2. Use New Ringtones on iPhone 11
I believe that there are still some iPhone users never change their ringtone from default one to the other. In this connection, they might not know how to set the custom ringtone that they've transferred into their iPhone 11 just now. Read on to find the details:
Step 1: Open 'Settings' option in your iPhone 11.
Step 2: Press 'Sounds' option in the 'Settings' page and then choose 'Ringtone' option in the Sounds page. Now you can find that both custom ringtones and own-operating ringtones of iPhone are all listed in the Ringtone page. Choose the one that you just made as the default. And every time your phone ring, you will hear your favorite melody.
You can also learn from a video tutorial:
Part 3. Delete Custom Ringtones from iPhone 11
Sometimes, the pleasure we get from listening to certain song never stales. So we can keep hearing it for several years. However, when we begin to get tired of our ringtone melody, how can we delete it from our iPhone's ringtone list? Syncios Mobile Manager will give you a hand.
Step 1: Open Syncios Mobile Manager and connect your iPhone 11 to the computer.
Step 2: Find Music option on the top panel and find Ringtones on the left hand list. You can see all your custom ringtones have been listed in the page. Choose the ringtones that you no longer need. Check them, click Delete > Yes to remove the ringtone from your iPhone 11. Furthermore, you can merge repeated songs on your iPhone to free the storage space via the Mobile Manager.
Conclusion
Now we know how to make custom ringtones, set custom ringtone as default and delete useless custom ringtones from our new iPhone 11. As what you can see, Syncios iPhone Manager is your handy mobile assistant. It can help you make ringtones as you like. And if you feel like using GIF to express your emotion while you're chatting online, Syncios is your best choice in that way. Besides, it can help you transfer all kinds of data between phone and computer or phone and phone.
---
What's next? Download Syncios Mobile Manager now!