Best Way to Manage Music on Samsung Galaxy S21
The Samsung Galaxy S21 series were announced in recent sporting an intriguing new design. When you upgrade your old phone to the S21, you should consider how to transfer music to the new phone. Unlike Apple products, Samsung users can't use iTunes so that some of them are seeking of other possible and effective solutions for managing Samsung music between smart phones or between computer and phone. If you're now ones who are suffering from the problem, you come to the right place.
This tutorial has covered the most useful ways for you to manage music on a Samsung Galaxy S21. If needed, you can check out the directory below to jump to a specific method:

Part 1. Transfer Music Between Computer and Samsung Galaxy S21
Many people choose to save their music on computer for its larger storage space than normal phone devices. In this way, with the new Samsung Galaxy S21, you might be interested in how to transfer music from the computer to the phone. Then you will have a striking new phone but with familiar songs. So to transfer the music files from or to Samsung Galaxy S21 with ease, you should install one Syncios Mobile Manager, which is an all-in-one Samsung music manager. You can quickly transfer the music files or folder from computer to S21 and vice versa. What's more, it enables you to manage all the music files and save phone space under effective management.
Let's learn the detailed steps about how to manage music tracks between computer and phones.

Syncios Mobile Manager

Sync contacts, messages, call history, audio, photos, videos and other contents to computer.


Import photos, videos, audios and more media files from computer to iOS/Android devices.


Use your device as an external USB Key for extra convenient storage.


One click backup and restore phone data.


Fully compatible with the latest Android OS and iOS system.
Step 1Download one mobile manager to your computer. Run it and connect the Samsung Galaxy S21 to computer via USB cable. For an Android phone, enable debugging mode is a crucial step to get phone connected. Certainly, pay attention to the screen tips to allow some required permissions. More tips here.
Step 2Skimming through the program, we can easily find that this mobile manager has 7 parts. And they can respectively manage your phone music, videos, pictures, personal information and other types of files. To transfer music from computer to a new Samsung Galaxy S21, we should tap on Music. Click on Add button at the top of the page, choose Add Files or Add Folder.
When the pop-up appears, navigate to the files (folder) that you wish to transfer. Drag and drop them or select them and then to click Open (Select Folder) to begin the transfer process. When it display finished, tap Refresh to find on the Syncios list or just check on your S21.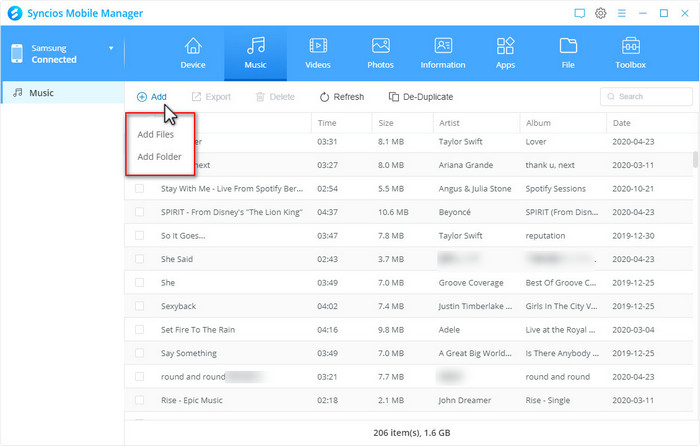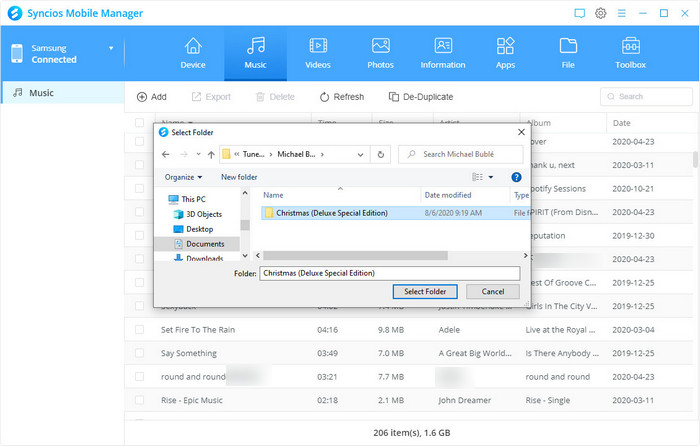 Step 3Now, let's switch to how to export Samsung Galaxy S21 music to a computer. The same, stay on this module. Scroll up and down to view the music tracks on your phone. To transfer all, check the box beside Name. Otherwise, tick what you would like to export one by one and then tap Export button. Choose a target folder and choose Select Folder. Wait a moment and you can check the transferred items on the automatically pop up window.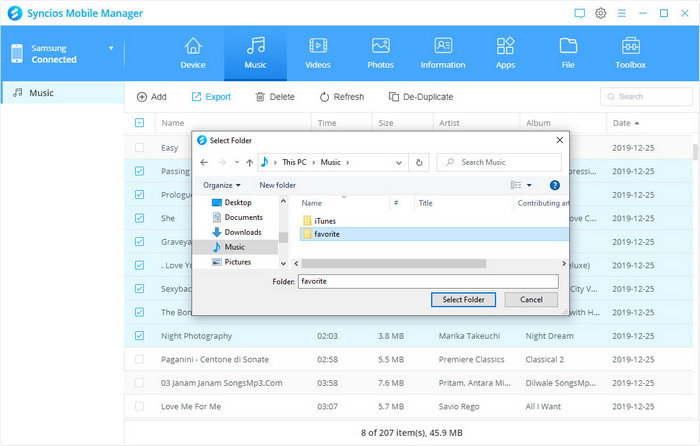 Part 2. De-Duplicate Music Tracks on Samsung Galaxy S21
What if you discover yourself finish the steps above more than one time carelessly and there're many repeated songs on your phone now? What if you want to check your music list thoroughly for cleaning up storage space? Don't worry! Syncios Mobile Manager has this amazing yet useful function.
Step 1 Tap on De-Duplicate button from the top bar. In the smaller window, you're allowed to select one or more columns as the filter condition. They are Name, Artist and Album. Then you can see the related items below.
Step 2 Click Delete Duplicates to delete the repeated items.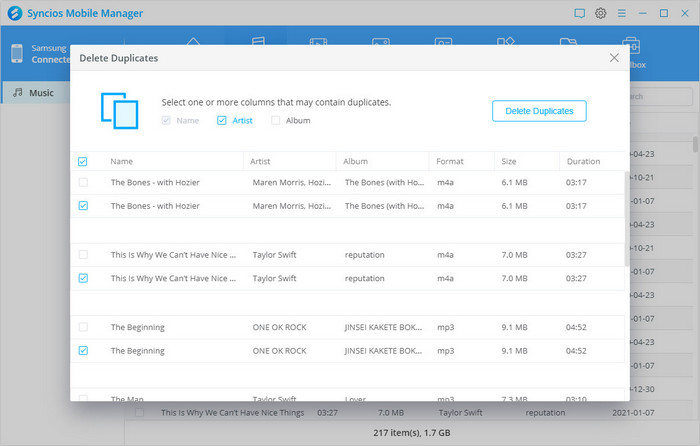 Part 3. Transfer Music from iPhone to Samsung Galaxy S21
We all know that iPhone and Samsung are using two different operating systems. So quite understandably, when you switch you phone and need to migrate all data including music to a new Android phone, Apple will not take you a convenient way to work this issue out. But actually, you can transfer the music from iPhone to Samsung Galaxy S21 in a simple way with the tool below.
Syncios Data Transfer is definitely top choice for you for its user-friendly interface and easy-to-handle operation. With it, you can transfer phone files, like contacts, messages, photos, videos, music and more directly between two smart phones. Let's read on.

Syncios Data Transfer

Transfer data from iPhone to Android, Android to iPhone, Android to Android, iPhone to iPhone in 1 Click.


Backup all phone contents to computer in 1 Click, including contacts, SMS, photos, videos, music and apps.


4 Restore Modes: to restore data from iPhone/Android/iTunes/iCloud backup to iOS or Android devices.


Transfer songs or playlists from iTunes Library to an Android phone, iPhone, iPad and iPod touch.
Step 1 Launch Syncios Data Transfer on computer after installation. Connect iPhone and Samsung Galaxy S21 to computer via their original USB cables and allow Syncios to detect them. (How to Fix Phones Detection Issues? iPhone/Samsung) Transfer module is to transfer types of phone files, including contacts, videos, SMS, photos, call logs, music, bookmarks and more from phone to phone. So we should stay on the Transfer section.
Step 2 When the device names show up on the Syncios interface, your devices have been successfully detected. Certainly, you still need to check the phone position. In a simpler word, the target device Samsung Galaxy S21 should be put on the right. Flip icon on the middle can help to change if needed. Click Next to continue.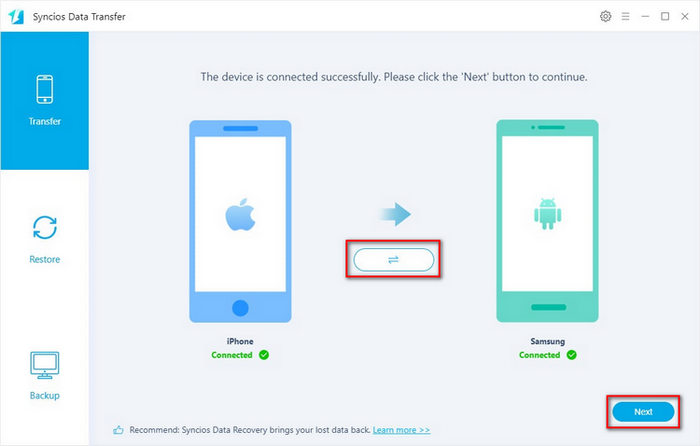 Step 3 You can preview the supported types of data on this step. Just select the type of data you would like to transfer. And to transfer music from iPhone to your Samsung Galaxy S21, uncheck Select All option first and then check Audio option. You should note that all your music files are included in this category. Click Next to load and then click Next > OK to start transferring.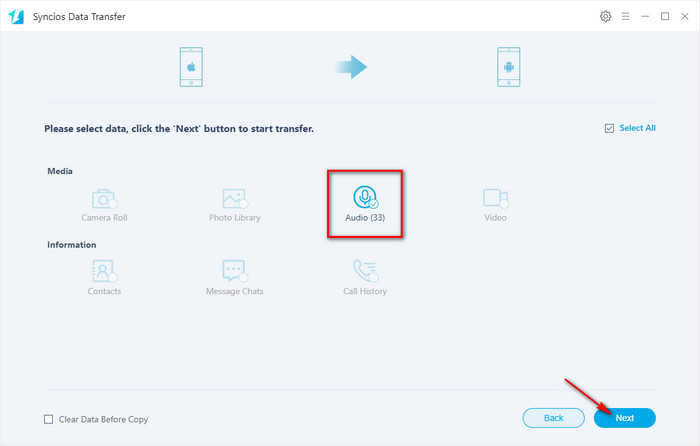 Part 4. Transfer Music from iTunes library to Samsung Galaxy S21
Except for the music on iPhone internal storage, some of you also want to transfer music from your iTunes Library to the new Samsung Galaxy S21. Your iTunes library, a database that's made up of all of the songs, movies, Podcasts, iTunes U and more that you add to iTunes, but Apple doesn't give us a solution to transfer these data to Android. Let's get it out with Syncios Data Transfer.
Step 1 Still, get one Data Transfer tool. Go to its Restore module. Here you can see 4 options: Local Backup, iTunes Backup, iCloud and iTunes Library. Tap on iTunes Library and you will see all your music and videos on iTunes will listed in the window.
Step 2 Select the item(s) you want to transfer from iTunes Library to Samsung, tap OK and you will see the last page again. Click Next > OK to confirm and begin when back to that page.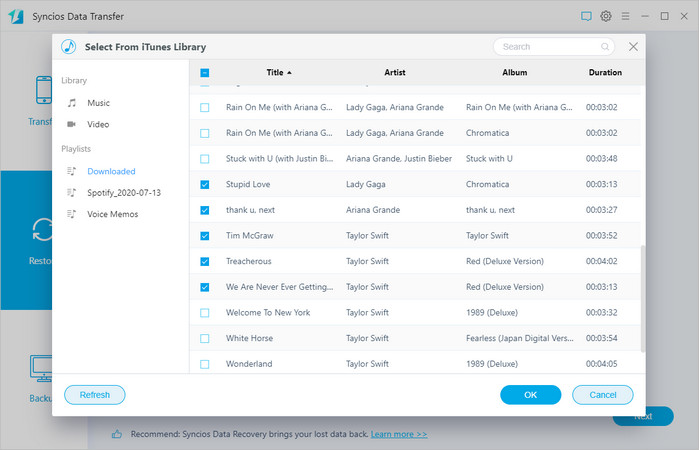 Conclusion
To sum up, this is a thorough summary of managing music on a Samsung Galaxy S21. You now know the quickest ways to share music between computer and Samsung Galaxy S21 with Syncios Mobile Manager, transfer music from iPhone or iTunes Library to a Samsung via Syncios Data Transfer. Also, you get one effective way to convert and export Spotify songs or playlists with the TuneCable Music Downloader and then import them all to Samsung. So what to do next? Download the program you need now!