How to Download and Play 4K Resolution Video on iPhone 6/ 6 Plus ?
Can 4K UHD Videos Be Played on iPhone 6/6 Plus ?
Disappointedly, the answer is "No". In fact, currently none of the iOS devices can display 4K resolution on screen. Neither the current newset iPhone 6s or 6s Plus do not support to play 4K videos, nor the Apple TV and most MACs on market. Why 4K UHD Video can not be played on iPhone, even the iPhone with Retina display?
You should at first realize the following cruel fact that iPhone 6 Plus screen resolution is only up to 1920 x 1080. However, the 4K videos required to be play on at least3840×2160 (16:9) or 4096x2160 (17:9) resolution screen.
Nevertheless, nothing is absolute. You can convert / compress 4K videos for playing on iPhone 6 or 6 Plus or other iOS 8/9 devices without obvious quality downgrade. All you need is only a 4K Video Downloader, by which you can download video, audio and subtitles from YouTube in high-quality. Downloading process is extreamly simple and straightforward: just copy the video link from your browser and click 'Start Download'. Done! Now enjoy your 4K videos anywhere, any time, and of course even when you are offline!
Guide on How to Play 4K Video on iPhone 6, iPhone 6 Plus
Step 1. Install and launch iPhone 4K video downloader on your PC
Simply download this free iphone 4k video downloader on your computer, which which is a big-league HD/UHD video converter program capable of converting 4K videos, 1080p videos, MKV, M2TS/MTS/TS/AVCHD, MOV, WMV and any other videos to iPhone. With this program, you are able to enjoy music, video in unsupported format on iPhone/iPod/iPad conveniently.
Step 2. Copy and paste online video URL(s)
Tag on Video Downloader on the top menu bar. Find 4K ultra HD video that you want to download to your iPhone 6 on YouTube or other websites. Then copy and past online video URL to the pop-out box or drag and drop video URLs directly from web browsers. If you want to download more than one videos at one time, please put each URL on new line.
Tips : You need to find out the YouTube video URL. Please click on share button under the YouTube video then copy URL on the tab. You can also right click on the video window and click "Copy Video URL" to get the URL.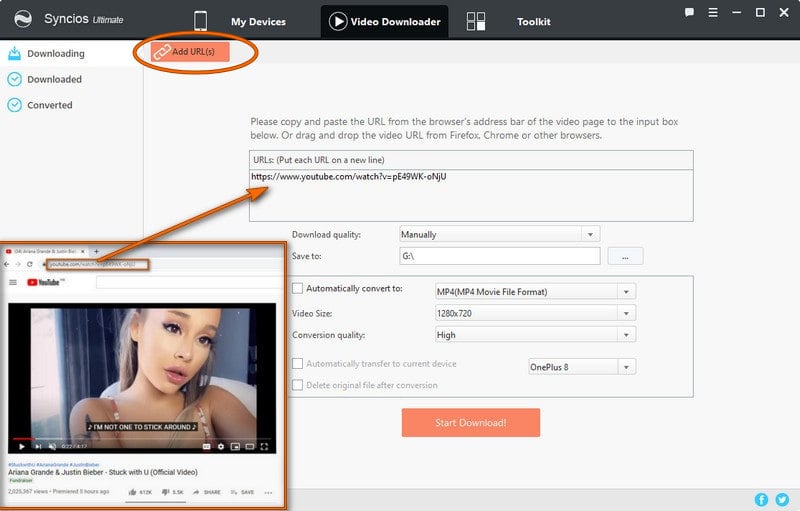 Pro version ( >> version compare) support automatically converting and importing downloaded videos to your iOS devices, just tick "Automatically transfer to current device." before downloading, it also allows you to select the download quality, output video format, video size, conversion quality.
Download quality: Manually, Best Quality, Smallest File.
Output Video Format: just tick the checkbox of "Automatically convert to" and then choose the video format you need.
Video Size: all kinds of size for your choice.
Conversion quality: Low, Normal, High.
Step 4: Tranasfer 4K video to iPhone 6/ 6Plus
If you are in Pro version, your 4K videos will be transfer to your iPhone 6 directly and automatically with " Automatically transfer to current device" option checked.
For free version users, please wait until the downloading process completed and it would display under the Downloaded list. Check downloaded videos you would like to convert and transfer to your device. Hold down the Ctrl/Shift key to select multiple videos. If you would like to transfer output video file to connected device automatically, please simply check the option: Transfer to device after conversion. Click Convert button to start the video conversion process.
If you have high requirement for visual experience, we recommend you to convert 4k video to "1920 x 1080" video size, which meets iPhone 6 and iPhone 6 Plus resolution.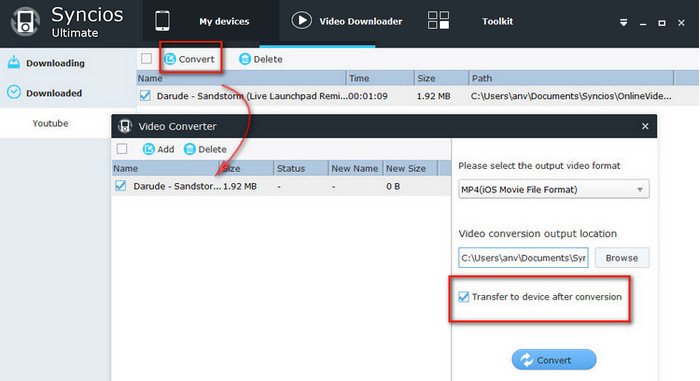 After the transferring process completed, navigate to your iPhone, open the Video app, then you will see all of your downloaded 4K videos are saved on it. That's it! Enjoy your 4K video on iPhone now.
Supported Apple Devices and iOS Versions
| | |
| --- | --- |
| iPhone | iPhone XR, iPhone XS, iPhone XS Max, iPhone X, iPhone 8, iPhone 7, iPhone 6s, iPhone 6s Plus, iPhone 6, iPhone 6 plus, iPhone 5S, iPhone 5C, iPhone 5, iPhone 4S, iPhone 4, iPhone 3GS |
| iPad | iPad Pro; iPad mini 4;, iPad mini 3/2/1, iPad with Retina display, The New iPad, iPad 2, iPad |
| iPod | iPod touch 5, iPod touch 4, iPod touch 3, iPod Touch |
| iOS | iOS 5 - iOS 14 |
Have something to say about this tutorial? Share your comments below! Need help with something else? Submit your question via online form, we will reply you within 24 hours.