How to Backup iPod Touch Music to Computer
To back up iPod music is very necessary, for there are some potential risks. iPod music may be erased by iTunes when syncing your iPod. It may be deleted by mistake. Or it may be wiped clean by unknown disasters to iPod. To prepare for all the worst, read and learn in how to backup iPod music to computer in today's article. Here we will introduce several ways to fast backup your iPod music.
Since iTunes is incapable of iPod to PC transfer, here we can go without this huge program. We will use other tools to do the job. We can backup iPod music to computer with Windows system method, Syncios method, iFunbox method, following are the detailed steps.
Solution 1:Windows System Solution
Have you thought that you could get music file from iPod to PC with your Windows system? You may also notice that Windows system can actually treat iPod as a removable drive, and you can just go in and copy the files off from where they have been stored. It will suit your need if you don't want to install any other tool on your computer. But it's a little bit difficult and you may need to spend time on finding options and files in your iPod, iTunes and computer (settings will vary in different Windows and iTunes version). Here are the steps.
1. Connect your iPod — Connect your iPod then run iTunes. Warning! If iTunes loads when you plug in your iPod, and is set to automatically sync your entire library (erasing files from your iPod), you MUST stop it — hit the little "X" in the upper right hand corner of the window.
2. Open your iPod — It should show up on "My Computer" as a "Portable Device", right click and choose "Open".
3. Unhide the files — By default, Windows hides hidden files and folders (thus the name). Go to Folder Options (Control Panel > Appearance and Personalization), and on the View tab, check "Show Hidden Files and Folders".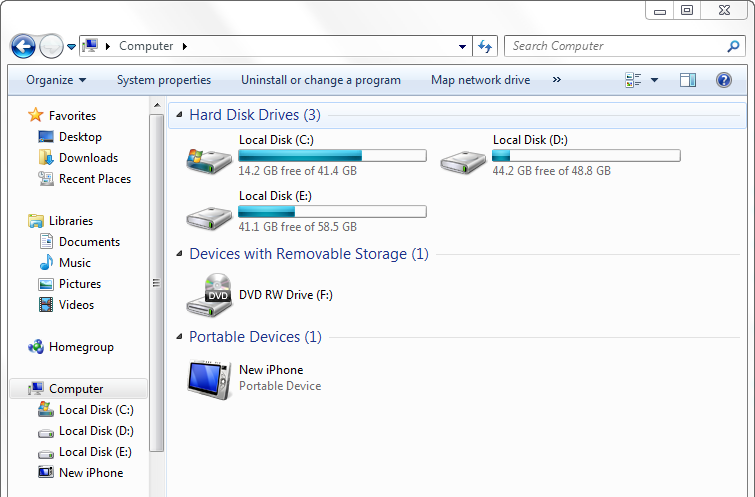 4. Find Music File — The music is stored (in current iPods) in the directory "\iPod_Control\Music". This may have a lot of odd looking stuff in it — it doesn't matter; select everything and drag and drop them to a folder on your hard drive.
5. Configure iTunes — Go into iTunes Preferences, and under the Advanced tab, check "Keep iTunes Music Folder Organized" and "Copy files to iTunes Music Folder when adding to the library" (settings move around a bit between versions of iTunes, but these settings will be there somewhere).
Solution 2: Syncios iPod to PC transfer
Syncios iPad Transfer is an excellent but free program for backing up iPod music to computer. Compared with method above, it will be more straightforward. Thus saving you time in finding files and directly transferring music from iPod to PC. Latest iOS iPod Touch is fully supported. See how to backup iPod music to PC with Syncios iPod Transfer.
1. Install Syncios — Download and install Syncios iPod Transfer on your computer. And open "Mobile Manager" program on the main interface.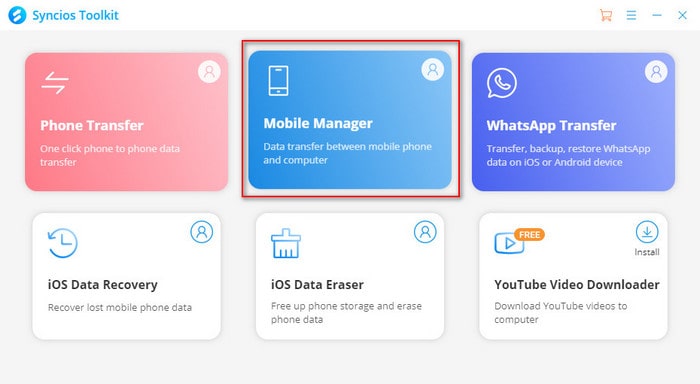 2. Connect your iPod — Plug your iPod into your computer with USB cable and wait for a little while for device loading.
3. Choose iPod music files — The top menu column displays all the sections of the device according to file types. Click on "Music", all the iPod music will be listed in the main window. Click to select the wanted music.
4. Backup iPod music to PC — Click "Export" on top of the center panel, set backup file location on your computer and click "OK" to apply. Then you can get your iPod music file backed up in your computer.
Note: Syncios iPod to PC Transfer also supports Android devices now, you can back up your music from Android to PC freely by this user-friendly tool.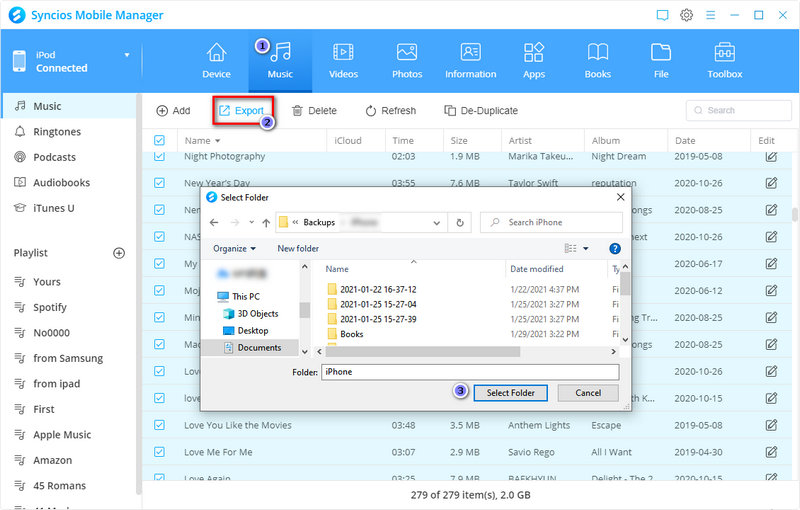 Solution 3: Syncios Data Transfer
If you just want to backup all your iPod music to PC without selecting one by one, Syncios Data Transfer will be your best choice. It is such a smart tool for you to transfer music from your iPod to computer in just one click, which is the ideal music transfer tool to backup music.
Syncios Data Transfer now supports the latest iOS and the latest iTunes. Now let me show you exactly how to backup all your music from iPod to a computer below. Just simply download and try Syncios Data Transfer. You will love it!
1. Install Syncios Data Transfer— Download and install Syncios Data Transfer on your computer. And open "Phone Transfer" program on the main interface.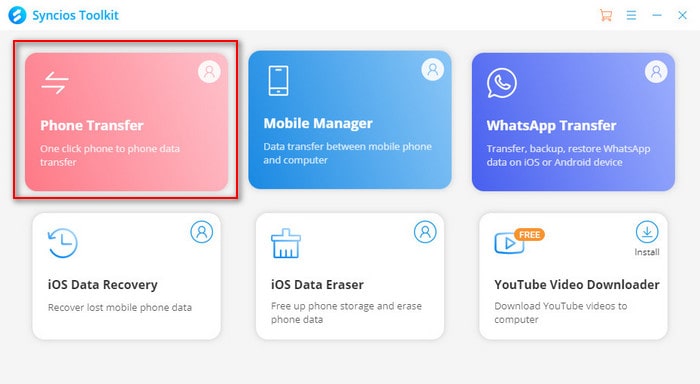 2. Connect your iPod to PC — Connect your iPod into your computer with USB cable and wait for a moment for device loading.
3. Backup iPod Music to PC — Click Backup on the main interface. After that please select Audio to backup on the next interface. Click Next and then the program will start to copy your music to PC.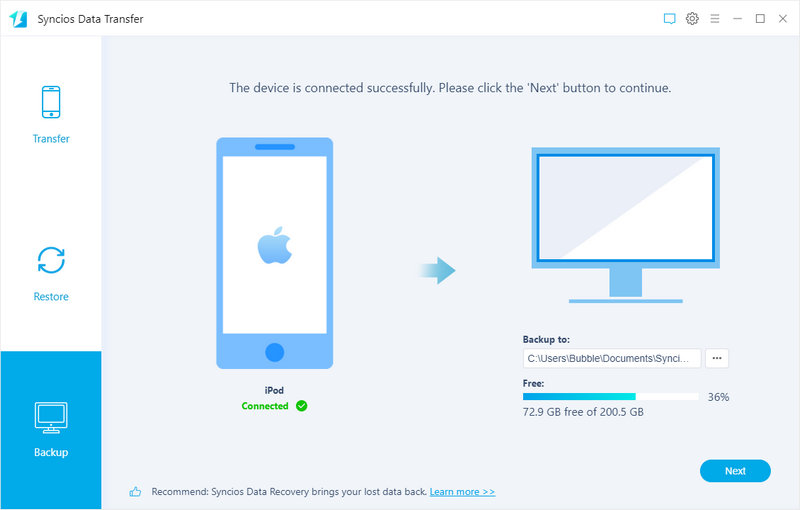 Solution 4: iFunBox
iFunBox is another piece of freeware which enables you to backup iPod music in simple way with few click. This application is connected with its own app store from which you can buy and download other sources. If you would like to do more than iPod music to PC transfer, it could also be a good option. But there is a drawback that it has no list for showing and choosing the music contents inside, let alone showing other info like size, artist, genre etc. And the interface seems to be less user-friendly.
1. Install iFunBox — Download and Install iFunBox on your computer.
2. Connect your iPod — Plug your iPod into your computer with USB cable and wait for a little while for device loading.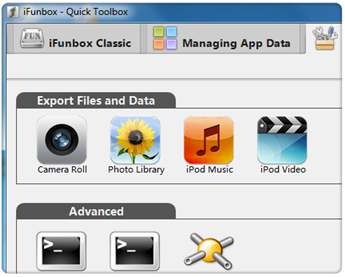 3. Export iPod Music — Go to "Quick Toolbox > Export Files and Data". Click "iPod Music" and choose export folder on your computer. Then click "Save" to export all the music from iPod.
Conclusion:
Now, with the methods above, you could save money and time on backing up your iPod music to computer. And there is no need to worry about losing your music file in iPod. Moreover, all these methods can be operated without network or wifi. It would be of great convenience to backup iPod music if you are on journey with just a laptop and unable to use iCloud. Actually, in the same way you can back up all other iPod contents like photos, videos, contacts, ebooks and more files to your PC (or laptop).
---
Extra Tips: How to Download Music to iPod?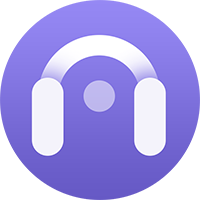 To forever down music into your iPod, you can use a professional music tool to help you download and music to other formats for offline storage. AudiCable Audio Recorder is a professional music converter which can help you not only recording music as common MP3, but also convert M4A/M4B/AA/AAX audiobooks and M4P music to MP3, WAV, FLAC, or AAC and more formats. It can be used as an all-in-one music converter.
---