How to Sync iPhone Safari Bookmarks to Windows 10 PC

- Does anyone know how to sync Safari bookmarks from the iPad to the pc? I know how to do it from PC to iPad but not the other way around. Other than spending £80 for Mobile Me any ideas? -- Questions from Weeney on Apple Support Communities
For iPhone/iPad/iPod Touch users who owns Windows 7/8/10 computer, they maybe have the same question on how to sync Safari bookmarks from iOS devices to Windows PC, like Weeney. Actually, Apple makes it easy to synchronize bookmarks between the Safari browser and the others on your Windows PC, as long as using the Bookmarks Transfer.
You can do this with any browser. Whether you're using Chrome, Firefox, or even Internet Explorer, there's a way to sync your iPhone/iPad/iPod bookmarks to your Windows computer, such as Windows 7; Windows 8 or Windows 10.
How to Sync iPhone/iPad/iPod Safari Bookmarks to Chrome/FireFox/Opera Browsers on Windows PC
With this Safari bookmarks transfer tool, you are able to export your iPhone bookmarks to any web browsers on Windows computer, including Chrome, FireFox, Opera, Internet Explorer, Safari, etc.

Step 2. Transfer Bookrmarks from iPhone/iPad/iPod to Windows computer
Connect your iPhone to computer using USB cable and open the bookmakrs transfer program. Under 'My devices', click 'Information' then choose 'Bookmarks' . You should see that all of bookmarks on your iOS device is listed out there. Simply tag on 'Backup' button to transfer bookmarks to pc. On the pop-out dialog, browse backup location and backup bookmarks from iPad/iPhone/iPod to PC.
Tips : It enables you to create bookmarks on iPhone/iPad/iPod directly using the Save key on the bottom .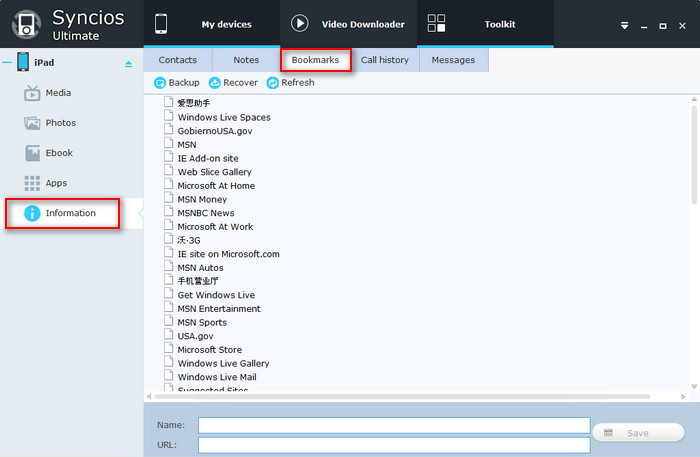 Step 3: Sync Safari Bookmarks with Internet/Chrome/FireFox/Opera Browsers
Open your default web browsers on windows pc and import your previous backup bookmarks to it.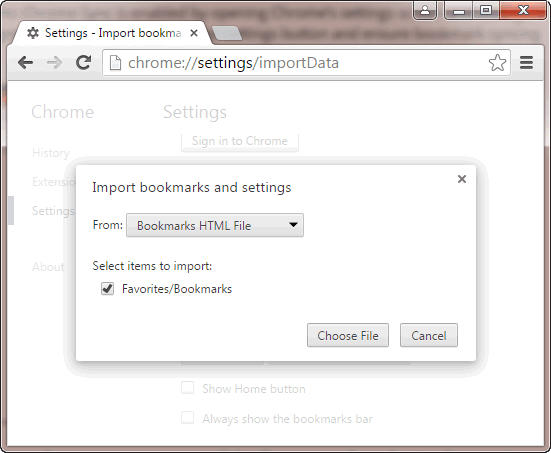 That's it! Now you are syncing your Safari bookmarks with the other browsers on your windows computer.
Tags: How to sync iphone bookmarks to windows 10 PC; Export Safari bookmarks to Windows PC; Sync Safari bookmarks to Google Chrome; Transfer Safari bookmarks from iphone to FireFox on Windows PC; Transfer iPad bookmarks to Windows 10 computer; Sync Safari bookmarks to Windows 10 computer; Bookmarks tranfser
Have something to say about this tutorial? Share your comments below! Need help with something else? Submit your question via online form, we will reply you within 24 hours.
---
Related Articles: