6 Ways to Transfer Data from iPhone 5/6/7/8/X to iPhone XS
When you get your new iPhone, what do you do to transfer contents of an older iPhone to a new one effectively? When it comes to transferring data from iPhone to iPhone, there are generally three ways to do it, either with iTunes, iCloud or third-party software. In this tutorial, we introduce 6 different ways to transfer data, thus, all the practical methods are detailed. Choose the one you prefer to help you copy files from your old iPhone to your new iPhone XS easily.
---
Method 1. Set A New iPhone XS via
iTunes
Step 1 Firstly, you should back up your old iPhone via iTunes. Open iTunes, go to Account to sign in your Apple ID firstly. Find the device icon on the left of iTunes homepage and click on it. Tick off This Computer > Back Up Now to make an iTunes backup of your old iPhone.
Step 2 Then start to set your New iPhone XS. After setting the language and network, you will see a restoring page. Choose Restore from iTunes Backup, and connect iPhone XS to iTunes, select a certain backup and restore it to iPhone XS. Simply wait for the restoring process finished, and a few steps to go to complete the update, then all data from old iPhone now is on the new iPhone XS. But note, it's only suitable to new phone setup, because iTunes will overwrite the existing data. If you don't want to lose all existing data, you'd better check method 4.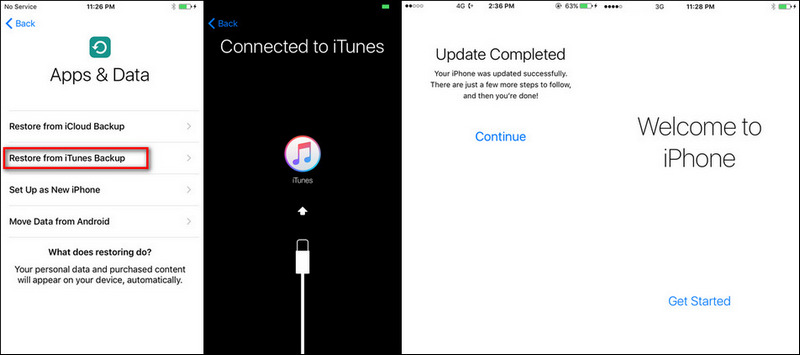 ---
Method 2. Set A New iPhone XS via
iCloud
Step 1 Firstly, you need to backup your old iPhone via iCloud if you haven't. Unlock your old iPhone, go to Settings to find iCloud setting under your account or scroll down find iCloud directly (It's different for different iOS versions). And turn on iCloud Backup option, then click on Backup Now. Or when your iPhone is plugged in charger, locked and connected to WLAN, your data would be automatically backed up to iCloud. Of course, you can check what kinds of data to be backed up manually.
Step 2 The setup new iPhone XS. After finishing the setup of language and network, select Restore from iCloud Backup option, then sign in your Apple ID, and choose the backup to restore. After a while, your new iPhone X gets ready. But note Apple only provides 5GB free space for each iOS user. Besides, you need to use iCloud as medium, no direct data transfer.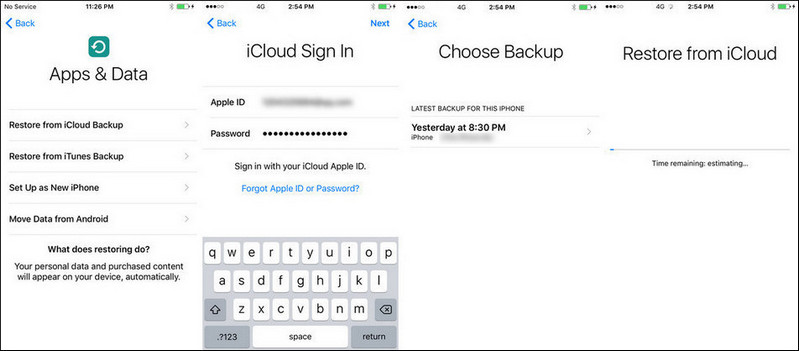 ---
Method 3. Sync Old iPhone to New iPhone XS
Selectively
Do you want to get one more method to sync your old phone to new iPhone XS? You have no idea what you are transferring using iTunes or iCloud. But with Syncios Manager for free, you are able to preview, edit, backup, restore or delete files of mobile phones more straightforward. In this way, you can view and check every content on your iPhone before transferring.
Step 1 Connect your old iPhone and iPhone XS to your computer with a USB cable or via WiFi when Internet is stable. And tap Trust on your device to continue. Start Syncios Manager and enter data analysis.
Step 2 Your phone data will be loaded and categorized into Media/Photos/Ebook/Apps/Information (including contacts, notes, bookmarks, call history, messages, whatsapp, safari history, voicemails).
Step 3 Firstly, we choose contents from old iPhone and backup them to computer then we restore backups to new iPhone XS later. For instance, if you want to backup messages. Under old iPhone, you will find Information > Messages enter and all messages on your old iPhone will be displayed here. Select some of messages or select all messages at once then tap on Backup button. Then save the messages to computer after choosing a proper saving path.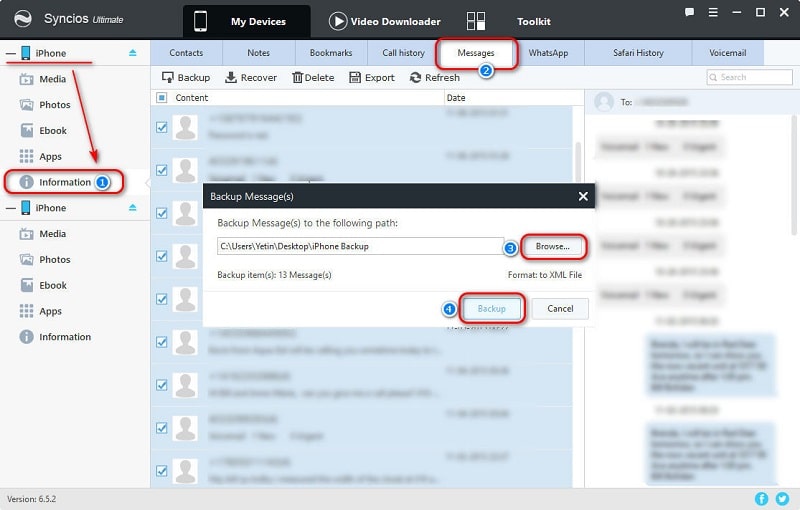 Step 4 After saving old iPhone messages, we need to restore them to new iPhone XS. Navigate to Information > Messages under iPhone XS. Tap on Recover option and Syncios will detect the saved backups on computer automatically. Choose one previous backup from the list and recover them to iPhone XS. Wait with patience, it needs time to sync data.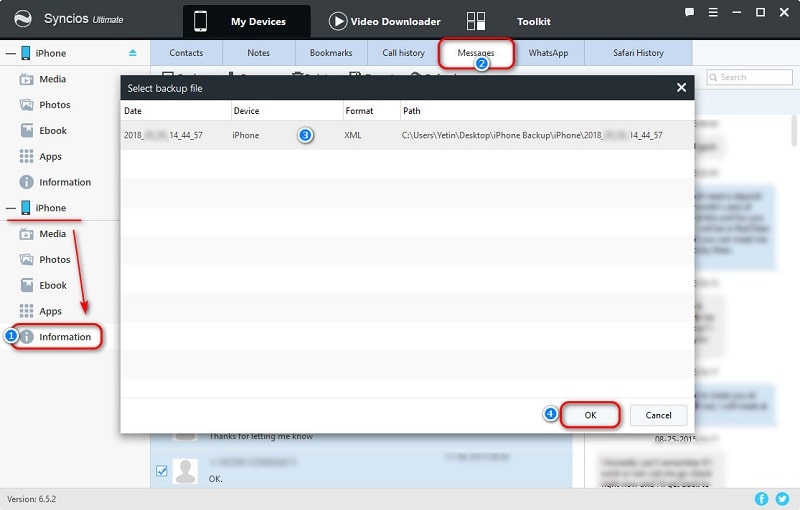 Note: For exporting and importing different contents, the options will be a little different. The options could be Export/Backup when exporting or backing up data. The options could be Import/Add/Recover when importing or restoring data.
---
Method 4.
One-Click

to Transfer Data to New iPhone XS

Wonder what should you do if you need to move all data of old iPhone to new iPhone XS at once? Follow this method to learn how to sync contacts, messages, call logs, music, photos, videos and bookmarks to new iPhone XS quickly and simply with another handy tool - Syncios Data Transfer. Open Syncios Manager and find this "Phone Transfer" tool under "Toolkit". Or directly download it from below.

Step 1 Download Syncios Data Transfer on your computer according to your operating system. You can see three modes of this tool on the start-up interface: Transfer/Restore/Backup. To sync data between two phones directly, you need to choose Transfer.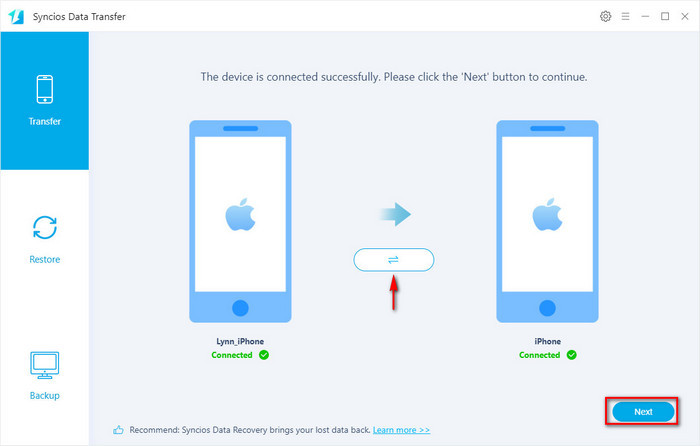 Step 2 Connect your old iPhone and new iPhone XS to computer. Make sure your old iPhone is displayed on the left as the source device and your new iPhone XS is on the right as the target device.
Step 3 Then we click on Next button to move on, and choose contents you need then click on Next to start transferring. Wait with patience, and keep your phone being connected well when transferring. The selected contents will be transferred to your new iPhone XS automatically. Easy, right?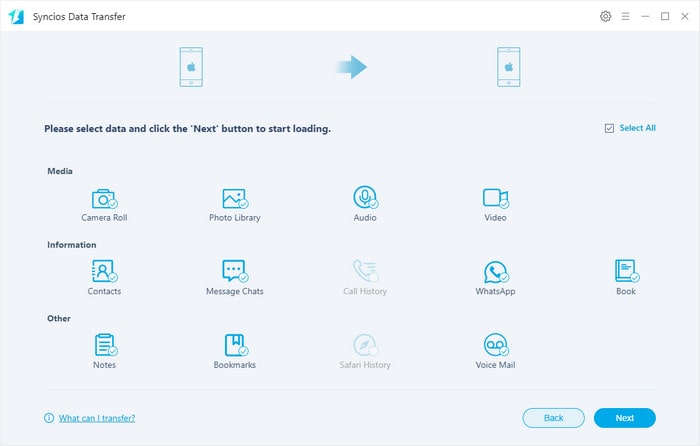 ---
Method 5. Easy to Transfer
iTunes Backups

to New iPhone XS

We've methioned Syncios Data Transfer allows you to transfer, restore and backup your phone data. As for restoring, it offers four choices, restoring from the saved backups, restoring from iTunes backups, restoring from iCloud backups, restoring from iTunes Library. We are going to talk about how to restore your phone from iTunes backups with this tool. It's different from method 1, because we don't need to restore those backups via iTunes, instead we retrieve those backup files form computer directly. Thus, you don't need to worry about data erasing when restoring iTunes backups.

Step 1 Syncios is capabale to retrieve iTunes backup files directly. So if your old iPhone is damaged or missing, don't worry. The old iPhone is not needed in this way. Get Syncios Data Transfer and run it on your computer. Navigate to Restore button on the homepage. And connect iPhone XS to computer with its USB cable or via WiFi.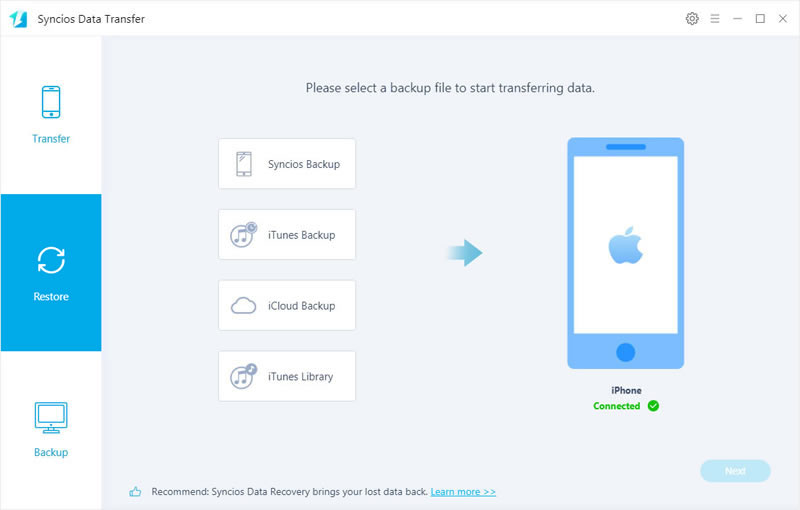 Step 2 Click on iTunes Backup to start retrieving iTunes backup files. If you've backed up iOS device(s) on your computer before, Syncios will detect your iTunes backups. Choose one backup and click on Next to select contents you need. At last, you can start to sync contents from the iTunes backup to your new iPhone XS.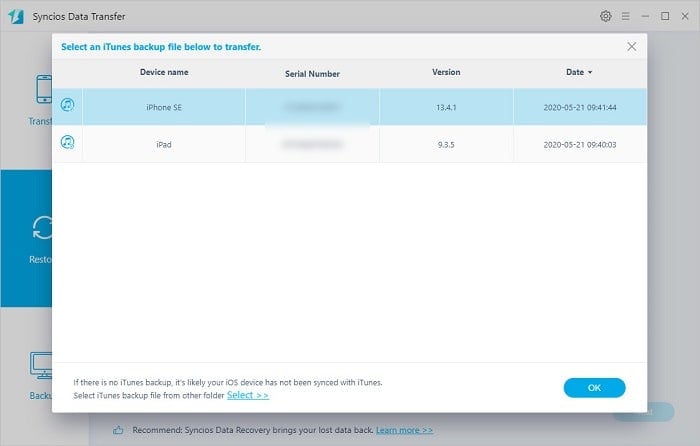 ---
Method 6. Easy to Transfer
iCloud Backups

to New iPhone XS

Most of iOS uders will backup their phone with iCloud. if you've already deleted some data on your phone, you can still find them on your iCloud backup files. As long as you remember your Apple account, you can follow us to restore your iCloud backups without any complicated operations. Now, let's check how it works.

Step 1 Launch Syncios Data Transfer and navigate to Restore > iCloud Backup on the primary interface. Connect your iPhone XS to computer with its USB cable or via WiFi.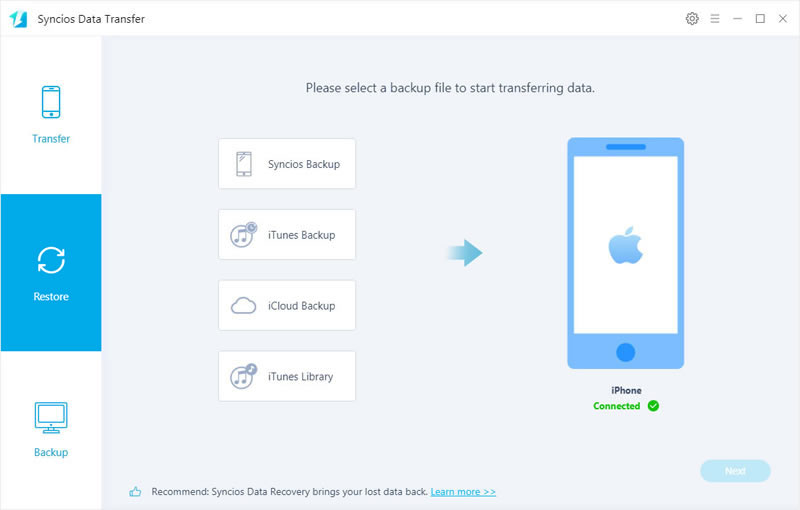 Step 2 You'll be asked to enter iCloud account now. Enter the right account and you are able to check how many backups you've made. Choose one to download and next select contents to start transferring.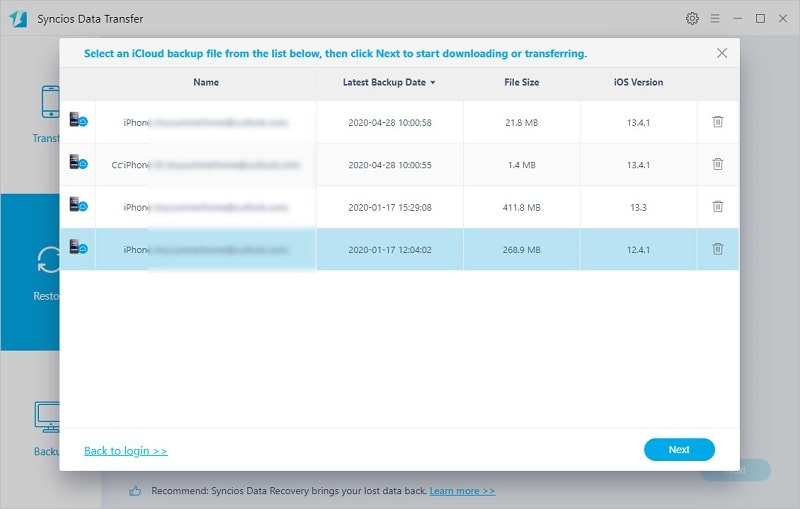 ---
Conclusion
We've shared 6 ways to transfer iPhone data to iPhone XS, in fact, things would not be more clear until you have a real try. Have a free try with Syncios Mobile Manager and Syncios Data Transfer, then decide which way you prefer.