1.

What are the limitations of the trial version for Syncios Data Recovery

The trial version and registered version are the same program. The only functional difference between the trial version and the full version is that the trial version can only scan iTunes backup files, iCloud backup files and iOS devices to preview the lost data. If you would like to recover the found data to computer or device, you need to purchase a registration code to activate the program to registered version.

You will get the registration information via Email after you finish the order. After you register the product with the registration code, you can recover the data to computer.
---
2.

What to do if I got the prompt "No enough disk space, please free up disk space".

If you got this prompt once you start to scan your device or backup, please go to Setting window to change the default Backup location folder from C: driver to another available drive.

Click

button on the upper right corner of the main window and click Settings to make change Syncios default settings.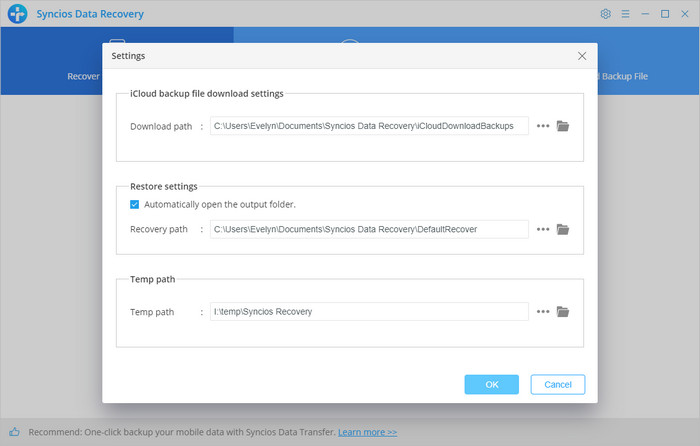 ---
3.

Can I put the recovered files back to iOS device?

Currently Syncios Data Recovery only supports recovering notes and contacts back to iDevices, we will continue to support more file types.
4.

What to do if I get "Analyze is unsuccessful" error.

If you encounter the "Analyze is unsuccessful" error, you can check the following settings.
1. Unlock the device If there is Screen Lock password.
2. Make sure that you installed the latest version of iTunes, you can reinstall it then try again. If there is any fault in iTunes it will impact the success rate of device analysis.
3. If your iTunes backup files have been encrypted, remove the password on the iTunes backup file.
4. For iOS 7 devices, please tap "trust" on your device to authorize this PC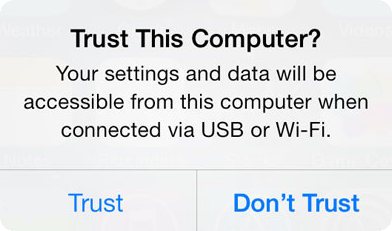 Then refer to the following tips to see if they will resolve the fault.
1. Check that the USB connection is well seated, disconnect and reconnect it, try an alternative USB port and lead is possible.
2. Restart your iPhone and computer.
3. Change to another computer if possible.
4. Disconnect all other USB connections.
5. Close any anti-virus software if you have it running.
---
5.

What to do if I get "Syncios Data Recovery can't be opened because it is from an unidentified developer" error.

When installing Syncios Data Recovery on Mac Mountain Lion & Mavericks, you may get the aforementioned error dialog saying that "Syncios Data Recovery can't be opened because it is from an unidentified developer", just as it shows below: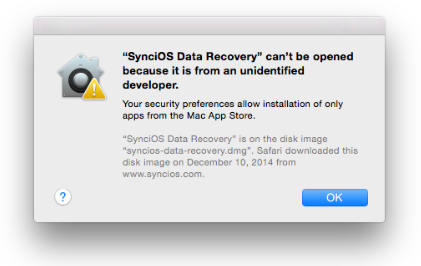 Solution
This is because Mac OS includes new features to improve security for users. One of the new default options prevents users from being able to install or launch applications that are not downloaded from the Mac App Store, or that have not been digitally signed by the developers.
To install Syncios Data Recovery on Mac Mountain Lion & Mavericks, you should follow the steps below:
1. Go to System Preferences > Security & Privacy.
2. Click the lock icon in the lower-left corner and enter your administrator username and password to make change.
3. Under "Allow applications downloaded from", select "Anywhere"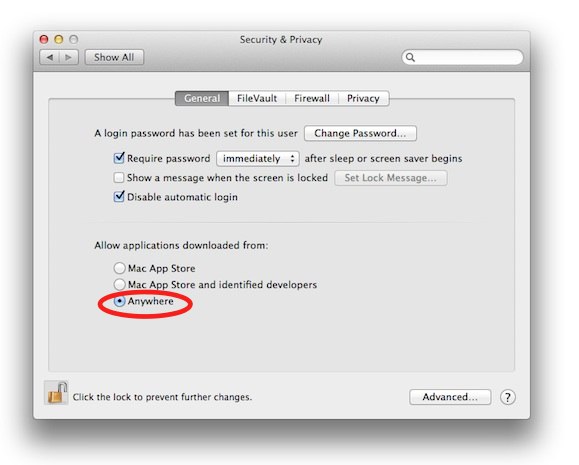 Click the lock to prevent further changes. After that, you can launch and run Syncios Data Recovery on your Mac OS normally.
Note
You can change the security setting back to "Mac App Store and identified developers" or "Mac App Store" as desired, for improved security.
---
6.

What to do if Syncios only recovered the titles of iOS Notes, but no contents?

Syncios Data Recovery currently only supports recovering the text format of notes. So if your notes are in media format or contain any special font, Syncios is unable to read and recover them to your computer and iOS devices.