How to Transfer iOS Data to Samsung Galaxy S21/21 Ultra
Yesterday, Samsung released its new flagship Samsung Galaxy S21, S21 Plus and S21. Although its S series are always announced in the winter, it a month earlier than ever before. This time, Samsung has put more distinction between the S21 models. Certainly, many people are also interested in the differences between Samsung S21 Ultra and the S20 Ultra before it. One you should know that is their price, S21 Ultra has lower launch price than S20 Ultra. More importantly, the former one support S Pen and equipped with 5nm Snapdragon 888 chipset with integrated 5G modem.
What do you think of the new flagship? Decide to move from an iOS user into an Android Samsung user? Before it, you should learn some effective ways to transfer data from iOS devices to Samsung.

Method 1. Transfer iOS Data to Samsung Galaxy S21/21 Ultra Selectively
When we change our phone from iPhone to an Android, we should consider how to transfer phone files between different platforms. And if the transfer has a hiccup, it will become an annoying experience. But with the help of professional data transfer tool, you can finish migrating the data from iPhone to Samsung Galaxy S21 or S21 Ultra with ease. Syncios has released different programs for meet different needs. If you want to do a selective transfer between iPhone and Samsung, Syncios Mobile Manager, an all-in-one mobile phone management tool should be the top choice. Then you're allowed to transfer music, videos, pictures, contacts, messages and more from iOS to Android in a simple way.
Here we will take an example. That's how to transfer music on certain playlist from iPhone to Samsung S21 instead of transferring all music tracks.

Syncios Mobile Manager

Sync contacts, messages, call history, audio, photos, videos and other contents to computer.


Import photos, videos, audios and more media files from computer to iOS/Android devices.


Use your device as an external USB Key for extra convenient storage.


One click backup and restore phone data.
Step 1Download one Syncios Mobile Manager to your computer. Open it from Mobile Manager option on Toolkit interface.
Step 2Now, connect your iPhone and S21 to computer via two USB cables. Please unlock both of the phones and keep an eye out for any of the pop-up on phone screens. That's to make sure your phones can be smoothly detected. If it's the first time to connect these two phones to this computer, you should enable debugging mode on Samsung Galaxy S21 and click Allow to trust this computer on your iPhone.

Other detection issues? iOS/Android
Step 3After connection, tap on Music module to export one of the playlist on your old iPhone. As you can see, the playlists are listed on the left toolbar. For example, to transfer the songs on Music playlist, tap on the tab to load the music. Check item(s) you would like to export and click on Export button. Choose a save path and choose Select Folder to begin.
When complete, change the device to Samsung Galaxy S21. The same, enter Music part.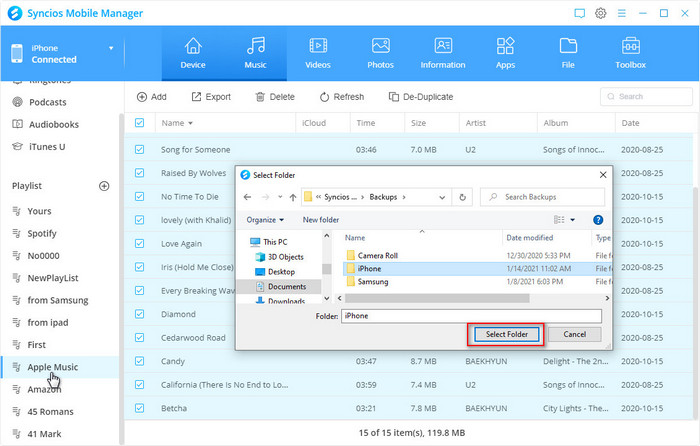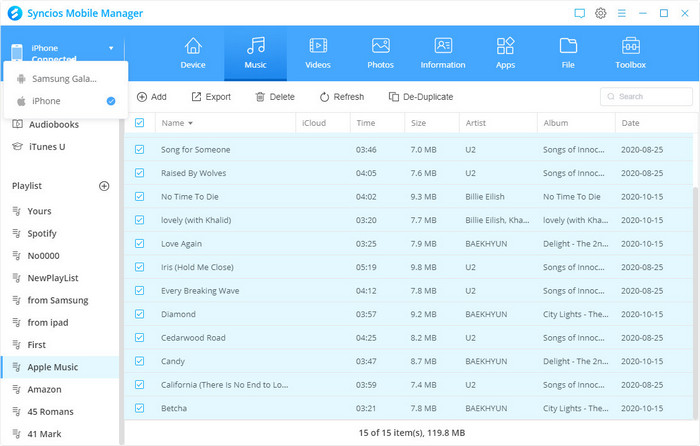 Step 4To transfer the exported iPhone music to the S21, tap on Add button. And you will see Add Files and Add Folder option on the pull-down menu. Select one as your need. Then drag your mouse to select the songs or press on Ctrl + A to select All at once. Tap Open to begin. When the progress bar display 100%, click Refresh button and you will see the new-added songs on Samsung Galaxy S21 now.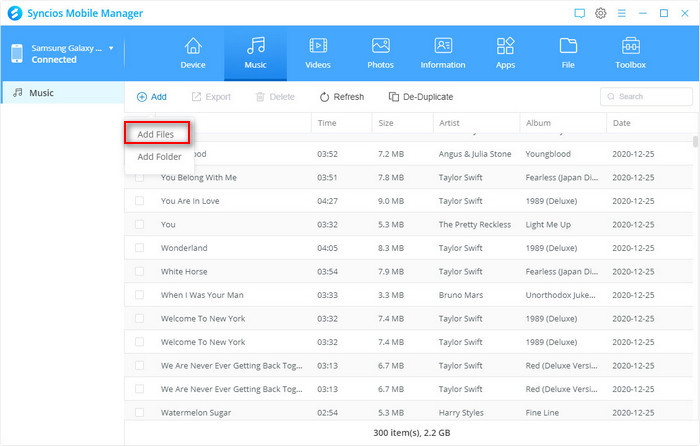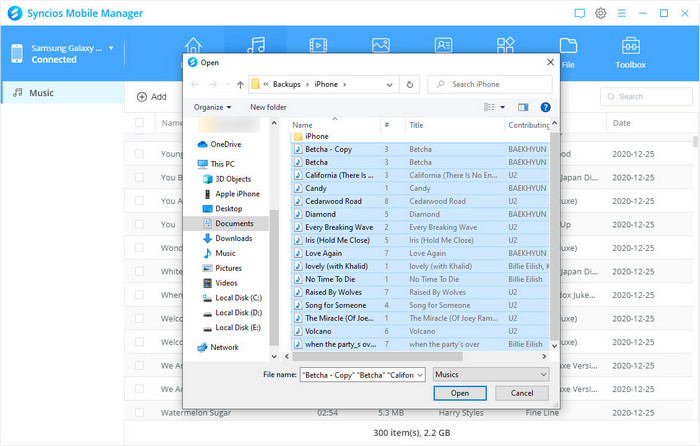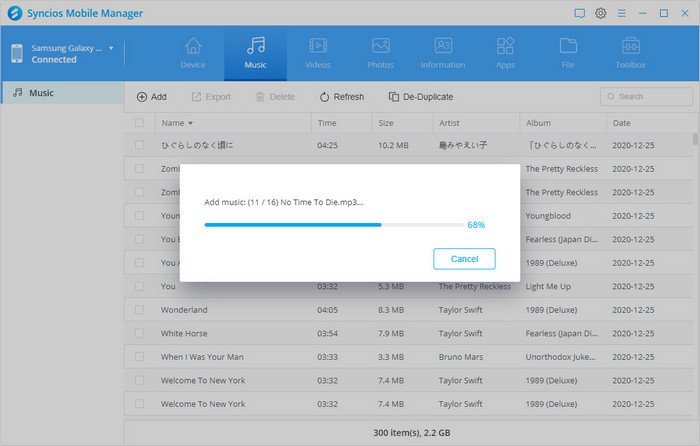 Method 2. Directly Transfer iOS Data to Samsung Galaxy S21/21 Ultra
If your Samsung Galaxy S21 is still totally new and just want to move all files from old iPhone at once, let's change to another useful tool. Syncios Data Transfer is always highly spoken of by some famous websites, like TheWindowsClub, Softonic and Alternative.me, for it's simple to use and fast to transfer the files. Apart from sharing contents containing pictures, audios, contacts, videos, messages, calendars between Androids, iOS devices or Android and iOS devices, Syncios Data Transfer also enables to restore data to a smart phone from local or iTunes backup files.
The reliable and secure Data Transfer tool will transfer types of files to your new Samsung, simply in a quick three-step process. Let's see the details:

Syncios Data Transfer

Transfer data from iPhone to Android, Android to iPhone, Android to Android, iPhone to iPhone in 1 Click.


Backup all phone contents to computer in 1 Click, including contacts, SMS, photos, videos, music and apps.


4 Restore Modes: to restore data from iPhone/Android/iTunes/iCloud backup to iOS or Android devices.


Transfer songs or playlists from iTunes Library to an Android phone, iPhone, iPad and iPod touch.
Step 1Install one Data Transfer tool on computer. Launch it and stay in Transfer module, then connect your iOS device and the new Samsung Galaxy S21 to computer with USB cables. Keep unlocking your phone screens as well as setting up the necessary permissions in accordance with Syncios instructions. After detection, check if the position of your phone is correct. The new Samsung should be put on the right. If is reverse, you can tap on the Flip button to change. Then, click Next to the next step.
Still can't get phones detected? iOS/Android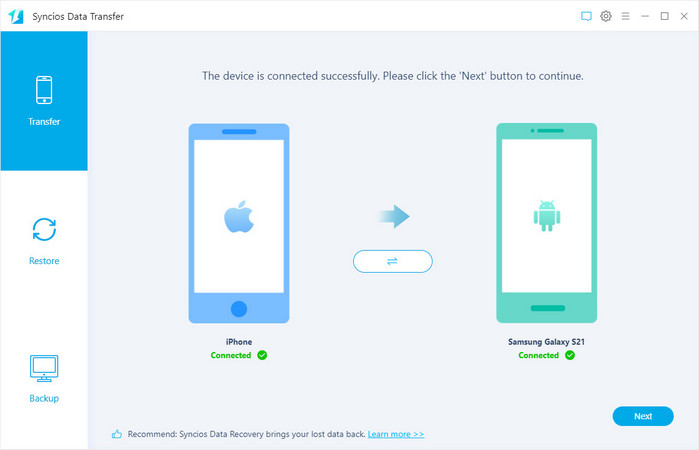 Step 2 Unlike the Mobile Manager, you can't preview the detailed contents and transfer certain type of data in bulk, but you can choose sort of data you want to transfer. In a simpler word, to transfer all available files from iOS device to the new Samsung, directly click Next button for twice and choose OK to begin the transfer process. By contrast, if you just want to transfer parts of them, uncheck Select All option first and then check what you want one by one. The same, click Next > Next > OK to start transferring.
By the way, if you're going to transfer messages/contacts from iOS devices to Samsung Galaxy S21, you can see a prompt on your phone informing you to set Syncios app as your default Contact/SMS app. Just switch it, since you're free to change it back later.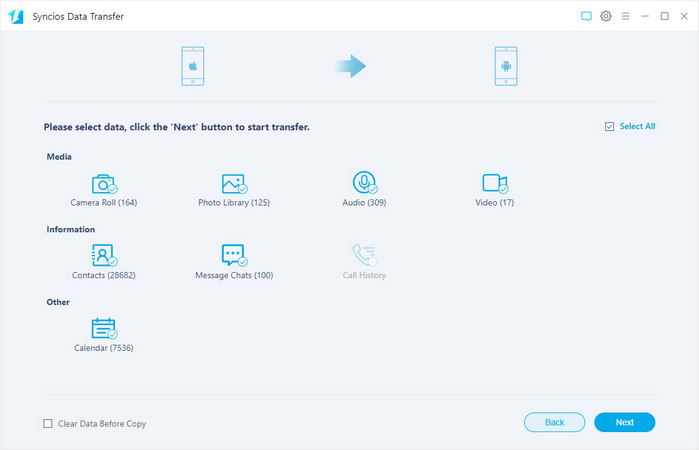 You can also learn from a video tutorial:
Method 3. Transfer iOS Data from iTunes Backup to Samsung Galaxy S21/21 Ultra
If you used to be an iOS device user who synchronized data with iTunes at regular intervals, then you can use Syncios Data Transfer to restore iPhone/iPad data from iTunes backup to new Samsung Galaxy S21 even if your old iPhone is not be with you now. And the biggest advantage is that, if there're already some data on your new Samsung S21 or S21 Ultra, you need not fear the original data being overwritten. More importantly, you're allowed to transfer songs from iTunes Library to Samsung if needed.
Step 1 According to your computer operating system, download one Data Transfer. Run the Data Transfer on your computer and then tap Restore tab from the start-up page. On the Restore page, you can see several buttons. Click iTunes Backup from them to find a list that with the iTunes backup files you've ever made on this computer. Select the target one based on its basic information. Pick it and click OK. And it the pop-up will disappear and you turn to the interface of Restore. Now click Next button.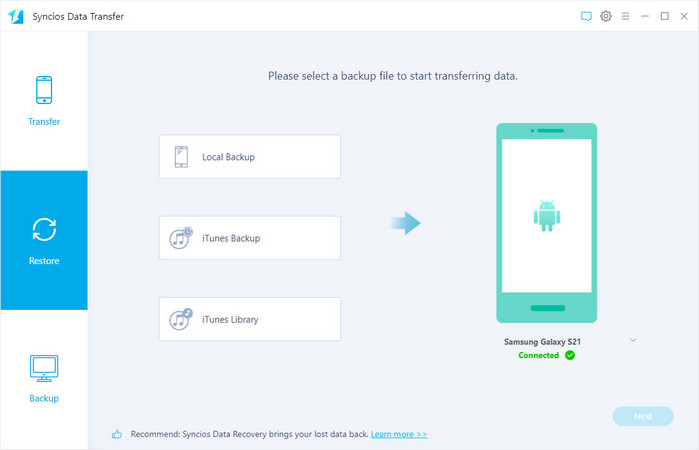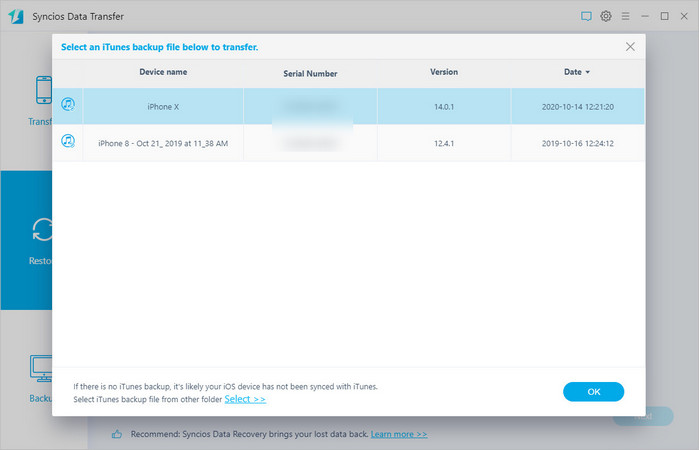 Step 2 Select data you want to transfer here and Click Next button to load. Again, click Next to find a pop-up asking you to tap OK to confirm the transfer process. Wait till complete. And if the files are relatively large in amount, it should take more time than normal.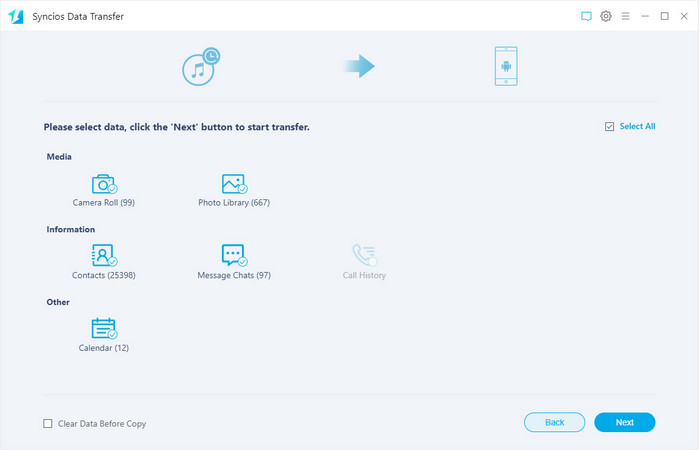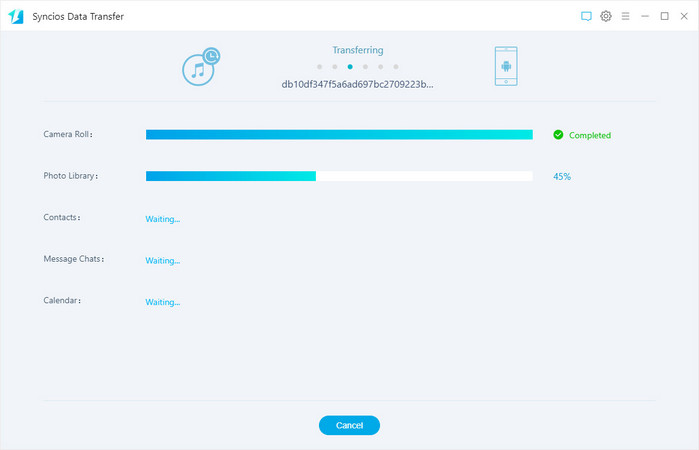 Method 4. Transfer iOS Data to Samsung Galaxy S21/21 Ultra via SHAREit
SHAREit is a very popular Android app designed for transferring data, but it can also fully compatible with iOS devices. So you can follow the steps below to transfer iOS data to Samsung S21 or S21 Ultra with SHAREit.
Step 1 First of all, install one SHAREit app on the sender iOS device from App Store. Then start the app. Choose Send option from upper-left corner of the interface.
Step 2 Then you will enter a Choose File page. There're 4 options: File, Photo, Contact and More. Tap one to view the contents. Check item(s) you would like to transfer and tap OK.
Step 3 At the moment, you should connect your new S21 or S21 Ultra phone with the same hotpot with iPhone. Once connected, the transfer process will automatically start and thing you only need to do is wait for the process to complete.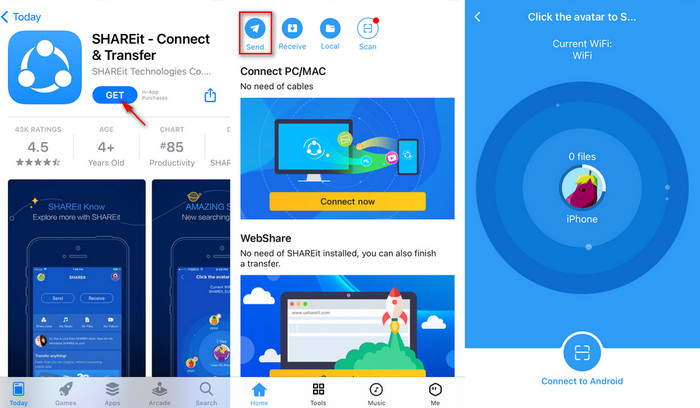 Conclusion
To sum up, sharing data between devices with two different operating systems are not a difficult task now. We've covered 4 useful and simple methods for you. Syncios Mobile Manager supports to do a selective transfer of phone files and also you're allowed to preview the contents. Syncios Data Transfer is an amazing one-click data mover. That's to transfer iOS data directly from iOS devices or from iTunes backup files to any of an Android phone with 3 simple steps: Scan - Select - Transfer.
What to Do Next? Download Syncios now!