How to Fix iPhone Not Ringing Incoming Calls & Text Messages?

- iPhone 6s does not play any notification sounds. iPhone 6 not ringing when receiving calls or receiving text messages. This first began with no voice coming from iPhone 6s. Notification sounds muted. iPhone 6 plus only vibrates but makes no sound.
Have you ever had the experience where an iPhone is suddenly not ringing on incoming calls, or making any sounds when a new message arrives? I recently experienced this situation and surprisingly found that most of my relatives and friends (iPhone users) had encountered this problem too. Hence, I's like to share some tips and tricks regarding to this issue.
1. Turned on the "silent" switch
The new iPhone 6/6 Plus and iPhone 6s/6s Plus delivers user-friendly design and inherit the "mute button" located on the side from iPhone 5/4. You are able to switch to "silent mode" by turn off the mute button. Once on, you are no longer able to hear any sounds while receiving calls and messages. Make sure it is not turned on as shown in the picture below:

2. Turned off the "DND" mode
With almost certain guarantee, the reason an iPhone is not ringing or making alert sounds apparently out of the blue is because of the Do Not Disturb feature. It can be unintentionally turned on and lead to all sorts of confusion and missed calls or seemingly ignored text messages. If the silent switch was already off, you want to make sure the "Do Not Disturb" feature isn't active. To turn it off, go to Settings > Do Not Disturb. Make sure "Manual" and "Scheduled" are off.
Alternatively, flip up from the bottom of the screen and tap the moon icon again so that it's not highlighted to switch off the DND mode.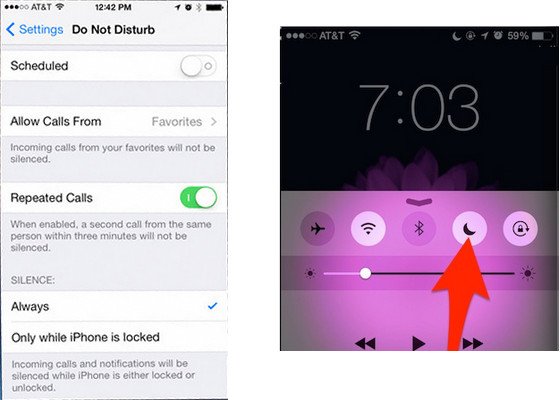 3. Make sure the "ringer and alerts" volume is not muted
Go to Settings > Sounds and make sure the "ringer and alerts" volume is not muted. Also, you can trun up the volume by clicking the volume button on left side. Usually, we just ignore the small things that makes iPhone 6s no sound but vibrate.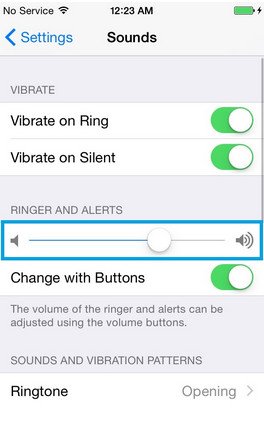 4. Turn on "Allow Notifications" on iOS 11 device.
If you also have a problem that everytime a new phone call or messages come in you get no alerts even if you have set the ringtone. Go to Settings > Notifications > Phone(or messages) and enable the "Allow Notifications" button.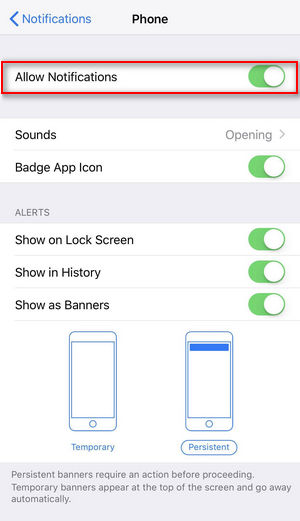 5. Try performing a backup and restore on iPhone
If none of these options worked, you can try performing a backup of your iPhone, then go factory setting and restore it. The backup process could be very simply with the help of an third-party app - Syncios Data Transfer , by which you can one-click backup everything on your iPhone 6/6s/7/7/X/XS, including contacts, messages, music, video, notes, call logs, photos, bookmarks, etc to PC or Mac. Also, restore everything by one mouse click whenever you want.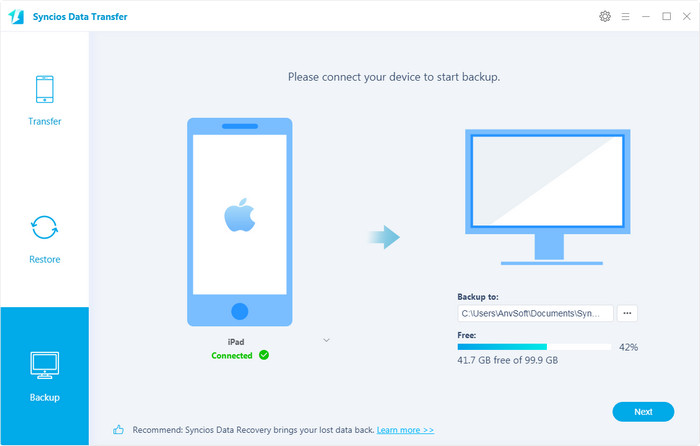 To backup iPhone:
▷ Download and install Syncios Data Transfer on your computer or Mac.
▷ Connect your iPhone to computer using USB cable. Check your iPhone screen and click "Trust this computer".
▷ Run Syncios Data Transfer, you will se three options including: Transfer, Backup and Restore. Click "Backup", you can see you iPhone/iPad device listed on the left side as source. Click "Next" to move to next interface.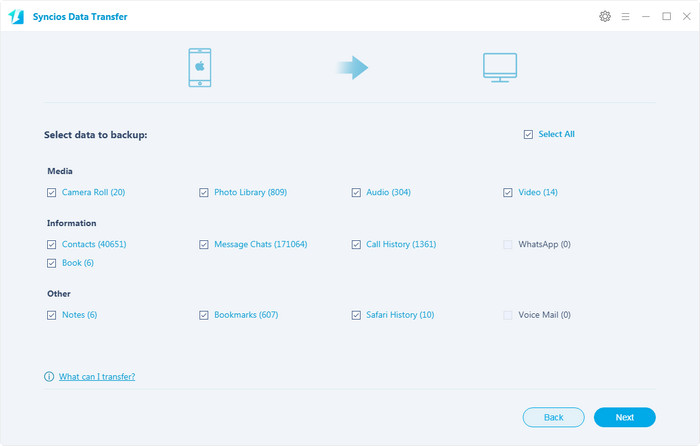 ▷ Then Syncios will let you choose the data you want to backup. You can copy over 12 kinds of data(contacts, messages, whatsapp, music, video, photo, notes...etc) from iPhone/iPad/iPod Touch to your computer via this handy iPhone Data Transfer tool. Tag on "Next".
To Restore iPhone:
▷ Launch Syncios Data Transfer, connect your iPhone to computer.
▷ Click "Restore" > "Syncios Backup", select previous backup files to restore to your iPhone or even Android devices.
▷ Tag on "Next" to start transferring.
This iOS Data Transfer tool also allows you to restore iTunes or iCloud backup to your iPhone or Android device without overwriting current data. Easy and safe for every mobile user. You can free download and have a try.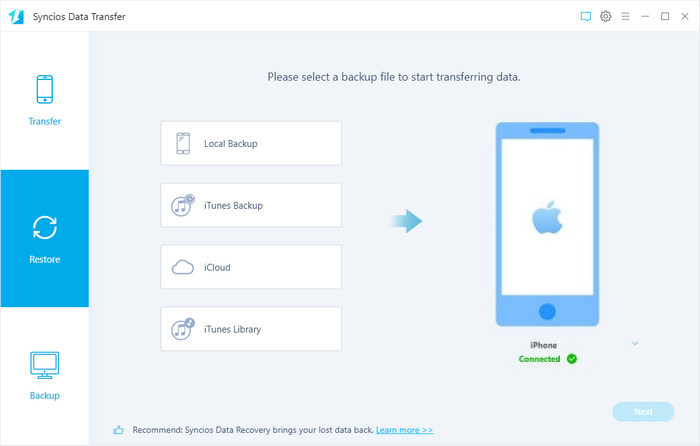 ---