Transfer Data from Old iPad to New iPad (iPad Pro, iPad Mini 4)
Finally, you bought yourself a brand new iPad Pro, but now what might rack your brain is, how to transfer your favorite songs, apps, movies, ebooks and lots of other useful data from old iPad to your brand new iPad. Here we will walk you through the process and achieve the simple iPad to iPad transfer with tutorials.
In the following iPad to iPad transfer tutorials, we will show you how to transfer data from old iPad to your brand new iPad with iCloud and iTunes. And we will introduce non-Apple way as well, with Syncios iPad Manager. Off course, each way has its pluses and its minuses, which we will also walk you through.
Part 1. Transfer iPad Data with iTunes
The original way is to open your iTunes. By doing so, you can transfer iPad data to your new iPad via local hard drive of your PC. But we all know that iTunes is too heavy and clumsy. It often takes up much of the CPU usage and slow down everything in PC. And data transfer speed is rather slow. The backup file just contains parts of the iPad data, not all of them. There is also an erasing function during synchronization. People will often get their data erased when they forget to disable this function.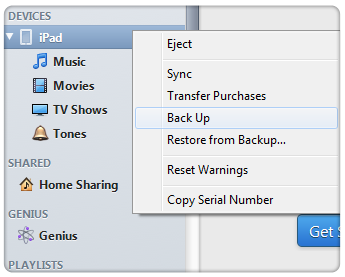 Step 1Connect old iPad to PC — Launch iTunes (To prevent erasing data from iPad, click to "Edit > Preferences > Devices" and check the option "Prevent iPod, iPhone, iPad from syncing automatically") and connect the old iPad to the computer.
Step 2Backup old iPad — Click the name of your iPhone from the iTunes menu on the top right. Then choose "Back Up". Let the iPad backup finish within iTunes, keep iTunes open but disconnect the old iPad from the computer.
Step 3Restore new iPad from iTunes — Turn the new iPad on. At the "Set Up iPad" screen choose "Restore from iTunes Backup" then tap "Next".
Step 4Connect new iPad — Connect the iPad to the computer and within iTunes choose the most recent backup from the restore menu.
Step 5Transfer data to new iPad via iTunes — Click "Continue" and let the restore via iTunes take place, do not disconnect the iPad until the transfer is completed and the iPad has rebooted.
Note: The backup doesn't contain your music, your movies. The restore will put back, what is part of the backup. Other things will need to sync to restore to the new iPad.
---
Part 2. Transfer iPad Data with iTunes
With iCloud, you can store your files, music, apps, etc. on one iPad and retrieve it on another without PC. iCloud is a way far better than iTunes for its all-dimensions data backup, anytime, anywhere. You can do your iPad to iPad transfer at high speed with fast connection. But it's not without flaws.
(1)Both of your iPad need to be with iOS 5 or later;
(2)Service is unavailable without Wifi;
(3)You have only 5 GB space and need to pay for the exceeded part. If you download music or files from other sources, you will also need to pay for storage;
(4)Very slow for apps transferring;
(5)There is file security and private risk under remote environment.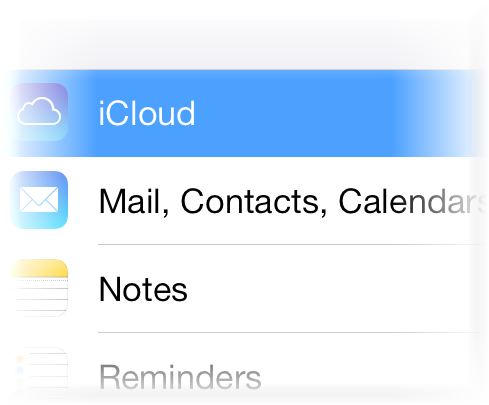 Step 1Set up iCloud — Have iCloud set up on both of your iPad.
Step 2Find backup setting — Launch "Settings" and tap on iCloud on old iPad, then tap on "Storage & Backup".
Step 3Initiate iCloud backup — Tap on "Back Up Now" to initiate a manual iCloud back up. Wait till the backup finished.
Step 4Restore from iCloud Backup — At the "Set Up iPad" screen on your new iPad, choose "Restore from iCloud Backup" and tap "Next".
Step 5Retrieve data from new iPad — Login to your iCloud account and choose the most recent backup from the old iPad you just made. Tap on "Restore" to transfer the data from the old iPad backup to
---
Part 3. Transfer iPad Data with Syncios iPad Manager
If you are tired of Apple ways of transferring and want a faster iPad to iPad transfer via your own PC, then Syncios iPad Manager can be a good alternative. Unlike iTunes, Syncios iPad Manager is a lite software that specially designed for iPad data transfer. You can have your app, music, photos, movie, ebook, iTunesU, contacts, messages and more perfectly transferred without Wifi. It can fully support types of iPad models. And it has both Windows and Mac version for you to choose.

Syncios iPad Manager

Sync contacts, messages, call history, audio, photos, videos and other contents to computer.


Import photos, videos, audios and more media files from computer to iOS/Android devices.


Use your device as an external USB Key for extra convenient storage.


One click backup and restore phone data.


Fully compatible with the latest Android OS and iOS system.
Step 1Install Syncios iPad Manager — Download and install Syncios iPad Manager on your computer. Open it from Toolkit > Mobile Manager.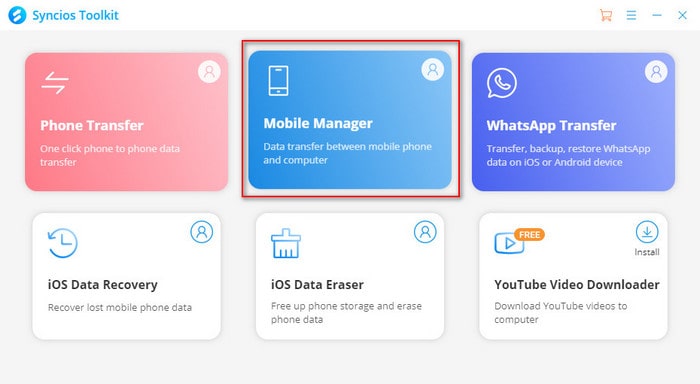 Step 2Connect old iPad to PC — Plug your old iPad into your PC with USB cable, then start up Syncios iPad Manager.
Step 3Transfer old iPad Files to PC — Choose either file type like Music, Video, Photos, Information and others from the top of interface. Select item(s) one by one or all at once and then click Export/Backup button to save on your computer. Click Select Folder to backup files from old iPad to your own PC. Wait till the needed backup completed then disconnect old iPad.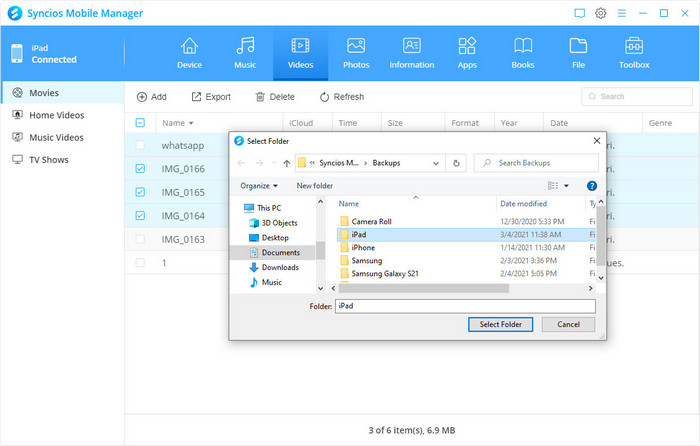 Step 4Connect the new iPad to PC — Plug your new iPad into PC. Go to correspondent file type. Click Add to browse to the exact location where you store the old iPad files or click Restore to choose a suitable backup file from the list, then choose Select Folder option to transfer the old iPad data to the new one.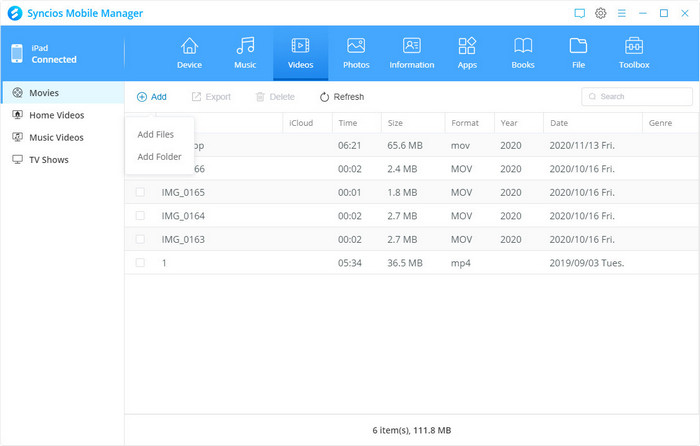 Tips: You can individually transfer Movie, Music, Photo, Ebook, Contacts, Notes, Audiobook, etc. from old iPad to new iPad. With the same method, you can also share data from iPod Touch to iPad or iPhone to iPad.
---
Part 4. Moving old iPad Data to new iPad Pro, iPad Mini 4 within 1 Click
If you want a quicker way to move data between two iPads, you can also choose Syncios Data Transfer. It's the simplest yet the most effective one-click transfer tool designed for iOS devices.

Syncios Data Transfer

Transfer data from iPhone to Android, Android to iPhone, Android to Android, iPhone to iPhone in 1 Click.


Backup all phone contents to computer in 1 Click, including contacts, SMS, photos, videos, music and apps.


4 Restore Modes: to restore data from iPhone/Android/iTunes/iCloud to iOS or Android devices.


Transfer songs or playlists from iTunes Library to an Android phone, iPhone, iPad and iPod touch.
Step 1Conenct your two iPad to your computer
Run the Manager on your computer. Connect both your old iPad and new iPad Pro or iPad mini 4 with USB cables to your computer. Stay in Transfer module. When the devices are recognized successfully, the information of the both devices will be displayed in the main interface.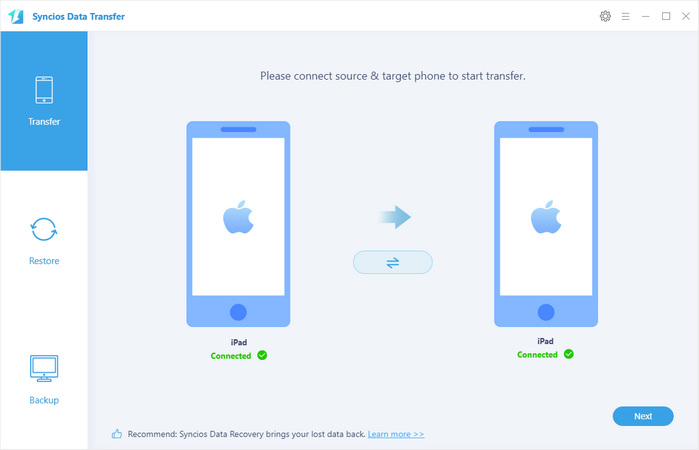 Step 2Start to transfer data from your old iPad to your new iPad Pro, iPad mini 4
All the files will be seen between your two devices, you are able to transfer the files as you will. Just check the files you want and hit the button Next. Then just wait for the whole transferring process to the end. Of course, you can check the transferring process in the progress bar.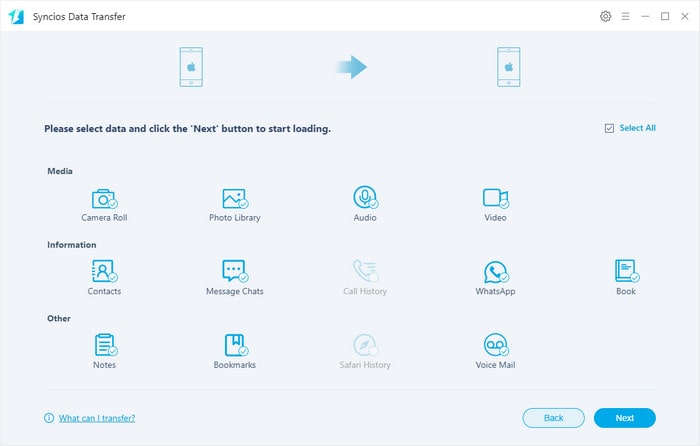 ---
Video Tutorial - Effective Ways to Transfer Data from Old iPad to New iPad
---
Conclusion
In all, there are 4 different ways to backup and transfer data from old iPad to new iPad for free. You can choose between iCloud, iTunes, Syncios iPad Manager or Syncios Data Transfer according to your home network condition or personal preferences. But if you feel uncomfortable about backup data with iCloud and also want to run away from the "overweight" iTunes, then Syncios iPad Manager or Syncios Data Transfer will be the best alternative that suits your needs.