How to Transfer Data from LG Nexus 5 to iPhone 6/ iPhone 6 Plus
LG Nexus 5
Nexus 5. The New Phone From Google. Made To Capture The Moments That Matter.
Nexus 5 has a 8 MP OIS camera that incorporates advanced technology to shoot vivid imagery with a wide range of color and light intake. And while you're holding the camera, Optical Image Stabilization will steady the shot even with shaky hands, so your photos and videos will come out sharp and clear.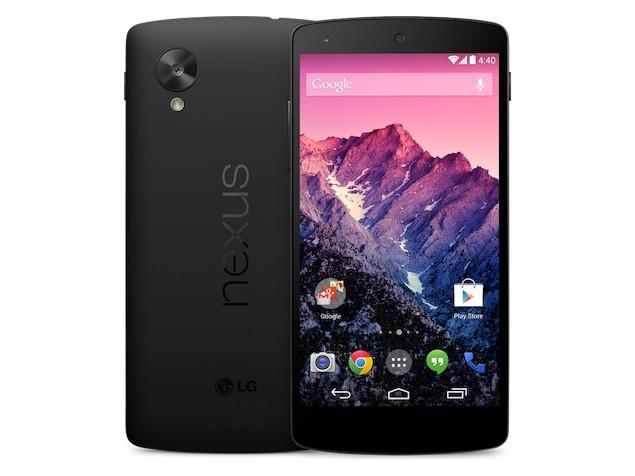 Slimmer, lighter design. Nexus 5 is precision-built from strong materials, and the intelligently simple design showcases more of what matters to you. At only 4.59 oz and 8.59 mm thin, it's considered as the most powerful Nexus phone yet.
Speed and power to spare. With 4G/LTE and ultra-fast Wi-Fi, Nexus 5 keeps you connected at blazing speeds. Add in the cutting-edge 2.26GHz Qualcomm SnapdragonTM 800 processor and you'll race through games, zip around the web and switch between apps at the flick of a finger.
Stunning 5" display. More room to do what you do, and better colors too. Nexus 5 gives you a Full HD display so you can see every detail in lifelike color with less glare and a wider viewing angle-the perfect canvas for your moments.
Powered by Android 4.4, KitKat. Android is fast and powerful yet simple to use. Focus on getting stuff done without having to think about the technology underneath.
Unlocked cell phones are compatible with GSM carriers like AT&T and T-Mobile as well as with GSM SIM cards (e.g. H20, Straight Talk, and select prepaid carriers). Unlocked cell phones will not work with CDMA Carriers like Sprint, Verizon, Boost or Virgin.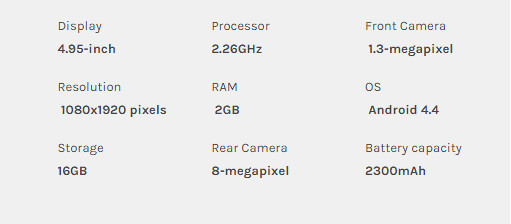 Nexus 5 vs iPhone 6: is an old Nexus better than a new iPhone?
There may be a new Nexus in town, the rather gargantuan Nexus 6, but the Nexus 5 is still being sold alongside its larger brother by Google, so Google at least consider the Nexus 5 to still be a current device. And how Apple's benchmark device iPhone 6 compares to the similarly-sized Nexus 5?
Some parts are impossible to compare: your preference for design and operating system are part of your DNA and my preferences are unlikely to convince you otherwise. Some parts are objectively better in the iPhone 6: camera, TouchID and perhaps performance. Some are about equal on both devices: battery, software and looks. And some are better in the Nexus 5: price, advanced features and display. If these two devices were the same price, I would probably pick the iPhone 6 over the Nexus 5 mostly due to the camera performance, but considering the iPhone 6 costs nearly double the price of the Nexus 5, it's a pretty clear Android victory for me. While the iPhone may be better in some departments, it's nowhere near that much better.
If you made you mind switching from LG Nexus 5 to iPhone 6, transferring data from LG phone to iPhone 6 could be a big problem for you. If you don't want to lose all your important contacts on old LG phone or input all LG files to your new iPhone 6 manually, you need to find a doable way to transfer them to iPhone 6 in batch. Syncios Data Transfer can be your best choice to transfer all data from LG to iPhone. It support moving or transferring your photos, music, documents, contacts, ebooks, videos and more.
Firstly, you should download and install the LG to iPhone Data Transfer tool on your PC, which has both Windows version and Mac version.
3 Steps to Transfer LG Nexus to iPhone 6
Step 1: Run the LG Nexus to iPhone Data Transfer Tool on your PC
Run the LG Nexus to iPhone data transfer tool on the computer. There are three models: Phone to Phone Transfer; Backup to Computer; Restore to Cell Phone. Select Phone to Phone Transfer and simply click Start button to move content from LG to iPhone. You will see the main screen shows connecting devices is required.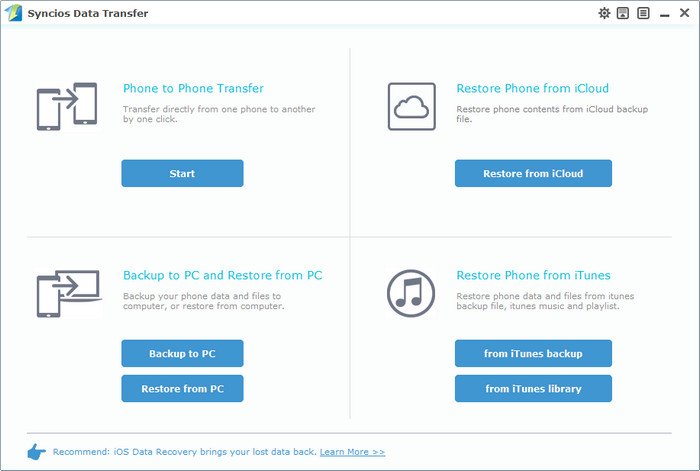 Step 2: Connect both your LG Nexus and iPhone 6
Connect both your LG Nexus and iPhone to the computer with USB Cables. Please wait for a while for the devices to be detected. This lg to iphone transfer tool will quickly recognize the two phones. Then, your LG Nexus is displayed as "Source" Phone on the left, and your iPhone, the "Target" Phone on the right.
When clicking "Flip" between the phones, you can change their places to transfer contacts, videos, text messages, photos and music from iPhone to LG phone or tablet.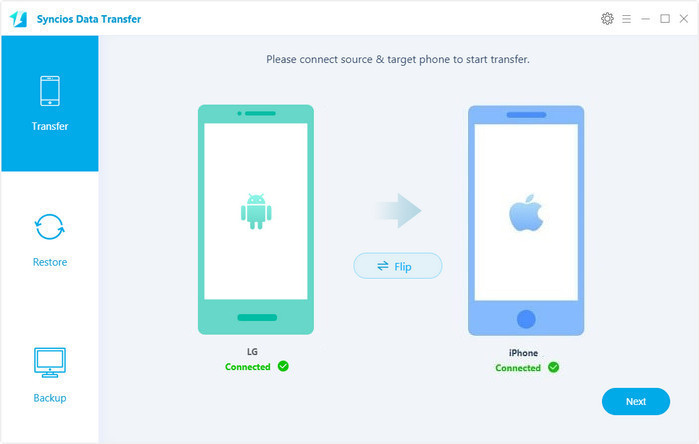 Step 3: Transfer SMS, Contacts, Photos, Video, Ebooks and Music from LG to iPhone 6
Please make sure iPhone 6 is in the Target Device pane. The program will load the files on your source LG Nexus. Then tick the data you want to transfer and click on "Start Copy". A message is going to be presented to you saying Copying Data. After a while, the data you chose will be transferred to your new iPhone.
Important: During the process, never disconnect either phone.
Tags
LG Nexus to iPhone Transfer | LG G2 to iPhone Transfer | LG G3 to iPhone Transfer | LG G4 to iPhone Transfer | LG contacts to iPhone Transfer | Transfer from LG to iPhone | LG ESCAPE to iPhone Transfer | LG Mobile to iPhone 5 Transfer | LG Phones to iPhone Transfer
Supported LG to iPhone Transfer
LG

LG G4, LG G3, LG G2, LG Nexus 5, LG Nexus 4, LG P500, LG E400, LG P970, LG P509, LG VM670, LG P920, LG GT54, LG OPTIMUS 2X, LG P990, LG P350, LG P500, LG P500H and more LG mobile phones.

Apple

iPhone 6/6 Plus, iPhone 5S/5C/5/4S/4/3GS, iPad, iPad Mini, iPad Air, iPod Touch etc.
Support iOS 9.
Just take LG Nexus to iPhone transfer as the sample, other Android devices are just the same. Try LG to iPhone Transfer to transfer data from LG to iPhone in 1 click!