Move to iOS from Android
Apple announces 'Move to iOS' app on iOS 9
With the current-generation iPhones doing ever so well, Apple is getting more aggressive in getting Android users to switch over to its side. With iOS 9, it is making it easier than ever before for Android users to switch to an iPhone. A somewhat hidden feature not spoken of directly during today's WWDC keynote is a new app for iOS 9 called "Move to iOS," which will allow current Android users a hassle-free migration experience from their Android phone to the iOS ecosystem.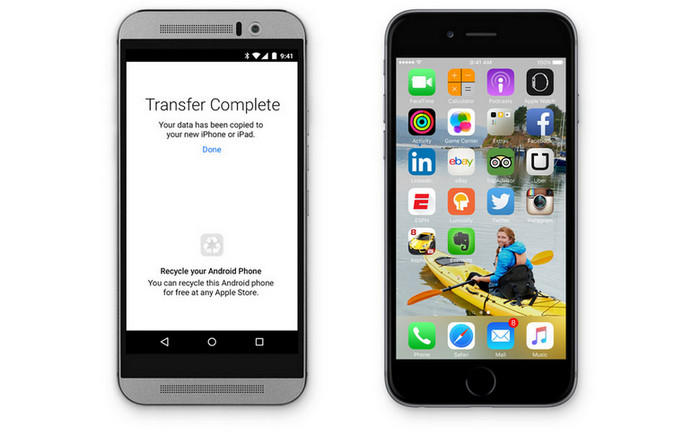 According to Apple, this Android to iOS transfer app securely transfers your contacts, message history, camera photos and videos, web bookmarks, mail accounts, calendars, wallpaper, and DRM-free songs and books. And it will help you rebuild your app library, too. Any free apps you used — like Facebook and Twitter — are suggested for download from the App Store. And your paid apps are added to your iTunes Wish List.
However, It's not clear exactly how the process works yet, and how aggressive Apple will be when it comes to migrating users away from Google's services. For example, it's possible that the process will move all of the contacts a user has stored with Google over to iCloud—Apple hasn't said one way or another.Once the process is done, the Android app will helpfully prompt users to recycle their Android phone, just to keep them from going back to Google's mobile platform unless they buy a new phone.
In an interview with the WSJ earlier this year, Apple CEO Tim Cook revealed that fewer than 15 percent iPhone users upgraded to iPhone 6 or iPhone 6 Plus with the majority coming from Android. The 'Move to iOS' app will only enable Apple to initiate an even bigger user exodus from Android.
Syncios Data Transfer - the best alternative to Move to iOS
It's still not clear exactly how the process works yet and when Apple will releasedthe app, but Syncios Data transfer is already in the works. Once downloaded on computer, It will help users securely transfer all of their important data: contacts, messages, call logs, music, photos, videos, apps, web bookmarks, and more from Android device to iOS device. In addition, Syncios Data Transfer backup phone data and restore in lossless quality so that you have no need to worry about losing iPhone data.
What's more, Syncios data transfer tool not only supports transferring data from Android device to iOS device, but also allows you to move from iOS to Android device. Syncios is fully compatible with almost all kinds of Android devices, such as Samsung, HTC, LG, Sony, Google, HUAWEI, Motorola, ZTE, XiaoMi and so on .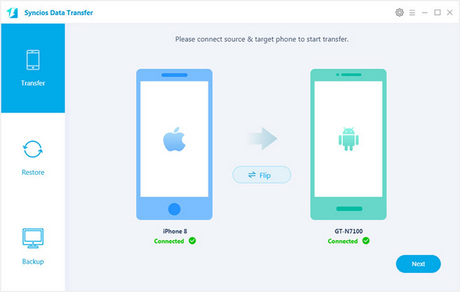 Syncios Data Transfer can be more multifunctional than Move to iOS app, which enables user to transfer iTunes library contents into your iPhone and computer as well. In other words, you can transfer songs and playlists from iTunes to an Android phone, iPhone, iPad and iPod touch via Syncios Data Transfer.
Guide on switching from Android device iOS device via Syncios Data Transfer
Firstly, you should download and install the Phone to Phone Data Transfer tool on your Windows PC. Once it is installed, simply follow the steps below.
Step 1: Download and Install Syncios Transfer Tool
Download and install the Syncios Transfer Tool on your PC. Make sure iTunes has been installed on your PC. Please note that you do not have to run iTunes when using this iOS transfer tool.
Step 2: Run the Android to iPhone Data Transfer Tool on your PC
Run the Android to iPhone data transfer tool on the computer. There is three models: Phone to Phone Transfer; Backup to Computer; Restore to Cell Phone. Select Phone to Phone Transfer and simply click Start button to move content from Android to iPhone. You will see the main screen shows connecting devices are required.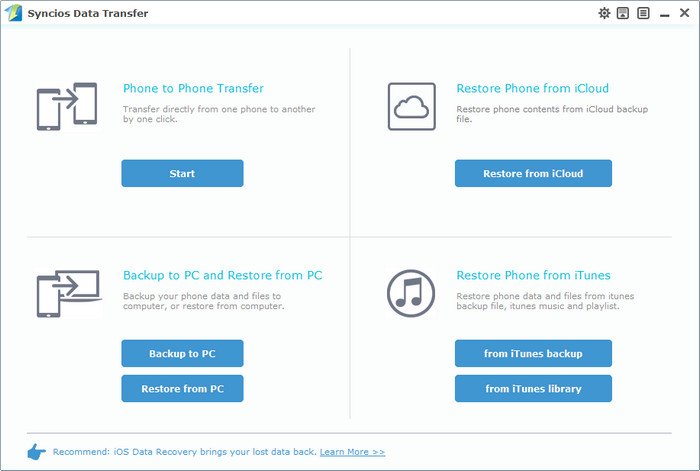 Step 3: Connect both your Android device and iPhone
Connect both your Android device and iPhone to the computer with USB Cables. Please wait for a while for the devices to be detected. Android device may need to install drivers. Once detected, the devices will be displayed in the window.
If the phone is not detect, please try the following tips.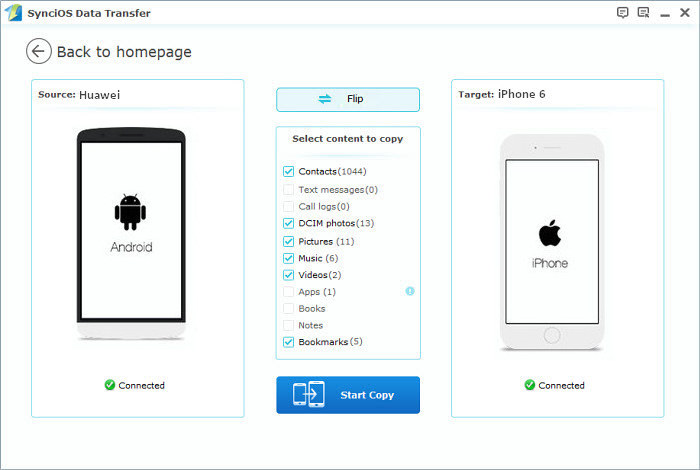 Step 4: Transfer everything from Android to iPhone
Please make sure iPhone is in the Target Device pane. (Note: You can switch the device positions by clicking Flip button). The program will load the files on your source Android phone. Once your devices have been detected, all of the items: photos, music, video, E-books, notes, contacts would be checked automatically. If you do not want to transfer some of those items, please just uncheck them and click on "Start Copy". A message is going to be presented to you saying Copying data. After a while, the data you chose will be transferred to your new iPhone.
Important: During the process, never disconnect either phone.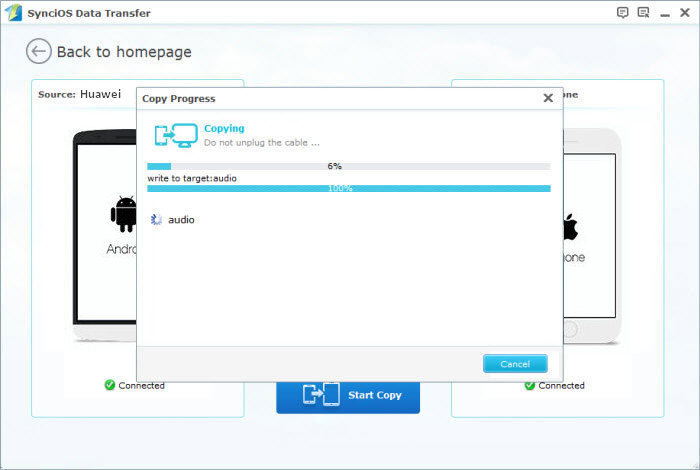 Supported Android to iPhone Transfer
Android

It works perfectly with Samsung, HTC, LG, Sony, Google, HUAWEI, Motorola, ZTE, and more mobile models.

Apple

iPhone 6/6 Plus, iPhone 5S/5C/5/4S/4/3GS, iPad, iPad Mini, iPad Air, iPod Touch etc.
Support iOS 9.