How to Transfer Data from Huawei P8 to iPhone 6/ 6 Plus
Huawei P8
Huawei finally launched the successor to last year's Ascend P7 smartphone, and the Huawei P8 is everything we imagined based on months of rumors. The new flagship looks sleek, is powerful, and comes with many unique features. The company also unveiled the P8 Max, a massive, phablet version of the device.
Huawei's new P8 is the company's best phone to date, but don't confuse it with a bleeding-edge mobile like the Samsung Galaxy S6 Edge. It doesn't have the S6 Edge's curved glass screen and it's not quite as powerful, but it does carry a far more affordable price tag without forcing you to compromise on performance.
Replacing the P7, and sitting at the top of Huawei's range of smartphones, this Android Lollipop phone squashes a 5.2-inch full HD display into an attractive one-piece metal body and includes an 8-megapixel front-facing camera and a 13-megapixel camera on the back.
The starting price for the P8 is €499, which equates to $530 or £360. The P8 Max starts at €549, which is roughly $585 or £395. That makes both devices significantly cheaper than the £760 starting price of the 64GB S6 Edge.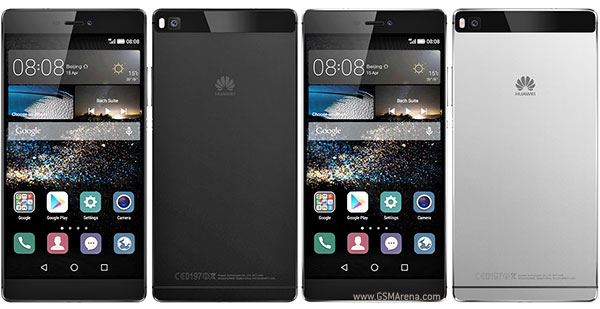 THE GOOD: The Huawei P8 has a bright and bold screen, good design, a sleek, all-metal body, plenty of power and a decent camera.
THE BAD: The camera quality suffers at full screen and Huawei's custom software makes drastic changes to the Android interface which won't appeal to everyone.
THE BOTTOM LINE: The Huawei P8 lacks some of the shine of its flagship phone rivals, but it still delivers an uncompromising mix of features and performance for a far cheaper price.
Why did you dump your HUAWEI P8 to iPhone 6
So why you still would like to switch from HUAWEI P8 to iPhone 6? To get features like Touch ID and Apple Pay? Or to Apple Stores and Apple Care? Or to quality and coherence of the software? Or just a simple answer, because to own one you've got to really want it. Just do it! When you are switching from Android HUAWEI to a new iPhone, the first thing you need to do is transferring all important files from your old phone. However, the task is not so easy-handling. You should know that although some phone company can transfer contacts for you, all other files can not be transferred at the same time.
Syncios Data Transfer can be your best choice to transfer all data from HUAWEI to iPhone. With the HUAWEI to iPhone transfer tool, you can easily transfer your contacts from your huawei to the new iPhone. In addition to transfer contacts, it also enables you to transfer other files including call logs, SMS, music, video and photos in just one click.
Firstly, you should download and install the HUAWEI to iPhone Data Transfer tool on your PC, which has both Windows version and Mac version.
Download
Win Version Download
Mac Version
3 Steps to Transfer HUAWEI P8 to iPhone 6
Step 1: Run the HUAWEI P8 to iPhone Data Transfer Tool on your PC
Run the HUAWEI P8 to iPhone data transfer tool on the computer. Select 'Transfer' mode which will be on the homepage and simply click Start button to move content from HUAWEI to iPhone. You will see the main screen shows connecting devices is required.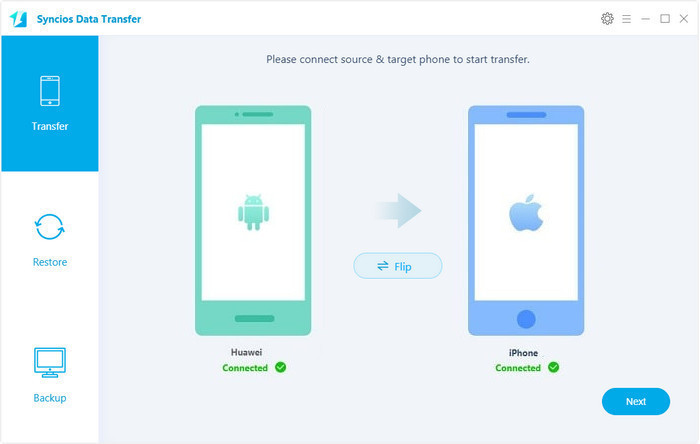 Step 2: Connect both your HUAWEI P8 and iPhone
Connect both your HUAWEI device and iPhone to the computer with USB Cables. Please wait for a while for the devices to be detected. This Huawei to iPhone Transfer tool will quickly recognize the two phones. Then, your Huawei P8 is displayed as "Source" Phone on the left, and your iPhone, the "Target" Phone on the right.
Phones should be displayed in the place of 'Source' and 'Target', the data will transfer from 'Source' to 'Target'. When clicking "Flip" between the phones, you can change their places to transfer contacts, videos, text messages, photos and music from iPhone to HUAWEI phone or tablet.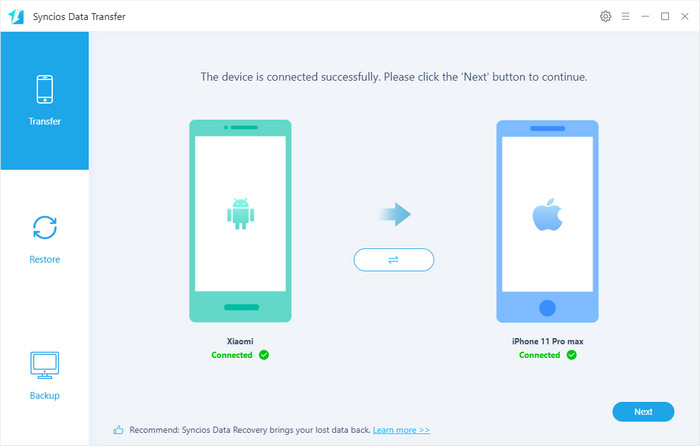 Step 3: Transfer SMS, Contacts, Photos, Video, and Music from HUAWEI to iPhone 6
Please make sure iPhone 6 is in the Target Device pane. The program will load the files on your source HUAWEI phone. Then tick the data you want to transfer and click on "Next". A message is going to be presented to you saying Copying Data. After a while, the data you chose will be transferred to your new iPhone.
Important: During the process, never disconnect either phone.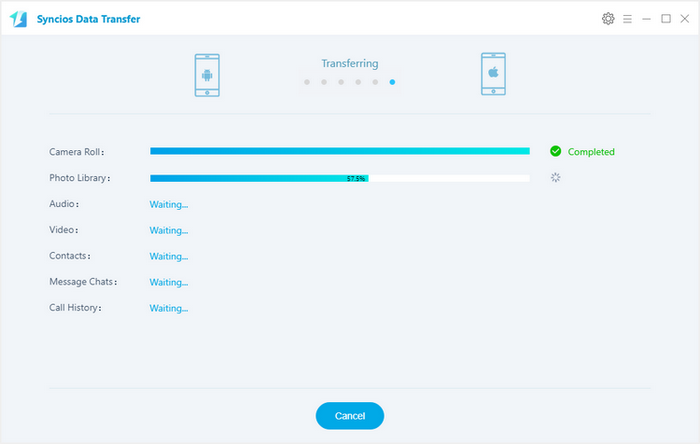 Tags
HUAWEI Ascend P8 to iPhone Transfer | HUAWEI Ascend P7 to iPhone Transfer | HUAWEI Ascend Mate 7 to iPhone Transfer | HUAWEI X2 to iPhone Transfer | HUAWEI contacts to iPhone Transfer | Transfer from HUAWEI to iPhone | HUAWEI U8825D to iPhone Transfer | HUAWEI Mobile to iPhone 5 Transfer | HUAWEI to iPhone Transfer
Supported Huawei to iPhone Transfer
HUAWEI

Huawei P20/P20 Pro, P10, Huawei Honor 7/8/9, Huawei P9, Huawei P8, Huawei 6P, Huawei Mate 20/10, Huawei Mate 9, Huawei Mate 8, Huawei Mate 7, Huawei Ascend G6, Huawei Ascend P6, Huawei Ascend Y200/Y300/P1/P2/Mate/D1/D2/G300/G600, Ascend X, Honor, Vision, Sonic, Boulder, IDEOS X3/X5, and all Android devices
Support Android 3.0 - Android 11

Apple

iPhone 3G, iPhone 3GS, iPhone 4, iPhone 4S, iPhone 5, iPhone 5C, iPhone 5S, iPhone 6 (Plus), iPhone 6S (Plus), iPhone SE, iPhone 7, iPhone 7 Plus, iPhone 8, iPhone 8 Plus, iPhone X, iPhone XS, iPhone XS Max, iPhone XR, iPad, iPad Mini, iPad Air, iPod Touch etc.
Support iOS 5 - 12.
Just take Huawei P8 to iPhone transfer as the sample, other Huawei devices are just the same. Try Huawei to iPhone Transfer to transfer data from HUAWEI to iPhone in 1 click!
Download
Win Version Download
Mac Version