How to Transfer Data from iPhone 4/ iPhone 4s to iPhone 6/iPhone 6 Plus
Switch from iPhone 4 to iPhone 6
Have long been considering the purchase of an iPhone 6 or 6 plus but have cringed at the idea, simply because you never wanted to lose all your photos and videos of my family and your pets from your old iPhone 4 or 4s, never wanted to lose all music and ebooks which accompanied you for a relaxing afternoon, and could not imagine the consequences of losing all business partners' contacts.
Don't be worried! You've come to the right place. What you need is only an iPhone to iPhone Transfer tool. No matter what model iPhone (iPhone4 /4s, iPhone5/ 5s) you have previously, getting data over to your new iPhone6/ iPhone6 plus is a dead simple process, thanks to Syncios Data Transfer. Moving all contacts, videos, music, ebooks, notes, Apps, bookmarks from old iPhone 4 or iPhone 4s to new iPhone 6 or iPhone 6 Plus on one click!
Firstly, you should download and install the Phone to Phone Data Transfer tool on your Windows PC. Once it is installed, simply follow the steps below.
Solution 1:Transfer data from iphone4/ 4s to iPhone 6/ 6 plus on one click
Step 1: Download and Install Syncios Transfer Tool
Download and install the Syncios Transfer Tool on your PC. Make sure iTunes has been installed on your PC. Please note that you do not have to run iTunes when using this iOS transfer tool.
Step 2: Run the iPhone to iPhone Data Transfer Tool on your PC
Run the iPhone4/4s to iPhone 6/6 plus data transfer tool on the computer. There is three models: Phone to Phone Transfer; Backup to Computer; Restore to Cell Phone. Select Phone to Phone Transfer and simply click Start button to move content from iPhone to iPhone. You will see the main screen shows connecting devices is required.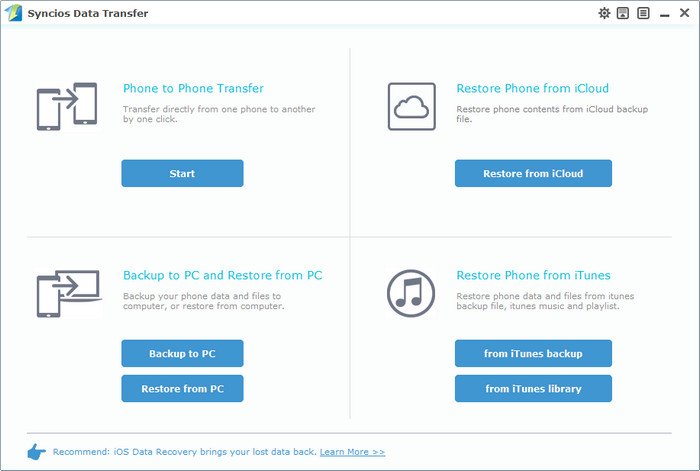 Step 3: Connect both your iPhone 4 and iPhone 6
Connect both your iPhone 4/4s and iPhone 6/6 plus to the computer with USB Cables. Please wait for a while for the devices to be detected. Once detected, the devices will be displayed in the window.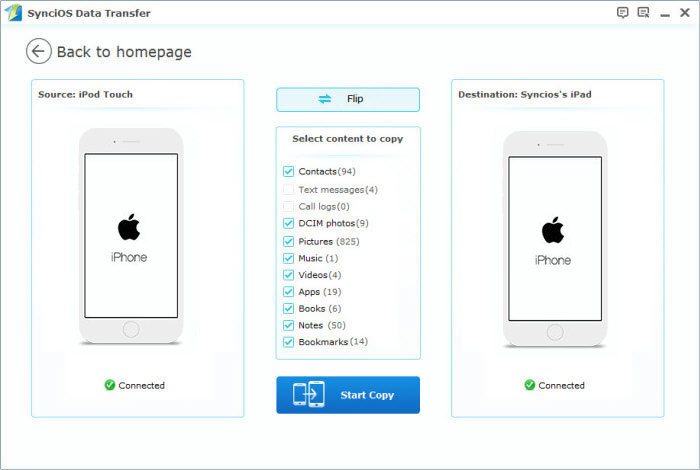 Step 4: Transfer SMS, Contacts, Calendar, Photos, Video, Ebooks and Music from iPhone 4 to iPhone 6
Please make sure iPhone 6/6 plus is in the Target Device pane. (Note: You can switch the device positions by clicking Flip button). The program will load the files on your source iPhone 6/6 plus. Then tick the data you want to transfer and click on "Start Copy". A message is going to be presented to you saying Copying Data. After a while, the data you chose will be transferred to your new iPhone.
Important: During the process, never disconnect either phone.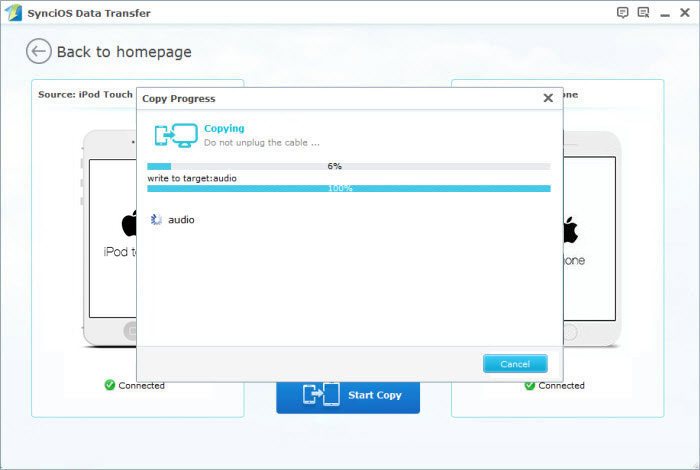 Solution 2: Backup data from iphone4/ 4s and Restore to iPhone 6/ 6 plus
Some people might be confused. "If I have already backupped my iPhone 4/4s , I just want to restore to new iPhone 6 or iPhone 6 Plus. What can I do?" "My new iPhone 6 is still on its way, can I transfer now?" My answer is YES. Syncios Data Transfer supports to backup and restore almost all kinds of data from iPhone4/4s to iPhone5/5s.
Step 1: Run the iPhone message backup tool
Launch Syncios Data Transfer program and connect your iPhone4/4s to PC, it will automatically take you to the home screen where you will be given 3 options: Phone to Phone Transfer, Backup and Restore. To back up your messages from iPhone to your computer, select the backup option in green.
Important: During the process, never disconnect either phone.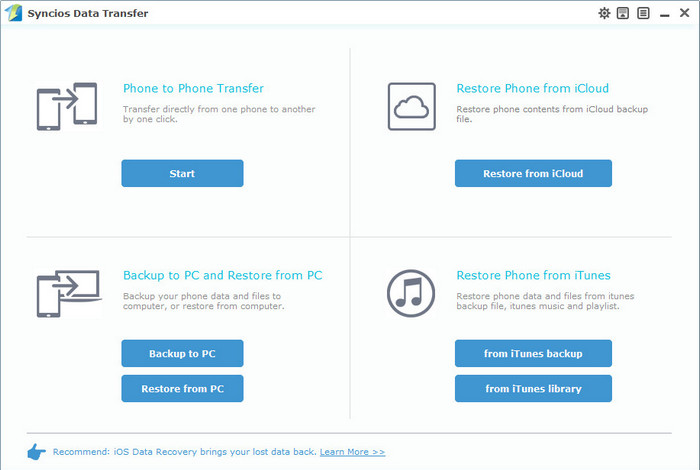 Step 2: Select items to backup
The following screen will allow you to select which items you would like to back up onto your computer. Before you do so, connect your iPhone 4/4s to computer by using the USB cord. Once connected, notice your iPhone name will be appearing as the source located in the top left of the screen. It would take some time for the program to load all the data inside your iPhone4/4s. Once completed, the data can be backed up checkbox is automatically ticked. Click Start Copy button in the middle bottom.
On the right side of the pane, you will also have the option to change or choose the location of the backup data. Select the [...] button that appears beneath the computer icon and select the location where you would like all data to be saved.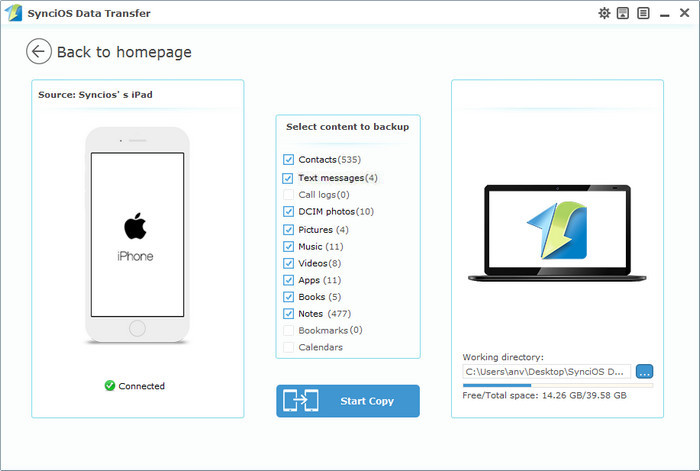 Step 3: Connect your iPhone6/6plus to PC
When the extracting process is done, you will get the pop up message Copy Completed. Click OK, the backup folder will automatically open.
After backup completed, connect your new iPhone 6/6plus to computer with USB and go to the homepage on Syncios Data Transfer. Click the Restore button.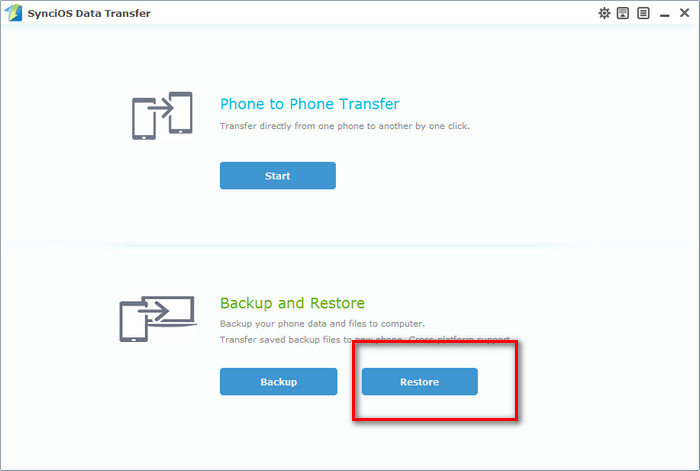 Step 4: Restore your iPhone4/4s backup to iPhone6/6 plus
Select contents you would like to restore from the iphone 4/4s backup folder and restore. You can directly recover contacts, music, videos, notes, apps, photos, bookmarks from the backup folder. Check the contents you would like to restore to new iPhone6/6 plus and click Start Copy button. As long as the process complete, you will see all the data on your new iPhone6/6 plus.
Note: You can also restore from iTunes backup. But restore iPhone from iTunes Backup will overwrite DCIM, device settings (for example, Phone Favorites, Wallpaper, and Mail, Contacts, Calendar accounts); app data; Home screen and app organization; Messages (iMessage, SMS, and MMS), ringtones, and more in your iPhone.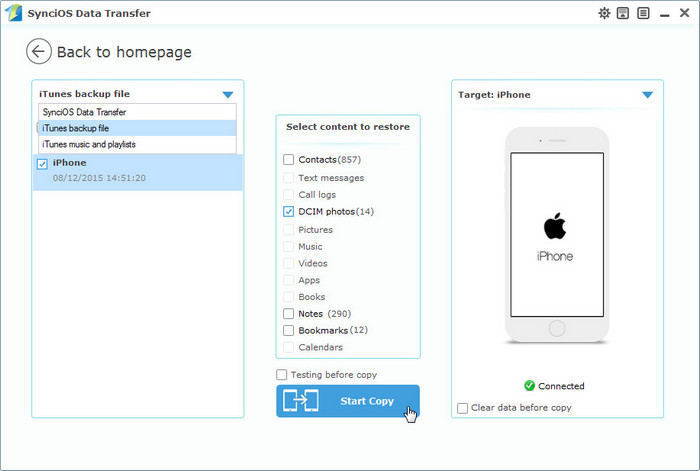 Supported iPhone to iPhone Transfer
Apple

iPhone 6/6 Plus, iPhone 5S/5C/5/4S/4/3GS, iPad, iPad Mini, iPad Air, iPod Touch etc.
Support iOS 9.