How to Fix it when iTunes won't sync with iPhone, iPad, iPod
-- I have had the iPhone and iTunes on a windows computer, and I am frustrated with the fact I can't sync my iPhone to iTunes. It's as if my iPod isn't being recognized by iTunes. Thus, I'm unable to transfer music from iPhone to my computer. My sister have the same problem when syncing her iPod to iTunes.
If you find yourself in that frustrating situation, here is what you can do to fix it and get the iPhone, iPod, or iPad syncing with iTunes on a Mac or PC again.
Firstly, let's analyze this problem and make it clearly. When you Apple devices was not synced with iTunes, or failed to be recognized by iTunes, it could be result from following reasons:
Directory
iTunes version is out of date or USB Cable is broken.
Haven't authorize your iTunes.
Computer or device problem.
Haven't update driver.
Solution 1: Update to the Newest iTunes and Change a USB cable
Sometimes just updating to the newest version of iTunes is enough to resolve all syncing problems, particularly if the desktop software hasn't been updated in a while. By default, there will be a upgrade notification pop up once there is a new version available.
Sometimes USB ports go bad, and though it's pretty rare it's very easy to rule out. All you need to do is switch the USB cable from one port to another and see if it works. Also, try using a different USB cable entirely, whether it's another Lightning cable or the old-fashioned 30-pin adapters.
---
Solution 2: Re-Authorize iTunes on Your Computer
If your iOS devices fails to sync with iTunes, the Sync button is grayed out and not available at all, or if you try to sync and nothing transfers over to the iPhone, iPod, or iPad, you may simply need to authorize the computer with iTunes.
iTunes uses an authorization system to ensure only a handful of computers can access your purchased music, videos, and other content at any given time. When you authorize your Mac or PC, you're giving it permission to access your apps, audio books, books, music, movies, and other content.
>> How do I Authorize a Computer in iTunes?
---
Solution 3: Reboot the iOS Device & Computer
Restart your iPhone, iPad or iPod and PC could be an effective way to solve iTunes syncing problem. To do this, hold down the Power button and Home button simultaneously until the device restarts. Technically, that approach is called a Hard Reboot because it forcibly restarts the iOS device, but in situations where things are acting up, crashing, or just not behaving properly, it's usually more effective to force reboot than to use the standard power-off approach.
---
Solution 4: Use the Wireless Syncing Method
Wireless syncing could be an alternative method when iTunes dose not sync your iPhone via USB cable. In your iDevice summary dialog in the iTunes on the computer, tick Sync with this iPod over WiFi. Then, on your iPod, tap Setting > General > iTunes Wi-Fi Sync > Sync now.
With wireless syncing, be sure that both the iOS device and the computer are on the same wireless network. It will not work if they are not joined to the same network.

---
Solution 5: Update Drivers
If you recently update your computer system to Windows 8 or Windows 10 and found that iTunes no longer detected your iPod Touch or iPhone, update drivers could be a good way to solve this issue.
Go into the device manager on your computer.
Go to portable devices (it is under network adapters).
Right click apple iPhone and click update drivers.
Brows your drivers from C:\Program Files\Common Files\Apple\Mobile Device Support\Drivers. After that your iTunes will pump up and you'll see your iPhone right there.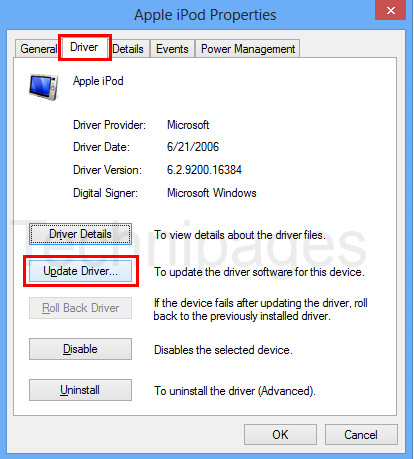 ---
Solution 6: Sync iPhone, iPad, iPod to iTunes Alternative Tool
Still having problems? Why not use third-party tool to sync files from your iPhone, iPad or iPod to computer? Syncios iPhone/iPad/iPod Manager is the very one that works like iTunes and can do what iTunes can't. What you can do with this powerful iTunes alternative: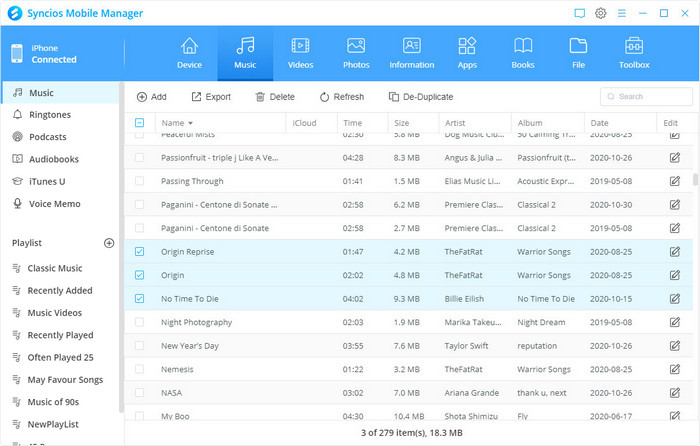 Selectively Backup and Restore Contacts, Message, Call log, Music, Video, Photo, Ebooks, Apps and etc.
Manage iOS devices/Android music, edit song details and de-duplicate tracks.
Preview and export SMS, Call History & Contacts to readable format on computer.
Help to organize every iOS devices/Android's file.
Handy tools: One-Click Backup/Restore, HEIC Converter, Photo Compression, Ringtone Maker.
---
Supported Apple Devices and iOS Versions
| | |
| --- | --- |
| iPhone | iPhone 12, iPhone 12 mini, iPhone 12 Pro, iPhone 12 Pro Max, iPhone SE2, iPhone 11, iPhone 11 Pro, iPhone 11 Pro Max, iPhone XR, iPhone XS, iPhone XS Max, iPhone X, iPhone 8, iPhone 8 Plus, iPhone 7, iPhone 7 Plus, iPhone SE, iPhone 6s, iPhone 6s Plus, iPhone 6, iPhone 6 plus, iPhone 5S, iPhone 5C, iPhone 5, iPhone 4S |
| iPad | iPad 2, The New iPad, iPad mini, iPad with Retina display, iPad mini with Retina display, iPad Air, iPad Air 2, iPad mini 3, iPad mini 4, iPad Pro |
| iPod | iPod touch (5-7 generation ) |
| iOS | iOS 9 - iOS 14 |
Have something to say about this tutorial? Share your comments below! Need help with something else? Submit your question via online form, we will reply you within 24 hours.
---