Syncios Data Transfer FAQ
The following reasons may lead to this case:
The latest version of the product is not installed.
The model of the device is not supported. (You can check from here)
There's something wrong with the USB cable or USB port.
Android device driver is not properly installed. Please download from here.
Did not authorize this PC on your phone screen.
To solve it, you can follow the steps below:
(1) For iOS users, please follow this tutorial.
(2) For Android users, please follow this tutorial.
---
Step 1: Click menu button on the right corner of the program interface
Step 2: Choose Register in the drop-down list, you will get the register window below.
Step 3: Copy and paste the Name and Code into the registration popup dialog.
Note: The registration name is case sensitive. And, please do not add blank at the beginning or the end of the word.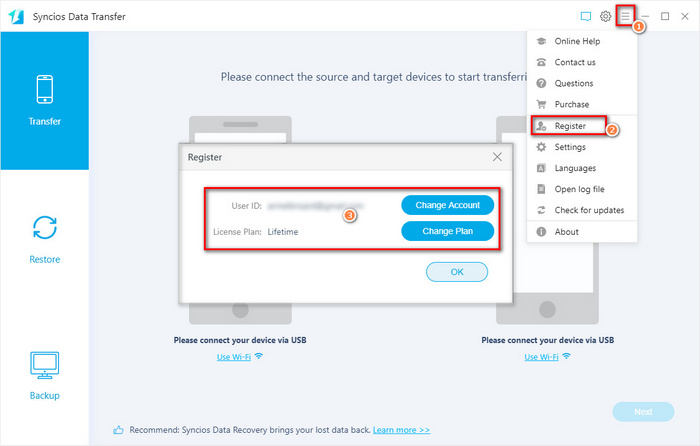 ---
The case may appear when the device is asleep or the USB cable is damaged. To resolve it, you can follow the steps below:
1. Reconnect the USB cable to try again in case it is disconnected for some reason during transferring.
2. Close iTunes or other similar programs as it may cause some compatible issues.
3. Make sure your device is awake. If you are using Android phone as the source device, it will become asleep if you leave it alone for a long time. You can click Settings>Developer options to check Stay awake.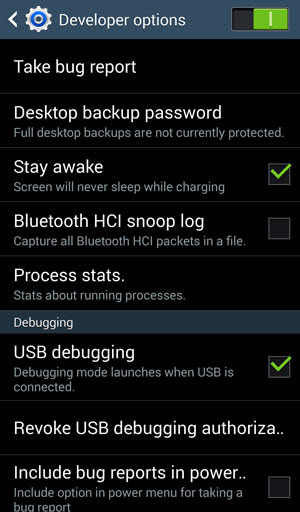 If it still doesn't work, contact us with the log file. You can click the Open Log File button on the top right corner to send us the log file.
---
Simply tap and drag down the Status bar, tap Connected as a media device or Connected as a camera. In the USB computer connection setting, switch the followings USB connection mode. Media device (MTP), Camera (PTP).

---
An android device always has about 1 or 2G RAM to run app , and 8 or 16G ROM to store data. When transferring or restoring data which is more than 1 or 2G to an android device, it may not have enough space to save the data. You can follow the steps below to fix it.
Choose the source data or the backup file which is not bigger than 1G to transfer.
Save the transferred data in the ROM or SD card.
Transfer the left data till all the data has been transferred.
---
Visit Here >>
---
To find the transfered videos, you can go to Videos > Movies folder of the device to find them, or you can check your Apple TV app. Previously the videos may have been in the Photos folder.
---
8. What to do if I get "Syncios Data Transfer can't be opened because it is from an unidentified developer" error.
When installing Syncios Data Transfer on Mac Mountain Lion & Mavericks, you may get the aforementioned error dialog saying that "Syncios Data Transfer can't be opened because it is from an unidentified developer", just as it shows below: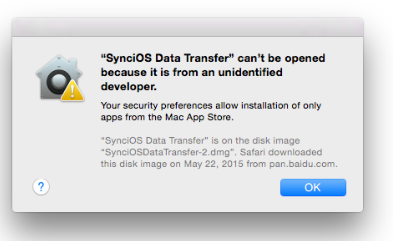 Solution
This is because Mac OS includes new features to improve security for users. One of the new default options prevents users from being able to install or launch applications that are not downloaded from the Mac App Store, or that have not been digitally signed by the developers.
To install Syncios Data Transfer on Mac Mountain Lion & Mavericks, you should follow the steps below:
Go to System Preferences > Security & Privacy.
Click the lock icon in the lower-left corner and enter your administrator username and password to make change.
Under "Allow applications downloaded from", select "Anywhere".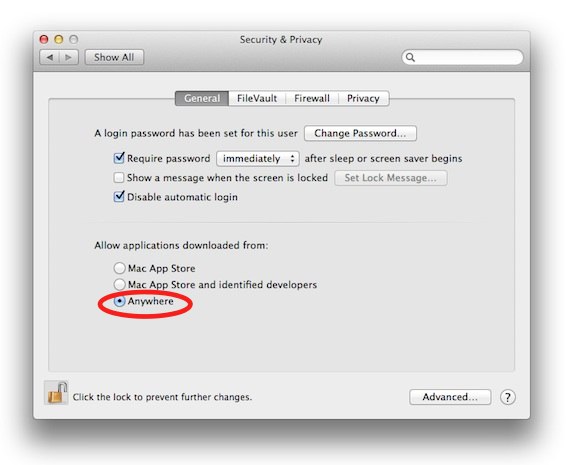 Click the lock to prevent further changes. After that, you can launch and run Syncios Data Transfer on your Mac OS normally.
Note: You can change the security setting back to "Mac App Store and identified developers" or "Mac App Store" as desired, for improved security.
---
It only clears the selected data on the destination phone. For example, if you select Contacts to copy and then select the Clear data before copy option, Contacts on the destination phone will be cleared before copy.
Note:The option will not clear the contents of the source phone.
---
Sometimes, after you finished the messages transferring job for your iOS devices, you just can not find the transferred messages in your target device.
1. Please keep your device unlocked during the transferring, it may ask you to enter the iTunes backup password, make sure you have entered correct password.
2. Launch your device, go to Settings > Messages > Messages History, make sure you have chosen "Forever", otherwise your transferred messages will be deleted automatically by your iOS device.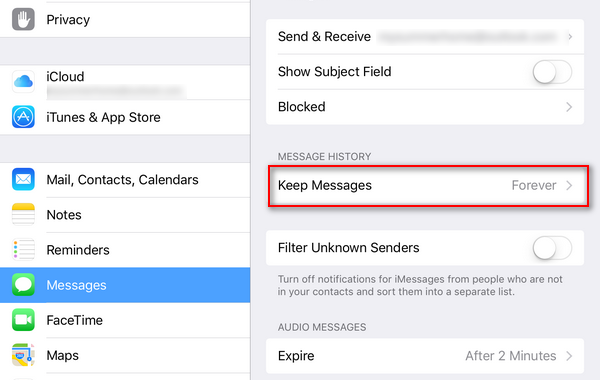 3. After transferred massive messages, your target iOS device will automatically reboot. And you may found:
a. The message app doesn't show transferred messages, and back to normal after a while.
b. The message app shows blank interface and keeps blank even if you reboot the device once again.
The two situations above are all normal because your iOS devices need time to deal with the massive messages in background. Your transferred messages will finally show up, please wait patiently. For example, iPhone XS Max with 4000+ conversations (25000+ messages) needs 30 seconds - 2 minutes.
4. Part of my messages didn't show up after transfer.
On iOS 12+ devices, the message app will only show 1000 latest conversations. Other conversations will not show in your message app, however, when you enter the contact number and begin to type messages, the old conversations with this contact will show up.
If still failed to transfer your messages, please contact our support team: [email protected].
---
---
The free version supports transferring/backing up/restoring five items of each category, paid version supports transferring all data.
---
13. What's the difference among the three subscription plans - 1 year, lifetime and business license?
To meet people's needs and provide a better service, Syncios offers 3 subscription plans. Below are something should be informed:
1. There are 3 kinds of subscription plans for your choice (1 Year/ Lifetime/ Business). Your plan will determine how long you can use the program, and how many computers you can register the program with your license.
2. To ensure the service, the 1 year subscription will auto renew after its expiry. If you don't need it anymore, you can cancel the next subscription at any time. The other two subcription plans won't be auto renewed.
3. Syncios commits a 100% money-back guarantee within 30 days which is valid from the date of purchasing.
Any other questions about Syncios Data Transfer subscription, go ahead to read the Syncios Subscription FAQ.
---
Please go to the Syncios Data Transfer Backup folder, open the backupinfo.xml and check whether there are only 5 items in your backup. If yes, then it means you have used the trial version to backup your device. (See difference between trial and paid version in FAQ 12)
---
Since iTunes has bugs regarding overwrite installation, please make sure you have uninstalled the old iTunes completely (remove all the 6 iTunes related services), then download and install the latest iTunes on your computer.
Follow iOS detection issue FAQ here.
---
The capacity of call log list for each phone is limited. For example, iOS can only display the newest 100 call logs on the list ( The reason why you can see more than 100 call logs is that the same phone calls will gather together to display) while Samsung's capacity is 500.
Once you restore your call logs successfully, you can only see the newest call logs in your phone. If you want to look through all your call logs information, you can use Syncios Manager to check up for.
---
You may find that a reset interface will appear after they restored/transferred data to iOS 11 device. Does that means Syncios wiped your phone? Actually not. This interface will show on your iOS devices due to the Apple security restrictions. You can directly choose "New iPhone/iPad" and go ahead, then you will find your data is still there and new data has been transferred.
---
Please check the storage of your phone, make sure you have enough free space for restoring the backup. Otherwise Syncios will automatically disconnect your device from Syncios program for safe-keeping.
---
---
---
Make sure the transfer is successfully completed, check the transfer complete interface, make sure there is no red "x" mark which means the transfer is actually failed.
---
---
To achieve a WhatsApp transfer between iPhone and Android, please kindly use our special Syncios WhatsApp Transfer.
---
How long it takes for Syncios to load your data depends on how many files you have on your mobile device. If you have massive messages, call logs or whatsapp chat history, especially on iOS 11+ device, please wait patiently until Syncios finished loading. And please do not launch iTunes or other similar softwares simultaneously.
We will keep optimizing the loading speed in future versions.
---
1. Syncios doesn't support to transfer Notes between iOS and Android devices.
2. Syncios doesn't support to backup Samsung(Android) Notes.
---
When you transferred messages to an OPPO device, Syncios shows it transferred successfully but you are unable to find the messages on the OPPO device? Please follow the steps below:
1. Unlock your OPPO device, find build-in Security app, tap on Privacy permissions > App permission management.
2. Under Messages, give Syncios app all the message related permissions. And then use Syncios Data Transfer program to transfer the messages again.
---
Here are steps you need to follow in order to grant Full Disk Acess:
1. Open the Security & Privacy Preference Pane in the System Preferences application.
2. Click on the Privacy tab and then click on Full Disk Access in the categories list.
3. Click the padlock in the lower-left corner to allow changes.
4. Click the + button to add an application.
5. Navigate to where you installed Syncios Data Transfer (e.g./Applications), select it and click the open button.
---
1. Make sure the transfer is successful. On the complete interface, there should be all green check marks on the tranferred contents.
2. To transfer messages to Android phones, you need to set Syncios app as your default sms app during the transferring, just keep your Android phone unlocked and follow the guide.
3. If you can not find the transferred messages even it is a successful transfer, you can check your Info messages under Messaging. Android phones will autiomatically conclude some messages into Info messages according to the phone number.
---
1. Syncios Data Transfer for Win - Please download and install the latest Syncios Data Transfer Windows version from here
2. Syncios Data Transfer for Mac - Please download and install the latest Syncios Data Transfer Mac version from here
---
When upgrading Syncios Data Transfer on Windows 10, you may get the error dialog saying that "An error occurred while downloading the update. Please try again later." as the below screenshot:
Solution:
You're supposed to directly download the latest version from here.
---
If you get a "No data" message when you use iTunes library feature of Syncios, please quick check if you have enabled "Share iTunes Library Xml" option on your iTunes. If not, follow the steps below to enable it.
1. Open iTunes on the computer if you haven't done so already
2. Pull down the "Edit" menu and choose "Preferences" to open iTunes preferences
3. Go to the "Advanced" tab in iTunes preferences
4. Check the box next to "Share iTunes Library XML with other applications"
5. Click "OK" to accept your changes
After enabled the option, close iTunes, restart Syncios to load your iTunes library.
If process failed when you transfer music from Mac or from other devices to iPhone, the reason is dued to the original settings on your Mac. Here is how to fix the issue:
1. Connect your iPhone to your Mac.
2. Open Music app on your Mac, select your connected device in the sidebar.
3. Select 'General' in the button bar.
4. Tick off option 'Automatically sync when this iPhone is connected'.
5. Select option 'Manually manage music, movies and TV shows'.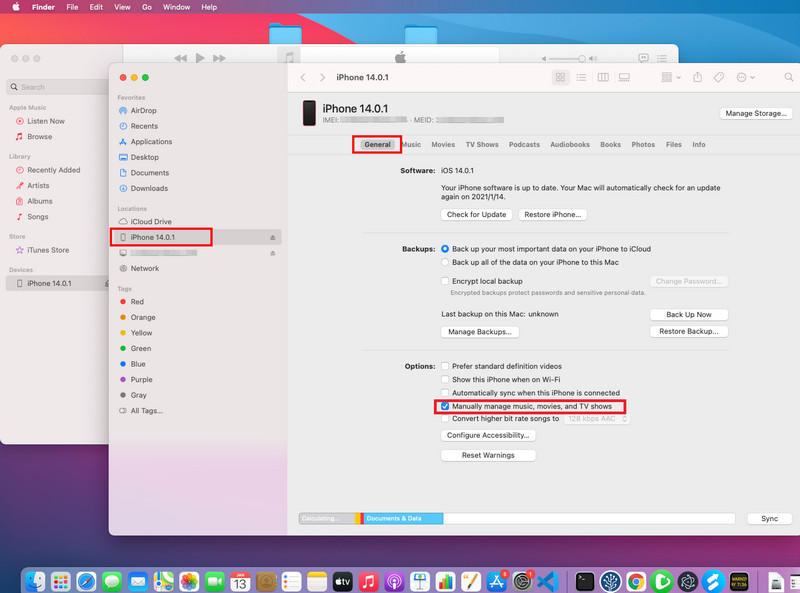 32. What to do if I receive this prompt "This app was built for an older version of Android and may not work properly. Try checking for updates or contact the developer"?
If you received the prompt below when you connected your Android phones, just click OK option to continue.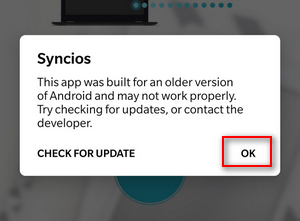 ---
Tips:

what's next? Download latest version of Syncios Data Transfer now!
Still can not fix your issue? Please contact us via: [email protected]
---