How to Transfer WhatsApp from iPhone to OPPO
When a new smart phone is replaced, worries follow. We are always distressed about how to transfer data from an old phone to a new phone. Especially when the old and new phone running different operation systems. As you know, compared with social platform data, some pictures or multimedia files will be easier to be transferred. Therefore, our topic today is about how to transfer WhatsApp from iPhone to OPPO. We will analyze and explain you why the official transfer tool cannot complete this transfer task, and recommend you a simple yet powerful tool.
We should note that official methods are always designed to work within the same eco-system. In simpler words, if you need to transfer WhatsApp data from iPhone to iPhone or OPPO to OPPO, you can choose one method below:
OPPO Clone
Clone Phone is the official phone switching tool published by OPPO, enabling to transfer types of data including personal data, system data, applications, contacts, messages, call history and more from Android to an OPPO. By contrast, files that can be supported to move from iPhone to OPPO is relatively limited (only contacts and images). That's to say, the OPPO Clone Phone can't function on transferring WhatsApp data from iPhone to OPPO.
Google Drive
Google Drive is a synchronization service developed by Google. It's a convenient tool to store and access to the data. And then you're allowed to share your files between different Android devices. You're allowed to share WhatsApp chats, contacts, messages, audio, images, text, video, excel and other files.
iCloud
If you're a loyal iOS device user, then you should be very familiar with iCloud. And when it comes to transferring WhatsApp data, you will consider iCloud as the top priority for it can manually or automatically create backup of your iPhone and easy to restore when you change to another iPhone. But it's not applicable to any Android device.
Move to iOS
Move to iOS is one of the most frequently-used app for transferring data from Android to iOS. We can easily move photos, messages, Google account, contacts, bookmarks and more with the app, but other than that of WhatsApp data.
From we've covered above, you can know that no official method that can perfectly migrate WhatsApp data from iPhone to Android (OPPO). So to help you handle this problem, we strongly recommend you to try Syncios WhatsApp Transfer, which should be an ideal solution.
It allows to directly transfer WhatsApp messages and attachments from iPhone to OPPO or vice versa. What're more, to your convenience, you can choose to backup your WhatsApp chat on computer with readable format or print them out as evidence via the WhatsApp transfer tool. The backup file generated by Syncios and the iTunes backup file made on this computer can be restored back to a smart phone freely.
---
Tool Required: Syncios WhatsApp Transfer
Transfer WhatsApp between iOS devices and Android.
Export WhatsApp backup to HTML and CSV files.
Backup and restore iPhone/iPad/Android WhatsApp data.
Preview the backup content and restore only the data you want.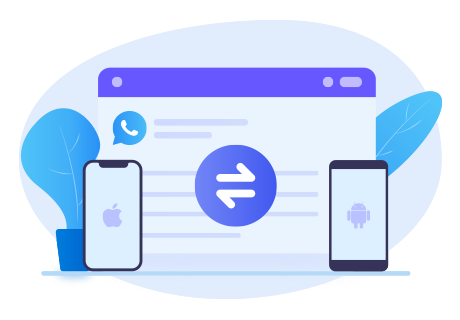 ---
Directly Transfer WhatsApp Data from iPhone to OPPO:
Step 1: Run Syncios WhatsApp Transfer on computer and tap on Transfer WhatsApp between two devices module.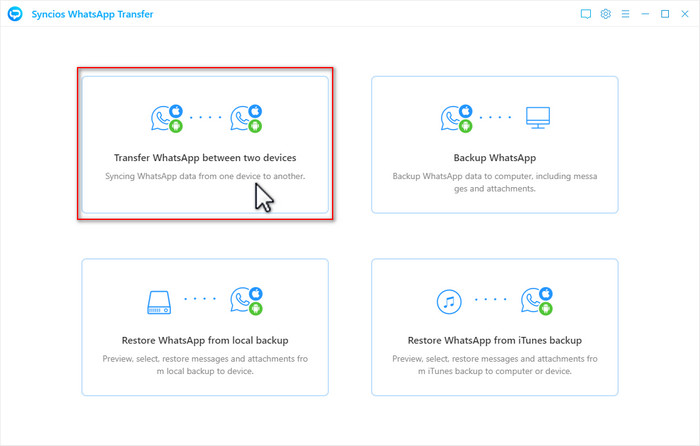 Step 2: In this page, connect the iPhone and OPPO to computer with USB cables. After detection, the device names would be shown on the screen. Confirm whether the position is correct or not. The source phone should be on the left, and you can adjust the position by clicking on Flip button. Then, hit on Transfer to initiate the process.
If your iPhone or OPPO can't be connected, you can read the methods: OPPO | iPhone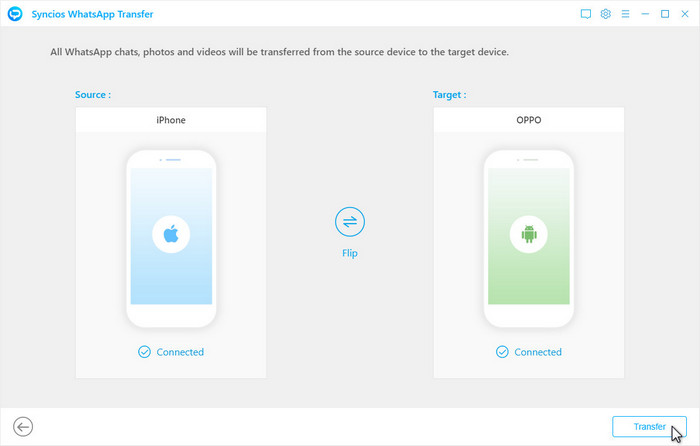 Step 3: Follow the guide on the pop-up to transfer, and the completion of the process would be indicated by "Successfully restored". And you can check related WhatsApp chats on OPPO now.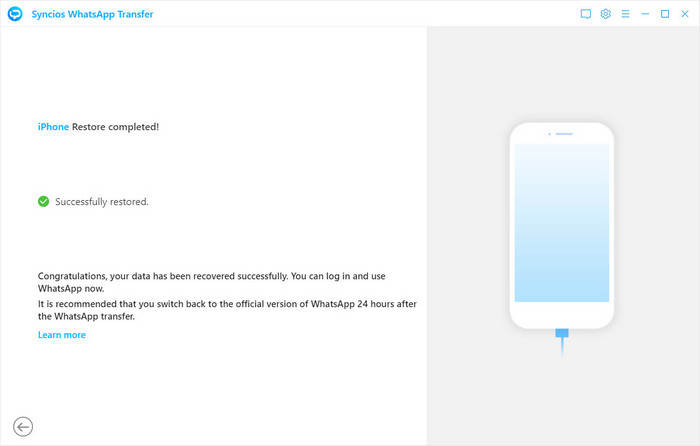 Restore iPhone WhatsApp Data to OPPO from iTunes Backup:
Step 1: Also you can choose to restore iPhone WhatsApp chats from iTunes backup files to the OPPO phone via Syncios WhatsApp Transfer. Let's enter Restore WhatsApp from iTunes backup.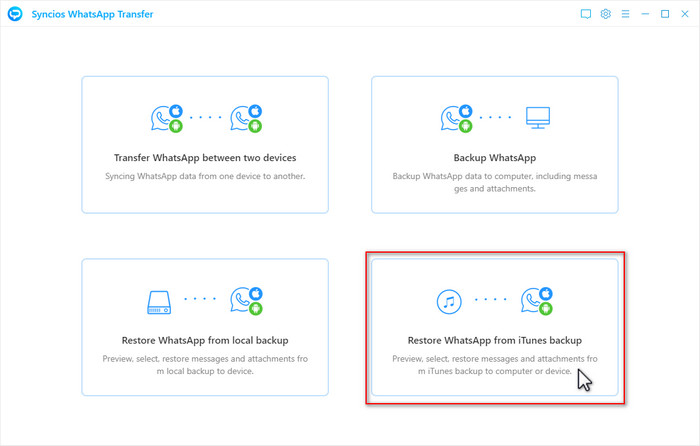 Step 2: As long as you've backed up your iPhone data via iTunes on this computer, Syncios will automatically scan and list the available backup files with detailed date and other information. Select one and click Next.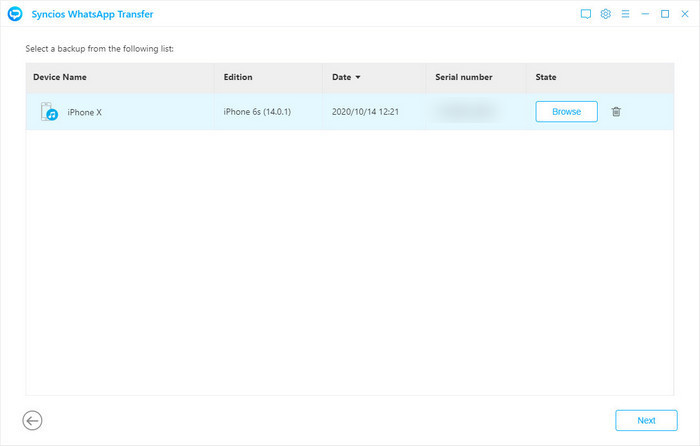 Step 3: Browse the messages here and check the item(s) you wish to restore to OPPO phone. Click Recover to device. The received end should be the OPPO. And the attachments like photos, videos, music and more will be restored together by the selected messages. Click Recover.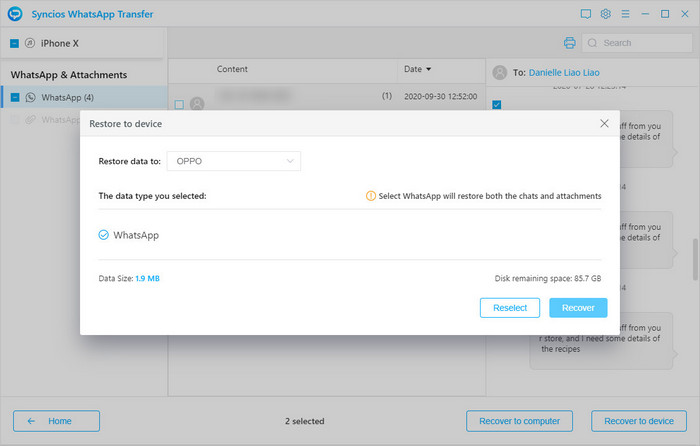 Conclusion
To summarize, normal official methods can't help us finish the transfer from an iPhone to OPPO. So you should timely grab one Syncios WhatsApp Transfer! With it, you can transfer, backup, restore and print out WhatsApp data on mobile phones.
---
Tips

what's next? Download Syncios WhatsApp Transfer now!
---