How to Downgrade iOS 15 Beta to iOS 14
"Hello, is there any efficient and safe way to downgrade iOS 15 beta to iOS 14?. There are many bugs on the iOS 15 beta. Thanks a lot." --- John
Installed the iOS 15 beta on your iPhone? It's a developer beta build, so it is not stable enough for daily use. If you are now regretting your decision, you're probably wondering if there's a way to go back to the stability of iOS 14. Here we will talk about how to downgrade from iOS 15 back to iOS 14.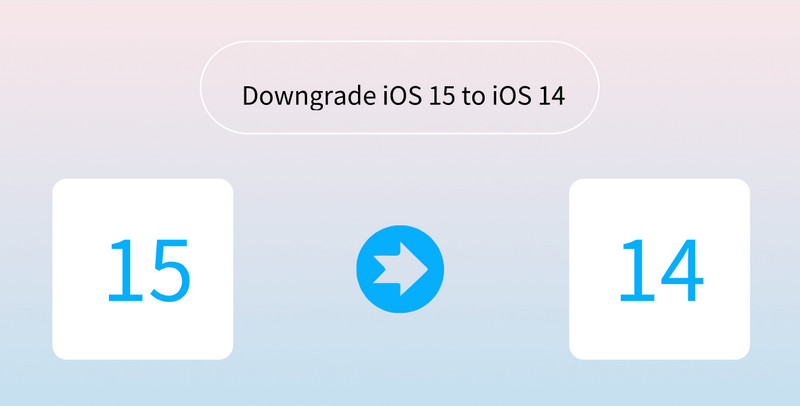 Part 1. Guide Before We Get Started
There are three things you need to know before downgrading your iOS 15 device.
☛ About the backup before downgrading: Before we get started, it's worth noting that while you can downgrade back to iOS 14, you can't restore from an iOS 15 backup. That means if you've backed up your iPhone since you upgraded to the iOS 15 beta, you can no longer use that backup if you choose to downgrade. The only exception to this is using an archived backup.
So please make sure you manually back up any new documents, images, music, contacts, videos, etc., while using iOS 15 to services like iCloud Drive, Google Photos, One Drive. Later you can re-download these on iOS 14. If you make a backup of iOS 14 before you upgraded, you're in luck - you'll be able to access all your pre-upgrade texts, photos and other data. If you didn't, however, it's likely you'll have to wipe your phone and start from scratch.
☛ You need a Mac or PC to downgrade from iOS 15 beta to iOS 14.
☛ To download the IPSW file, you need a fast, stable internet connection.
---
Part 2: How to Downgrade from iOS 15 Beta to iOS 14
Once you have taken care of the above prerequisites, please follow the steps below to continue downgrading iOS 15 beta to iOS 14.
Step 1: Download the latest iOS IPSW file for your iOS device.
Note: The IPSW file size will be around 5.5GB. Please wait for it to download.
Step 2: Open iPhone Settings and tap your name at the top. Tap Find My → Find My iPhone → toggle off Find My iPhone. Enter the device passcode and tap Turn Off.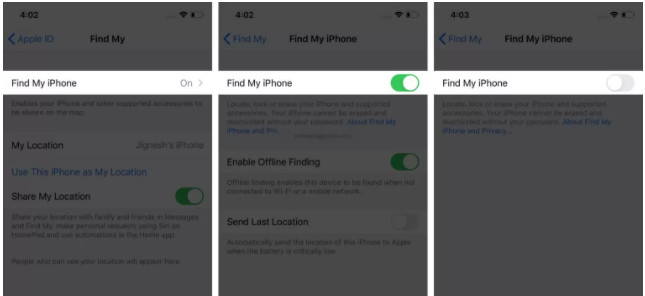 Step 3: Connect the iOS device running iOS 15 beta to your computer.
Step 4: On Mac running macOS Catalina, Big Sur, and the latest macOS Monterey, open Finder. On Mac running macOS Mojave or earlier or Windows PC, open iTunes.
Step 5: Hold the Alt/Option key on the Mac or Shift key in Windows on your keyboard and click on the Restore iPhone… button.
Step 6: Select the iOS 14.6 IPSW file you had downloaded earlier. Then click on the Restore and Update button to continue.
Step 7: In the next screen, it will give you information about the iOS 14.6 update. Click on the Next button, followed by the Agree button to continue.
Step 8: iTunes or Finder will now verify the software and install it on your iPhone. The entire process should take around 10-15 minutes.
---
Part 3: Remove iOS 15 Beta Profile and Wait for An Update
The easiest way to uninstall iOS 15 beta from your iPhone is to delete the beta profile from your settings. After you do this, your iPhone will stop looking for iOS 15 beta software to install and will install the next iOS 14 update Apple releases instead.
Steps to remove the iOS 15 beta software profile:
Step 1: Go to Settings > General > Profile and tap the iOS 15 beta Software profile.
Step 2: Tap Remove Profile, then enter your passcode and confirm you want to remove it.
Step 3: Go to Settings > General > Software Update and check for new updates.

---
Extra Tips. Back up Data on iOS Devices to Avoid Data Loss
It is always recommended that you create a backup of all your important data on your iOS device. Syncios Mobile Manager is a good choice for you to back up all data, including music, video, photos, contacts and more from your iPhone, iPad or iPod to your computer. If you need the data one day, you can restore the backed-up file to your phone at any time.
What Syncios Mobile Manager can do:
Selectively backup and restore contacts, messages, call logs, music, video, photo, eBooks, Apps, etc.
Manage iOS devices/Android music, edit song details and deduplicate tracks.
Preview and export SMS, Call History & Contacts to readable format on computer.
Handy tools: One-Click Backup/Restore, HEIC Converter, Photo Compression, Ringtone Maker, Audio Converter and Video Converter.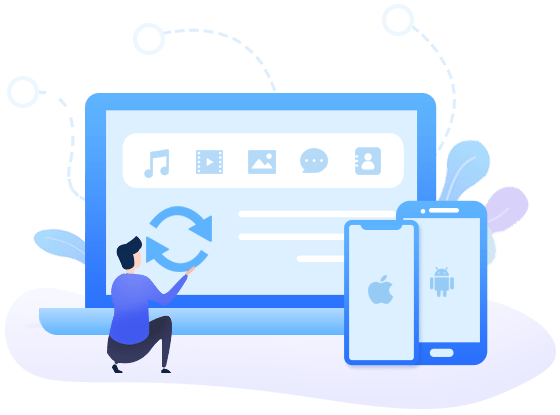 ---
Steps to back up iOS data to your computer before downgrading iOS 15 to iOS 14:
Step 1 Firstly, on the start-up interface of Syncios Toolkit, please select the Mobile Manager option to install Syncios Mobile Manager. After the installation, tap Mobile Manager again to run Syncios Mobile Manager.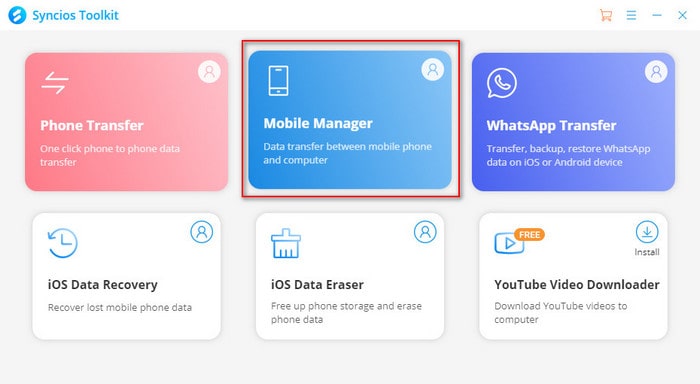 Step 2 Connect your iPhone/iPad/iPod to computer with a USB cable and then Syncios will automatically recognize your mobile device.
If you encountered any iOS device detection problem, simply click here to get help.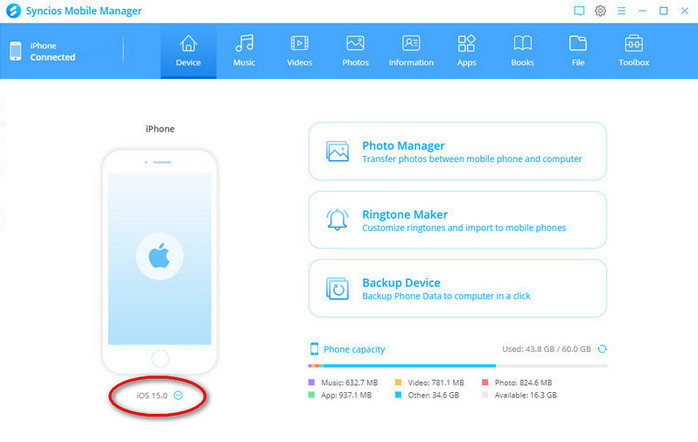 Step 3Back up important personal data from your iPhone/iPad/iPod to computer.
Now you will see 9 tabs displayed on the top menu bar: Device, Music, Videos, Photos, Information, Apps, Books, Files, and Toolbox.
Just navigate to each tab, view and select the data that you need to back up, then click on the Export or Backup button to transfer data from the iOS device to computer for a backup.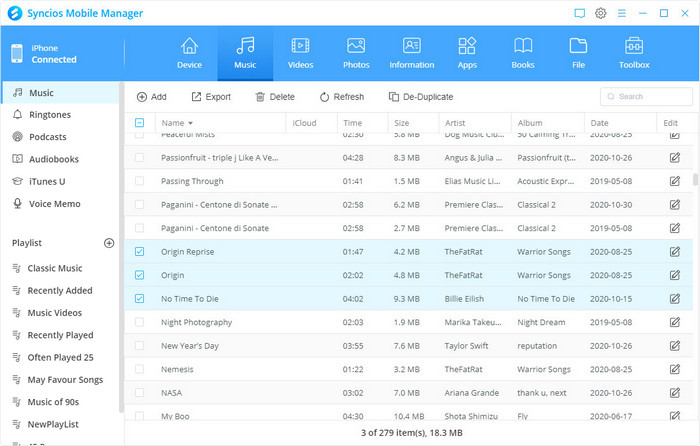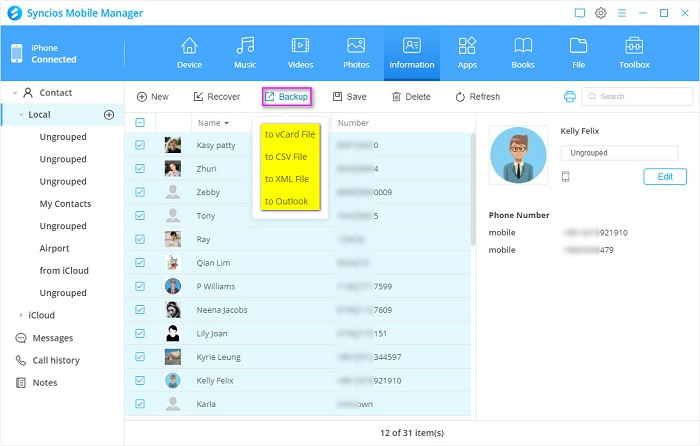 You can also use the One click backup function to back up all data of your iPhone/iPad/iPod at one time.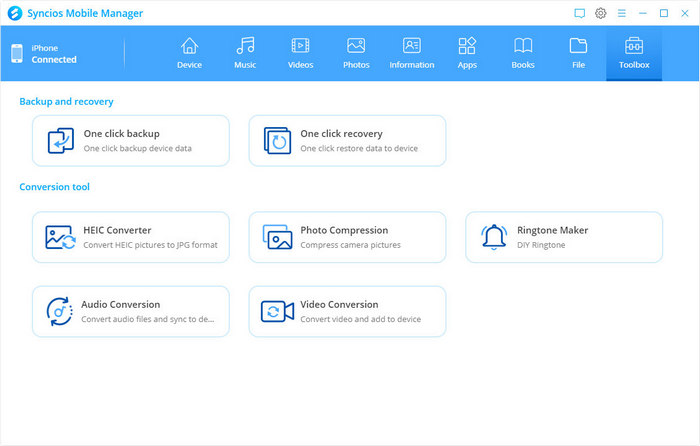 Go to the One click backup option, select the data including Photos, Apps, Audio, Video, Contacts, Chats, Call history, etc to back up.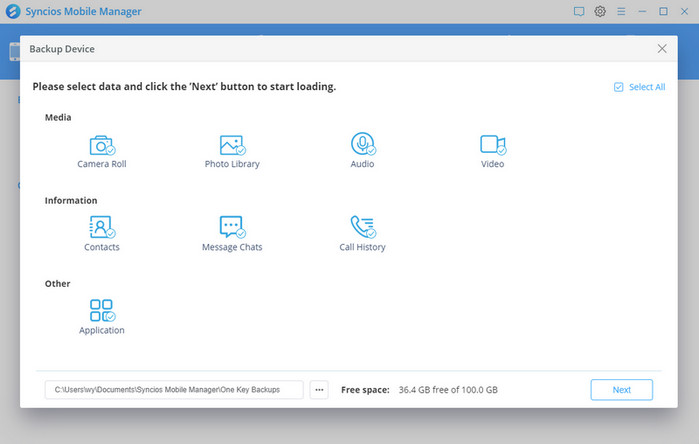 ---
Conclusion
That's all about how to downgrade iOS 15 beta to iOS 14. Hopefully this extensive guide on how to downgrade iOS 15 and reinstall iOS 14 would help a lot. Please keep in mind that back up your iOS device before the downgrading process.
---
Tips

what's next? Download Syncios Mobile Manager now!
---