How to Clear Up Snapchat Documents and Data on iPhone
As for the teenagers and fancy people from all around the world, you may find they might have this app in their iPhone, with this app they can create funny emoji and stickers with your own portrait, and that's Snapchat. You can share interesting stickers to your friends and family and can view others as well. But this may produce a huge amount of caches and fragment on your iPhone. This article is going to share with you two useful methods to clear up documents and data of Snapchat on your iPhone Here you go.

Method 1: Use Syncios's Erase Private Fragment to Clear Up Snapchat Cache and History
You may make a plenty of characteristic emoji and stickers of your own through Snapchat and this may create various of caches and fragments of the process. For you want to clear up caches and documents on Snapchat can use Syncios iOS Data Eraser, which is aiming to erase data on iPhone and keep your iPhone a well storage space. Syncios promise a 100% irrecoverable effect to maintain all erasing file will not be exist on your iPhone anymore. Here is how it works.
Key Features of Syncios iOS Data Eraser:

Five cleanup modes: Free up space; Erase all data; Erase deleted files; Erase private data; Erase private fragments – to delete data securely and permanently according to your need.


Preview data and select the exact files that you want to erase.


Completely erase data without a chance of recovery even with most recovery software.


Previously deleted files can also be found out and the program will permanently erase them for privacy protection.


Permanently erase incomplete fragments or traces left by Tinder.

Download the free trial version of Syncios iOS Data Eraser to get started.
Here are 3 Steps to clear up Snapchat cache and history.
Step 1 On the start-up interface of PanFone Toolkit, please choose iOS Data Eraser to install PanFone iOS Eraser. After the installation is completed, tap iOS Data Eraser again to launch Syncios iOS Data Eraser.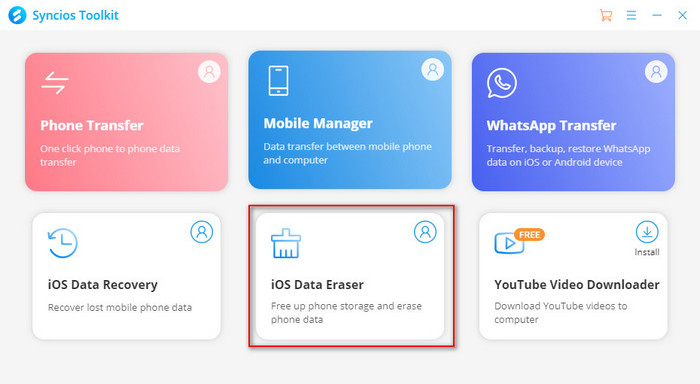 Step 2Connect your iPhone to computer via USB cable. Choose 'Erase Private Fragment' function and click on 'Erase' to clear up documents and caches on Snapchat. Syncios supports to erase data from more than 15 third party apps which all of them are the trendy social media in today's society, WhatsApp, WeChat, Snapchat, Kik, Spotify, Instagram, Facebook, Twitter, YouTube, Telegram, Viber, Skype, Chrome, Line and Firefox.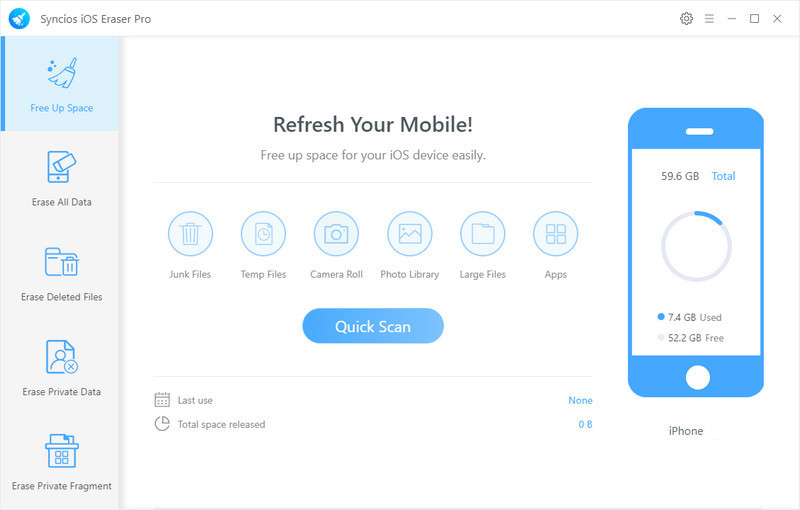 Step 3 Third party apps with the amount of data will list on screen. Simply choose 'Snapchat' option and click 'Erase' to clear up Snapchat document and data on your iPhone.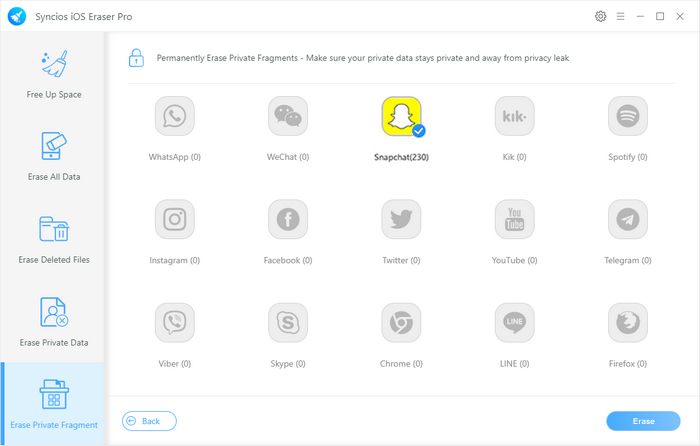 Tips: If you encounter any detection problem during the process? Please check our iOS detection tutorial for help.
---
Method 2: Clear Up the Snapchat Memory Cache of Your Device Directly
Do you really know what's Snapchat cache? Some people will think these caches are useless and stuck in their iPhone, occupy some of their storage, but the truth is, Snapchat cache stores the functions that you used most frequently so that you can use Snapchat fluently. For someone wants to clear up these caches on Snapchat directly can follow these steps showing below:
Step 1 Launch Snapchat on your iPhone and go to the camera screen. Tap the Snapchat personal center at the top left corner.

Step 2 Tap the 'Settings' icon.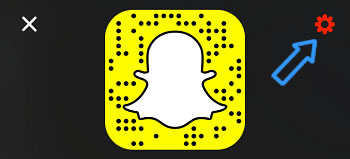 Step 3Scroll down and tap the 'Clear Cache' option. You can see how many memory does Snapchat occupies in your iPhone.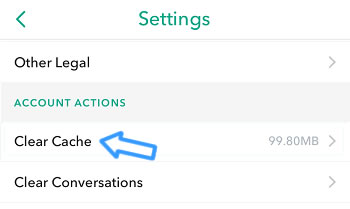 Step 4Snapchat divided Cache into five categories, 'Browser Cache', 'Memories Cache', 'Stories Cache', 'Lens Cache' and 'Search Cache'. You can choose to clear up specific caches by tapping on it, or you can clear up all these cache by choosing 'Clear All' instead.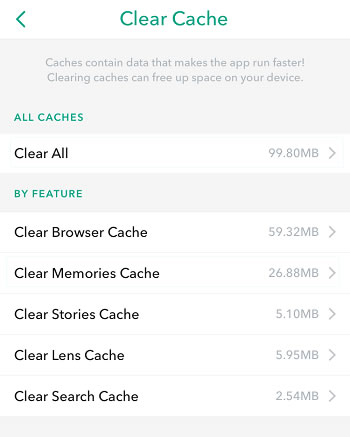 Step 5Finally, tap the 'Clear' button on the pop-up window to clear up your selected cache.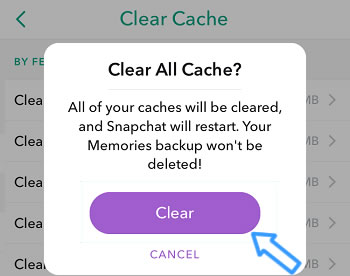 ---
Summary
To free up space and clear up Snapchat on your iPhone, Syncios iOS Eraser Pro must be your best choice, with it, you can swipe off useless and deleted data frequently to maintain a good memory space on iPhone.
Tips

what's next? Download Syncios iOS Data Eraser now!