How to Make Free Own Ringtone for Samsung Galaxy S21/21+/S21 Ultra
Using a specialized ringtone is a great way to add some fun and personality to your Samsung mobile phone esp. the latest Samsung Galaxy S21. How to get a free ringtone without having to spend your hard-earned money and how to make a customized ringtone for your Samsung phone? Just follow this guide.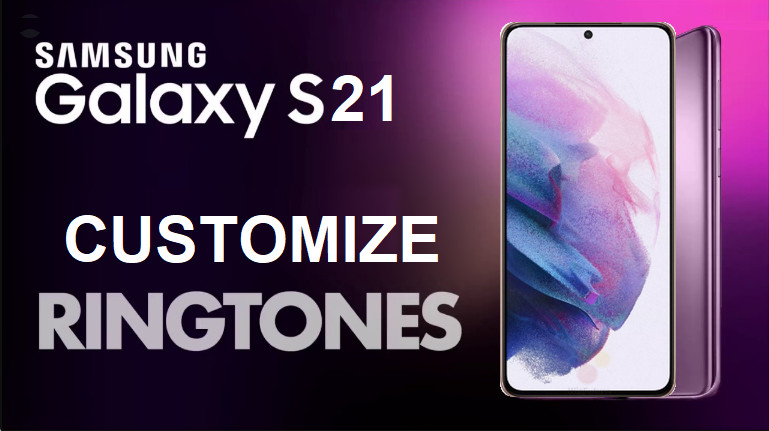 Using the websites below, you'll be able to get some free ringtones downloaded to your phone in minutes, and some even let you create your own ringtones. There's a variety of ringtones available from these sites, including music, sounds effects, movie and TV clips, funny sounds, message tones, and just about anything else you could want to have on your phone. Each ringtone site has different features that make it unique, so be sure to comb through the whole list until you find your favorite.
Zedge
Zedge has a massive collection of free ringtones that you can browse by sound and popular searches. Categories (accessible here) help you find free ringtones related to animal sounds, party sounds, game sounds, and more.
This site really excels at having some excellent sound effects and movie clip ringtones. Pick a ringtone to preview it and use the download button to put it on your device. On each download page is a list of categories to help you find similar sounds.
Android users can install the Zedge app to download ringtones.
---
Mobile9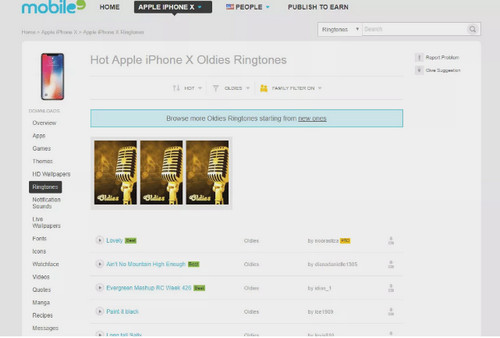 Mobile9 is a site that provides ringtones, themes, apps, stickers and wallpapers for iPhones and Androids. What's nice about this site is that it'll only give results that will work with your specific smartphone model. Mobile9 has you enter your device type before you even get to the free ringtones. This means that once you're in, everything you're looking at is going to be compatible with your phone.
You can search through mobile9's free ringtones by what's hot, new, or tagged as the best of them all. There's also a filter you can use to only show free ringtones by the category they're in, like oldies, Spanish, funny, SMS, and many others. A family filter can be toggled on and off too.
Most of the favorite ringtones at mobile9 include sound effects, movie clips, and original music. After you've listened to the ringtone you like, you can download it or have it sent to your device (if your device is capable of direct downloads).
---
Tones7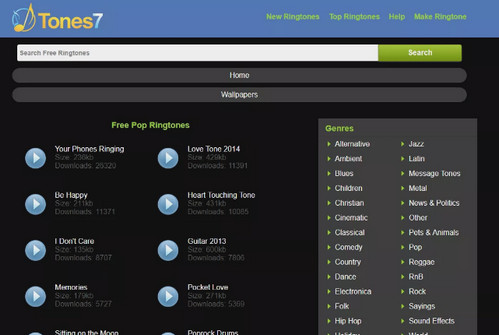 Over 25 categories of completely free ringtones are available at Tones7. You can find both MP3 and M4R downloads here, which means they work on iPhone, iPad, Android, and other devices.
Every download page lets you listen to the ringtone and see its details, like the file size, number of downloads, description, genre, and user comments.
The list of most popular ringtones on Tones7 is a great place to start if you're not sure which genre to choose. They also have a page for newly added ringtones.
---
Melofania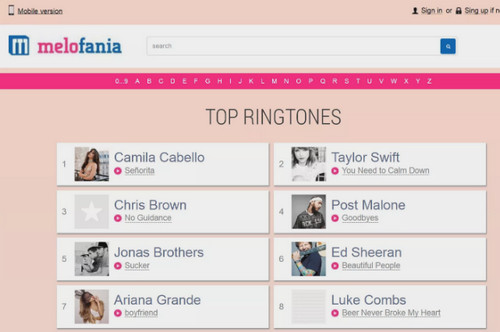 Melofania lets you edit your own music files to create a custom ringtone, as well as simply download ringtones created by other users.
You can search or browse ringtones through ones created by others like by the artist name or by a section just for featured ringtones.
---
CellBeat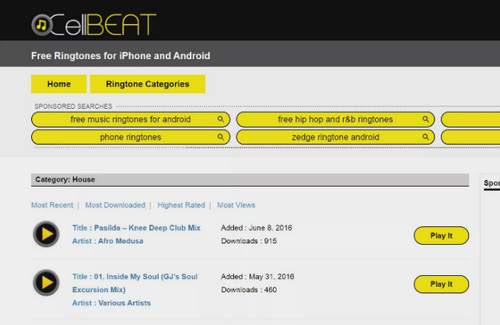 CellBeat is another free ringtone download site that has plenty to choose from. Some of the categories include classic, disco, alternative, funky, games, Indian pop, Latin, jazz, and electronica.
Ringtones can be previewed on the site and you can see when they were uploaded, how many downloads each has received, the length and file size, and other details.
---
MyTinyPhone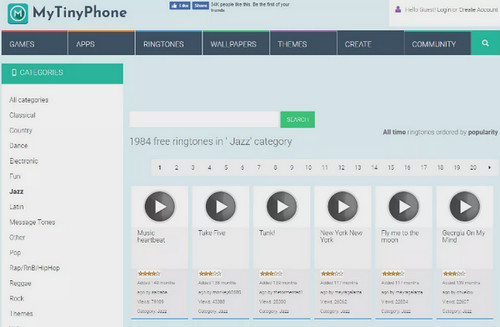 MyTinyPhone has over half a million free ringtones that you can browse through by category, date added, and popularity, and there are numerous ways to download them.
After you find the ringtone you want, you can have it sent to your phone as an attachment or URL, saved to your computer as an MP3, or downloaded as an M4R file for use on iOS devices.
If you register for a free account, you can upload your own MP3s to turn them into ringtones. When doing so, you have the option to keep the ringtone private or to share it with other users. If you're on an Android device, you can use the app to download the free ringtones.
If you have downloaded the ringtone from the above sites or you want to set your PC songs as ringtones on your Samsung Galaxy 21, you can actually use Syncios Mobile Manager to edit the song, especial tailor it. There is a Ringtone Maker function built in Syncios Mobile Manager, which is more secure, easier to customize a song as a ringtone, including messages notification sound. You can take any song from PC to the music track and tailor it into both messages notification sound and phone ringtone. If you are still confused with that, let me show you the program figures with steps required.
Sycios Manager is such a powerful mobile phone management tool that enables you to transfer music, ringtones, videos, photos and more data from the computer to your iPhone. Besides, it also allows you to back up music, video, photos, apps, podcasts, iTunes U, ringtones, e-Books, camera roll, voice memos, camera shots, contacts, and notes from iOS and Android devices to your computer.
---
Tool Required: Syncios Mobile Manager
Features of Syncios Mobile Manager:
Support to transfer, edit, backup, manage, view mobile data such as contacts, apps, photos, music, ringtone, videos, SMS messages, and more.
Handy tools: HEIC Converter and Photo Compression, Ringtone Maker.
Fully compatible with the latest Android and iOS devices.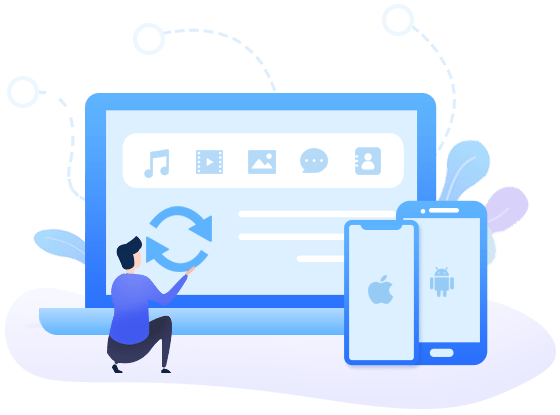 ---
Step by step tutorial
Follow these steps to import the downloaded ringtones from the computer to your Samsung Galaxy S21 or modify a music on your mobile phone so as to make your own ringtone:
Step 1:Run Syncios Mobile Manager on your computer. For Windows users, please run Syncios Toolkit firstly and tap the 'Mobile Manager' module.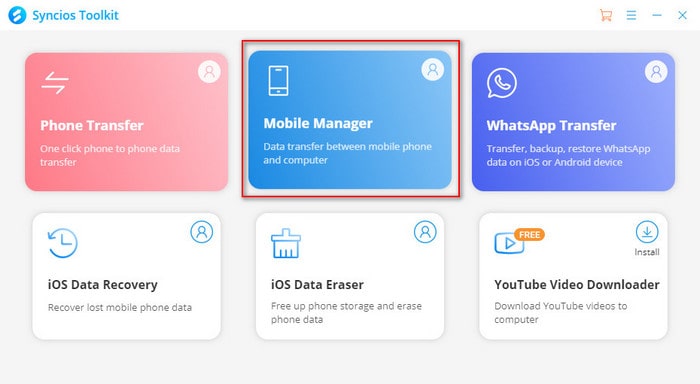 Step 2:Navigate to the 'Toolbox' tab on the top menu, you can see some handy tools including One-click backup, One-click recovery, HEIC converter, Photos Compression and Ringtone Maker. Click the 'Ringtone Maker' function.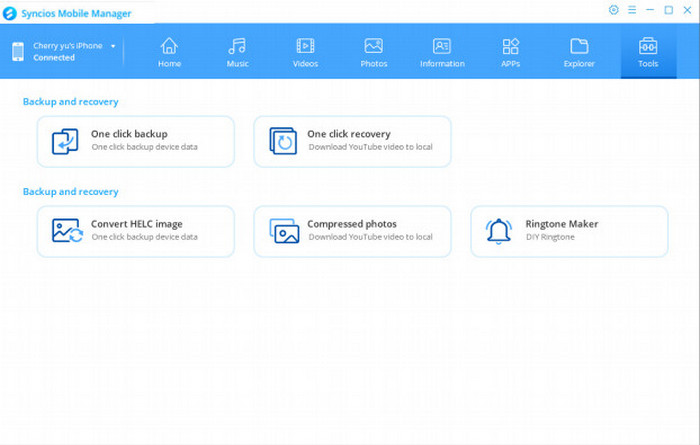 Step 3: Right now, you are ready for a ringtone customization. It supports editing the music on your computer or the music on your Samsung Galaxy S21.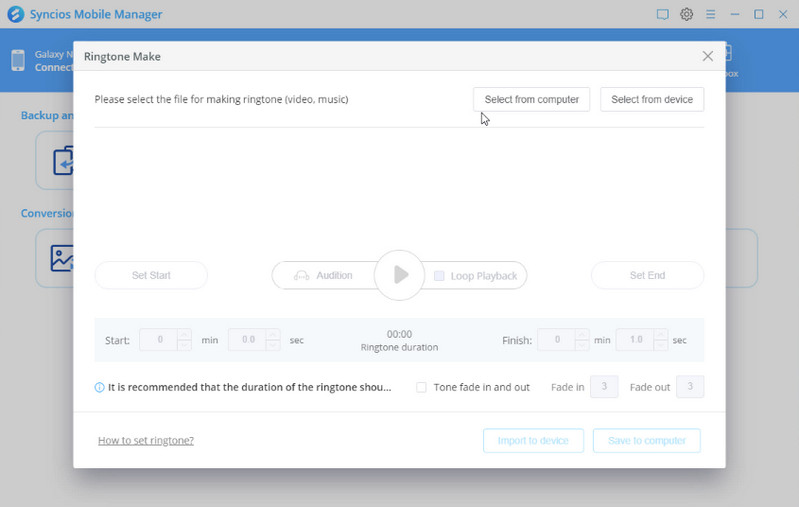 Option 1: Tailor Songs from Computer to Ringtone
If the songs have been saved on your computer, you can directly choose one and turn it to the notification sound or save them as ringtones to your device.
1. Simply tap 'Select from computer' when you are prompted to select one music file from PC local folder.
2. On the music track, set the start and end point of the song. You can also add effects like fading in and out with exact seconds.
3. Right now, tap 'Import to device', and the just tailored soundtrack will be exported as ringtone and saved to your phone.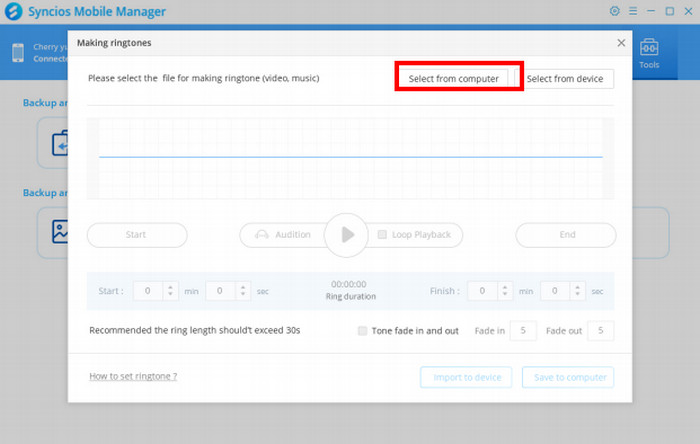 Option 2: Tailor Songs Existing on Samsung Galaxy S21 to Ringtone
If you have your favorite music on your Samsung Galaxy s21, it is also possible to turn the music to your personal ringtone. Just simply go through these steps below. Here we need to remind that songs must be purchased from service or having directly downloaded to your device before, so that Syncios can read and load the songs accordingly.
1. Simply tap 'Select from device' and then the program will load the music files existing on your Samsung mobile phone.
2. From the list, choose one of them to make more customization.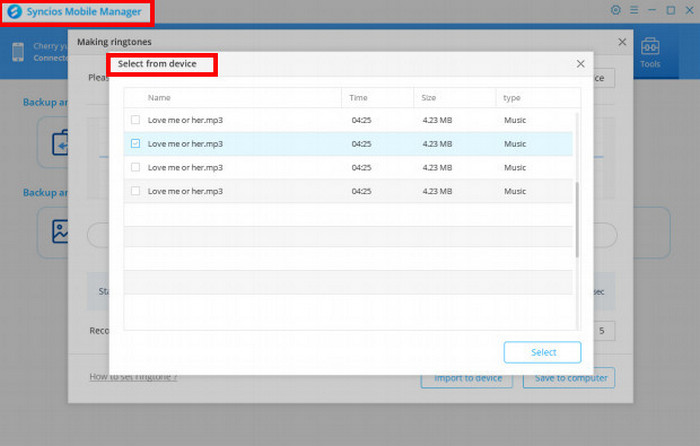 3. Trimming the start and the end of the ringtone based on the complete track. The recommended length for a ringtone is about 30 seconds. And to sound good, be sure your ring tones are loop-able, meaning that the end fits to the beginning.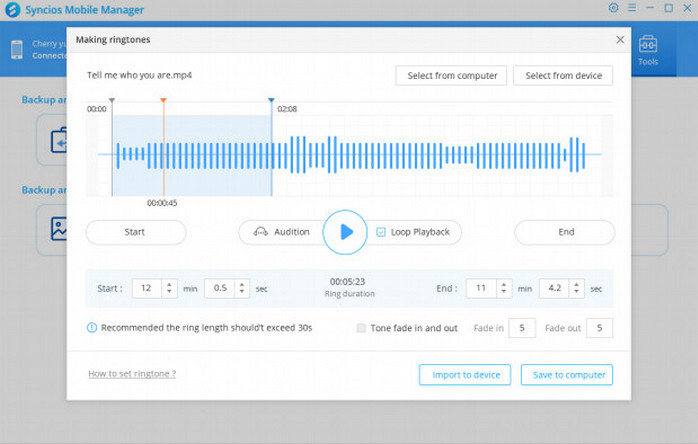 4. Finally tap 'Import to device' to save it to your phone. Or you can click on the 'Save to computer' for later usage. So that you can apply it to another phone as long as you want.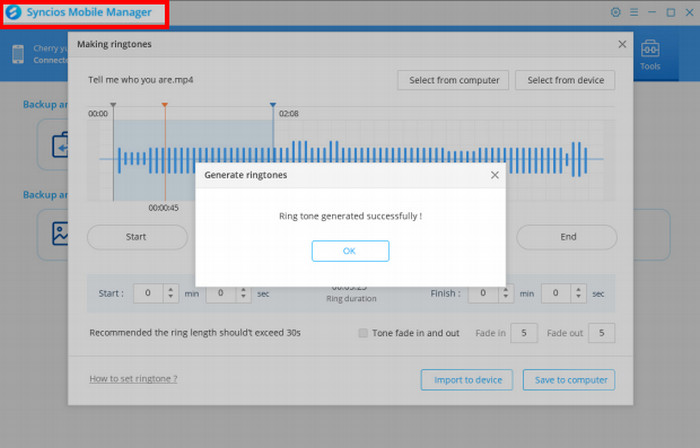 Steps
Open your Samsung Galaxy S21 and go to 'Settings', then tap 'Sounds and vibration'.


Check that 'Sound' is selected as the "Sound mode", then tap 'Notification sound'.


Select the music file, where you can see your customized ringtones are provided as an option. If you have not seen it, just click the + symbol, then you will see the imported ringtone you just created. Choose it ad then tap the return button to apply the changes.
---
Conclusion
The whole article guides you on how to download a free ringtone from the best ringtone sites. And then create your own ringtone for Samsung Galaxy S21 by using Syncios Manager, which helps you to easily edit and import the ringtones to your Samsung phone. At last, apply your personal ringtone and enjoy it.
---
Tips

what's next? Download Syncios Mobile Manager now!
---
YouTube Video: How to Create Your Personal Ringtone for Samsung Galaxy S21/21+/S21 Ultra: